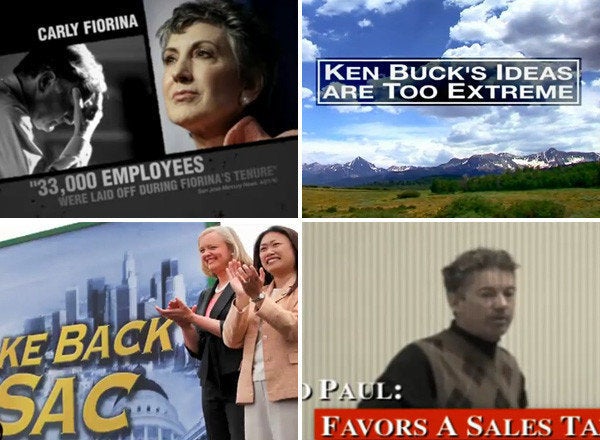 WASHINGTON -- Two major developments in Democratic efforts to build an outside party apparatus took place this past Monday, as high-ranking officials began telling reporters that they fully expect a robust spending effort on behalf of candidates in 2012.
A group of prominent operatives from the labor and consultant circles met on Monday to discuss building an apparatus that would counter that produced by conservatives during the just-completed cycle. The meeting, led by longtime organizer Steve Rosenthal and featuring Ellen Malcolm, the founder of Emily's List; Anna Burger, the vice chair of the Democracy Alliance; longtime Clinton adviser Harold Ickes; and labor leader and Obama ally Andy Stern, addressed, primarily basic questions.
Was there even a need for an outside group? If so, what function or role would it play? Where would the money come from? And so on.
"We spent a lot of time talking about the lessons from the past four cycles," said one operative working on the new venture, "We agreed something big needs to be done and agreed to meet again."
"In 2004 we created a center of gravity and it covered various aspects and places of the party," said a Democrat aligned with the effort before Monday's meeting, "to some extent Rove and Gillespie did that in 2010. We need to figure out if that's needed in 2012."
As Rosenthal and company chatted, a similar though not allied group was taking concrete steps towards formation. On Tuesday morning, the New York Times reported that David Brock, founder and CEO of Media Matters for America, had secured $4 million in commitments from major Democratic donors -- including Rob McKay, heir to the Taco Bell fortune, and Robert Dyson, who heads Dyson-Kissner-Moran -- for the formation of a third-party group. The group, titled American Bridge, will be headed by Kathleen Kennedy Townsend, the former Maryland lieutenant governor and eldest child of Robert F. Kennedy.
"David will be the treasurer," explained an official involved in the effort. "You have someone who is extremely well liked and respected, a politico. There has always been a belief that it can't just be about David."
While American Bridge will operate in transparency with respect to its donors, another Brock organization ramping up its 2012 efforts -- Media Matters Action Network -- won't. The group is a non-profit 501c4 entity, which means it doesn't have to reveal the names of its backers. That can and likely will spur charges of hypocrisy from conservatives, who withstood withering attacks from the Obama White House for fueling their 2010 campaign efforts with anonymous donations.
Organizers are aware of the potential for backlash. The benefits of keeping MMAN running while building up American Bridge, however, outweighed the costs. There is, as with Rosenthal's outlet, a growing sense that the next election could be as big a bloodbath for Democrats as the one just completed if an outside government infrastructure isn't put in place. The White House, too, seems increasingly of this mindset. In 2008 they squashed a previous effort by Brock to create an independent group. So far, there have been no overt overtures from the administration to funders encouraging them to send money solely to Obama.
That said, simply throwing money at the problem isn't a solution. In 2004, two groups, ACT (which was organized by Rosenthal) and the Media Fund (run by Ickes), helped shepherd $200 million behind Democrats. By all measures, their efforts were a major success, registering a huge number of voters and funding a host of ads. But ACT also had filing problems with the Federal Election Commission and its ultimate objective -- electing Democrats - went unachieved. George Soros, one of the party's top financiers, pulled the plug shortly after the election happened.
"It can't be the same shot all over again," said an operative helping with American Bridge. "There was a lot of talk about not doing the same thing as in 2004. Do we want to do this all over again?"

Popular in the Community