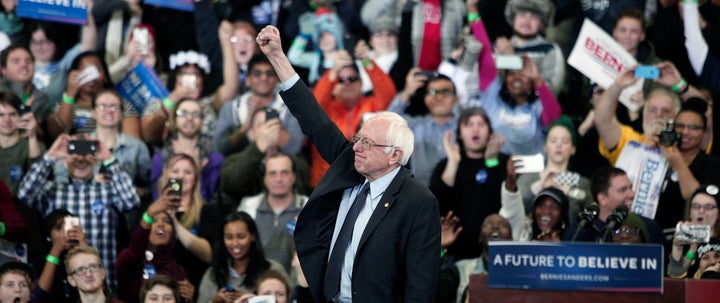 Tuesday was a tough night for Sen. Bernie Sanders' presidential campaign. It was a promising one for the populist movement that has been building steam within the Democratic Party ever since the financial crisis.
Hillary Clinton defeated Sanders by nearly 16 points in the New York Democratic primary, reducing his chances of securing the party's nomination to a mathematical moonshot. But a close look at the county-level voting data suggests that economic populism's appeal has increased across the state over the past two years.
In 2014, law professor Zephyr Teachout mounted a primary challenge to New York Gov. Andrew Cuomo (D). Her message then was similar to Sanders' today: Economic inequality has festered into a moral crisis, and consolidated corporate power is a threat to democracy. Teachout is now running as a Democrat to fill the open congressional seat in New York's 19th District, and the Sanders campaign has helped raise money for her candidacy.
Back in 2014, Teachout won 34.1 percent of the primary vote, carrying 23 of the state's 52 counties.
On Tuesday night, Sanders faced a candidate whom the state had previously elected to the Senate twice and who lost only one county to Barack Obama in New York's 2008 primary. But he still expanded Teachout's share to over 42 percent, while taking 39 counties. Take a look at the maps:
Some caveats to the comparison: Teachout was challenging an incumbent with years of experience manipulating the levers of power. Sanders has been running a well-financed national campaign for nearly a year, while Teachout put together her bid in just a few months with almost no money. Turnout was high on Tuesday night and very low two years ago.
But all of those factors suggest increasing populist momentum. The fact that the Sanders campaign is well-financed by small donations, for instance, indicates that he's been able to marshall energy that Teachout couldn't just two years ago.
It's clear from the maps that while Cuomo relied heavily on urban voters, Clinton did so almost entirely. Sanders swept every corner of the state that wasn't the greater New York City, Rochester, Buffalo or Syracuse areas.
Around Rochester and Buffalo, Sanders kept it close. While Teachout garnered just 36 percent of the vote in Rochester's Monroe County, Sanders took over 48 percent. Cuomo destroyed Teachout in Buffalo's Erie County, winning 72 percent to 13 percent. But as of this writing, Erie County votes are still being counted, and Clinton is up by just 812 votes out of the 99,586 tallied -- a difference of less than a percentage point.
Cities, of course, are where the voters are -- 80 percent of Americans live in urban areas -- which is why Clinton was able to run up a double-digit statewide victory despite losing three-quarters of the state's counties.
Part of this divide reflects Clinton's enduring popularity with black voters. Eight years ago, when her primary opponent was Obama, she still won 43 percent of black women in New York. This year, she beat Sanders 3-to-1 with the black vote statewide.
New York's black voters are concentrated in cities. Looking back on Teachout's run, it's pretty clear that Cuomo also carried counties with a high concentration of black voters, while Teachout fared better in whiter parts of the state. The Sanders campaign can at least console itself with the fact that in several counties with high black populations -- Bronx, Queens, Erie -- he improved on Teachout's performance.
But there's more going on here than a racial divide. The beneficiaries of a corporate-dominated economy don't tend to live in rural areas. They're urban elites. When Sanders and Teachout attack monopolies, big banks and corporate greed, they're assailing a lot of people who live in cities and wealthy suburbs nearby. Wall Street isn't just a metaphor in the New York primary; it's an actual street.
Nor is finance the only industry based in New York -- the city is the heart of the multinational corporate borg. ABC, CBS, HBO, Foot Locker, J. Crew, Verizon (which owns The Huffington Post), Pfizer and a host of big law and accounting firms are headquartered in Manhattan, not to mention countless others in the city's suburbs. If an economic populist loses the black vote by a wide margin in a Democratic primary, there aren't enough white urban populists to make up the difference. 
The math for populists looks a lot better at the general election level. Since 80 percent of Americans live in cities, the vast majority of the 99 percent live there, too. Nationwide, urban voters and voters of color break Democratic, which has enabled Democrats to survive as a party even as the party has steadily shed the populist tenets of Lyndon Johnson's Great Society agenda. 
The Sanders campaign is demonstrating that Democratic Party voters are heading back toward Johnson's vision, and it's doing so without relying on corporate money -- a prospect that seemed inconceivable only a few years ago. In the future, party leaders won't be able to cite campaign finance demands to justify corporate-friendly policies, and they have a growing bloc of populist voters to grapple with. That's a real achievement.
Zach Carter is a co-host of the HuffPost Politics podcast "So, That Happened." Subscribe here or listen to the latest episode below:
Calling all HuffPost superfans!
Sign up for membership to become a founding member and help shape HuffPost's next chapter