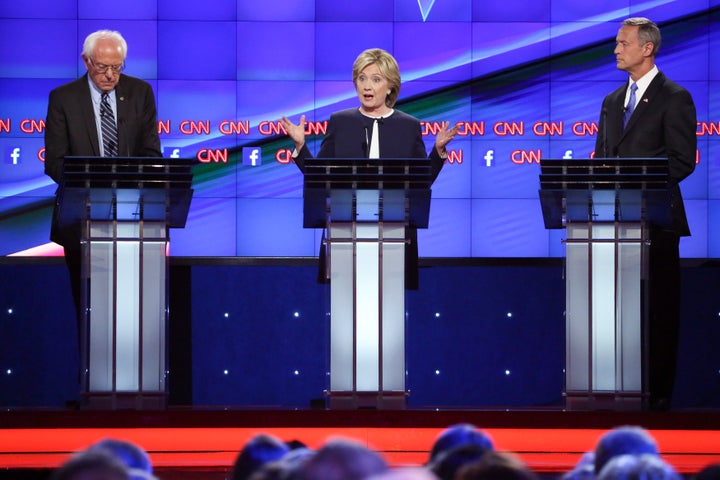 WASHINGTON -- Former Secretary of State Hillary Clinton's rivals for the Democratic presidential nomination have displayed an increasing willingness to attack her record since the first primary debate one month ago, so more fireworks seem assured in their second debate Saturday evening.
Clinton goes into the second debate with a string of triumphs in the last month. Vice President Joe Biden announced he would not enter the presidential race, giving Clinton a boost in the polls. Days later, Clinton testified for 11 hours before the special House committee investigating the 2012 terrorist attack in Benghazi, Libya, displaying stamina that even conservatives begrudgingly praised. And a number of unions have endorsed Clinton since the last debate, including the American Federation of State, County and Municipal Employees.
One of the highlights of the Oct. 13 debate was Sanders' statement that "the American people are sick and tired of hearing about your damn emails," in reference to questions about Clinton's private email account and server while she led the State Department. Since then, Sanders has taken on a more combative tone, saying there are "valid questions" to be asked about whether Clinton's email account compromised classified information and arguing that the investigation should "proceed unimpeded." 
Both have also expressed skepticism as to whether Clinton would aggressively regulate Wall Street, pointing to her opposition to reinstating Glass-Steagall, the legislation former President Bill Clinton repealed that prevented banks from combining their commercial and investment activities.
In pushing back against Sanders, Clinton's campaign said she was running a campaign that doesn't rely on personal attacks, suggesting that Sanders had changed his strategy and departed from what he said would be an issues-oriented campaign.  
While Clinton does not support breaking up the banks, she has released a Wall Street reform plan that would reverse loopholes poked in the Dodd-Frank reform law since it was enacted in 2010, increase penalties for fraud and tax high-frequency trading, among other measures. In the first debate, Clinton defended her position on Glass-Steagall by arguing her reform plan would more effectively crack down on financial services sector abuses.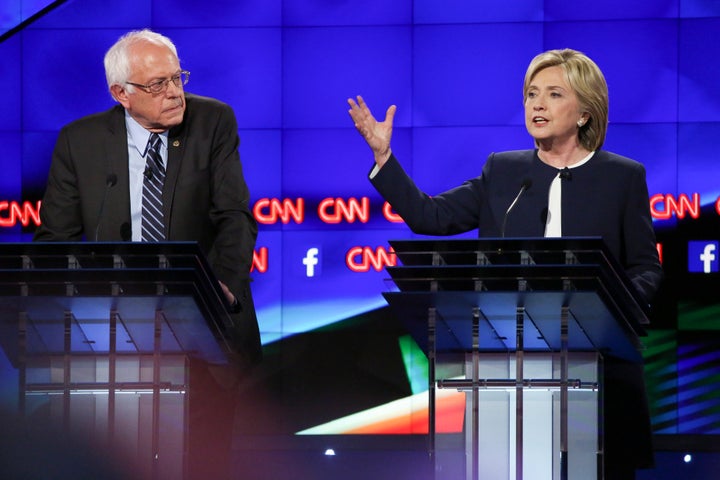 Debate questions could be drawn from the new policy cleavages that have emerged between the candidates since the first debate. 
On the minimum wage, Clinton has endorsed a $12 federal wage but supports $15 minimum wages in large cities -- Sanders and O'Malley both want a $15 minimum wage nationally. And Sanders and O'Malley both favor abolishing the death penalty. Clinton, on the other hand, said late last month she believes its use should be "very limited and rare."
When it comes to Social Security, Clinton has expressed more of an openness this election compared to when she ran in 2008 to lifting the cap on the amount of earnings subject to the payroll tax; both her rivals want to lift the cap, which is currently $118,500, and expand benefits. Clinton said in the first debate that she'd expand benefits for some of the program's poorest beneficiaries, but balked at an across-the-board increase.
Clinton has criticized Sanders for opposing reauthorization of the Export-Import Bank, which gives loans to American companies so they can promote their products and services abroad. The bank's charter expired earlier this year. Clinton recently said the senator's position, based on an opposition to "corporate welfare," "makes absolutely no sense," since the bank supports local jobs and helps U.S. companies compete.
On the topic of marijuana, Clinton said last week that she supports downgrading the substance from the federal Controlled Substance Act's Schedule I, which includes heroin, LSD and ecstasy, to Schedule II (alongside cocaine and methamphetamine) so as to allow more research into its medical benefits. Days earlier, Sanders proposed taking marijuana off the controlled substance list altogether. The senator supports allowing more states to move forward with legalizing marijuana unimpeded by federal intervention, while Clinton has advocated for waiting to see how legalization in states that have already done so plays out before going further.
Another possible clash could come between O'Malley and Sanders, as the former tries to capture some of the latter's support among progressives and rise above the low single-digits in the polls. O'Malley has repeatedly said he's "a lifelong Democrat," suggesting in his interview with MSNBC's Rachel Maddow last week in South Carolina that it was disloyal of Sanders to encourage a Democrat to challenge President Barack Obama in 2012. Clinton, for her part, may opt for drawing more contrasts with the Republican presidential field to enforce the perception that she's the best candidate for Democrats in the general election.
The debate will be moderated by CBS News' John Dickerson and will be broadcast starting at 9 p.m. EST from Drake University in Des Moines, Iowa. The Des Moines Register and KCCI are serving as co-sponsors.
PHOTO GALLERY
Democratic Debate 2016
REAL LIFE. REAL NEWS. REAL VOICES.
Help us tell more of the stories that matter from voices that too often remain unheard.