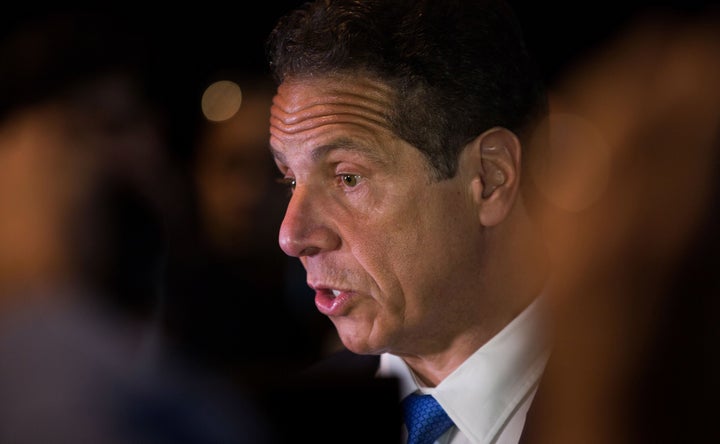 BROOKLYN, N.Y. ― New York Gov. Andrew Cuomo survived a primary challenge on Thursday night, but his once impregnable political machine sustained heavy damage across the state as progressive insurgents threw out conservative incumbents down-ballot.

In a state Democratic primary with national implications, Cuomo cruised to a double-digit victory over actor Cynthia Nixon as machine-backed incumbent Lt. Gov. Kathy Hochul fended off New York City Council member Jumaane Williams. A wide-open race for the party nomination for attorney general ― one of the most closely watched contests in the country on the American left ― ended in victory for another machine candidate, New York City Public Advocate Letitia "Tish" James.

But after getting hammered in the state's marquee races, progressives dominated contests in the state legislature. Left-wing primary challengers effectively ended the Independent Democratic Conference ― a coalition of Democrats who conferenced with Republicans to block Democratic control of the state legislature with Cuomo's tacit consent.
Fearing Nixon's challenge, Cuomo brokered a deal to disband the IDC in April, but activists wanted to punish the lawmakers for their betrayal and ensure they never again left the fold.
Prior to election night, prominent progressives privately hoped that three or four ex-IDC members would lose. Six of the eight ex-IDC members lost their seats on Thursday night, while, in another closely watched state senate race, Democratic Socialist Julia Salazar emerged victorious over the big-money favorite, state Sen. Martin Dilan.
Cuomo survived a primary season in which two of his top aides were convicted on corruption charges amid widespread anger over New York City's dysfunctional subway system and discontent with the state's criminal justice system. His notoriously corrupt political machine relies on money from real estate developers and Wall Street banks, which enabled him to out-fundraise Nixon more than 14 to 1, en route to a 2-to-1 margin of victory ― roughly equal to his showing four years ago against Fordham University law professor Zephyr Teachout.

Teachout's defeat in Thursday's New York attorney general race is a hard loss for the American left, which recognized her candidacy as its best opportunity for a victory of national significance. By investigating New York-based businesses ― including the Trump Organization ― Teachout promised to clean up politics in both Albany and Washington while serving as a "regulator of last resort," countering the Trump administration's deregulatory agenda.

James is a longtime leader in New York City progressive circles. She won a seat representing Brooklyn on the New York City Council in 2003 running exclusively on the progressive Working Families Party's ballot line. She subsequently became one of the WFP's big success stories, winning the citywide public advocate post in 2013, and she has used all of the office's political muscle to fight for the city's most vulnerable residents.

But in her run for attorney general, James decided that she wanted to work with Cuomo and his considerable donor network, rather than against it. When Cuomo demanded that James snub the WFP as the price of his support, James acquiesced ― alienating progressives but opening Cuomo's gilded Rolodex. As her candidacy progressed, James started to seem like she was embracing the centrist ideology of Cuomo's wing of the party.

Although James later sought to clarify that she meant she would not focus on Wall Street to the exclusion of other targets, critics saw evidence of Cuomo's influence. In its endorsement of Teachout, the New York Times editorial board focused on what they believed would be James' lack of sufficient independence from Cuomo.

"Ms. James has for decades been a standout fighter for tenants, children and other vulnerable New Yorkers," the Times wrote. "But she has embraced political contributions from donors to Mr. Cuomo, who held a fund-raiser for her earlier this summer."

Regardless, James is sure to be a thorn in the side of President Donald Trump. And, more important, her victory blocks the election of Rep. Sean Patrick Maloney, whom New York's powerful real estate and financial industries sought desperately to elect.

The sweetest victory for progressives was the absolute wipeout of members of the IDC. Together with another rogue Democrat, state Sen. Simcha Felder, the breakaway faction ensured a Republican Senate majority since 2013. The unusual alliance blocked progressive legislation, which had sailed through the Democratic-controlled Assembly, to protect women's reproductive rights, modernize voting rules, shift the state to renewable energy and enact single-payer health care.

New York state Sen. Michael Gianaris, now chairman of the Senate Democratic conference, played the lead role in recruiting challengers to IDC members (though he subsequently remained neutral).
"He has a lot of political courage," Alessandra Biaggi, the candidate who would ultimately unseat former IDC chairman Jeff Klein, told HuffPost in August.
But perhaps no group deserves more credit for knocking off the ex-IDC members than the Working Families Party, which provided the principal institutional backing for the challenges and made it a central theme in its campaign against Cuomo as well. The WFP invested about $400,000 in electing the state Senate challengers, providing crucial in-kind staffing and media support.
The destruction of the IDC is also a victory for the Resistance grassroots, not least an upstart group, No IDC NY, which raised $250,000 for the anti-IDC candidates from an email list of 20,000 people.

"Tonight in New York we saw that the grassroots really matter," said Jim Casteleiro of No IDC NY. "These things don't die. But it does mean the machine now has to pay attention to the people."
But the results at the top of the ticket showed the enduring power of corruption in Democratic Party politics. Ever since the 2016 election, Democratic pundits have been wondering how Republican voters allowed themselves to be misled by a con man who cares more about lining the pockets of his friends and family than he does about his constituents. On Thursday night, New York Democrats proved the spirit is not a uniquely Republican phenomenon.
This article has been updated with information on the role of the Working Families Party.
Popular in the Community