The Democratic primary, which long seemed to be headed toward a stagnant coronation of Hillary Clinton, has recently threatened to become a little more interesting. 
Clinton, who began the year with more than 60 percent support in an average of national primary polls, has since fallen to the 50 percent mark. Two other Democrats are now regularly surmounting 10 percent: U.S. Sen. Bernie Sanders (I-Vt.), a declared 2016 candidate who has seen a groundswell of enthusiasm, and Vice President Joe Biden, who's widely believed to be considering a historically late entrance into the race.
While Clinton's support has trended downward, however, the former secretary of state remains enough of a frontrunner that, barring a sudden collapse, her rivals have relatively little opportunity to surpass her.
A HuffPost/YouGov poll conducted earlier this month, which asked Democrats whether they had made up their minds and whether they would prefer Clinton or a different nominee, shows just how much of the primary field she may have locked down. Sixty-two percent of Democrats who plan to vote in the primary say they would prefer to see her as the nominee, including 44 percent who say they "have a good idea" of who they'll vote for and 16 percent who are still making up their minds but would rather see her nominated than anyone else.
This far before the election, of course, polls aren't a particularly good predictor of who'll ultimately end up winning -- especially in primary elections, where it's difficult for pollsters to flush out the relatively small group of people who will actually turn out to vote.
But the survey also provides a snapshot of how Democrats view Clinton, Biden and Sanders in regard to three key attributes: their personal character, their ideology and their electability. Clinton leads on all three metrics, though the perception that she's likeliest to win far outshines the perception that she's the most trustworthy candidate. Sanders is seen as a kindred political spirit by liberals, but reaps little electoral benefit. And Biden struggles to distinguish himself from both of his potential rivals.
Discussions of the challenges facing Clinton tend to focus on her perceived dishonesty, which haunted her unsuccessful 2008 candidacy -- and of the three issues, it's the one where her lead is most imperiled.  While 41 percent of Democrats in the HuffPost/YouGov poll say Clinton is the most trustworthy candidate, a combined 41 percent instead name Sanders or Biden, with the remainder unsure. Nearly a quarter of Clinton's own supporters say they think one of the other two politicians is more trustworthy. 
Still, while perceptions of her character could remain a significant issue in a general election, there are few signs that it will be fatal to her primary chances. In June, just a quarter of Democratic voters who would prefer a different nominee -- or about 7 percent of Democratic voters overall -- said they were primarily concerned about Clinton's character. And in a recent CBS poll, Democratic primary voters were slightly more likely to describe Sanders as untrustworthy than they were to say the same about Clinton.
Rather than going explicitly negative, Sanders has largely tried to distinguish himself as a progressive alternative to Clinton. Where the candidates stand ideologically, though, isn't especially clear to most voters. When a June Economist/YouGov survey asked Democrats to rank politicians' ideology on a scale of 0 to 100, they put Sanders only 6 points to the left of Clinton, with Biden and Clinton's positions seen as virtually indistinguishable.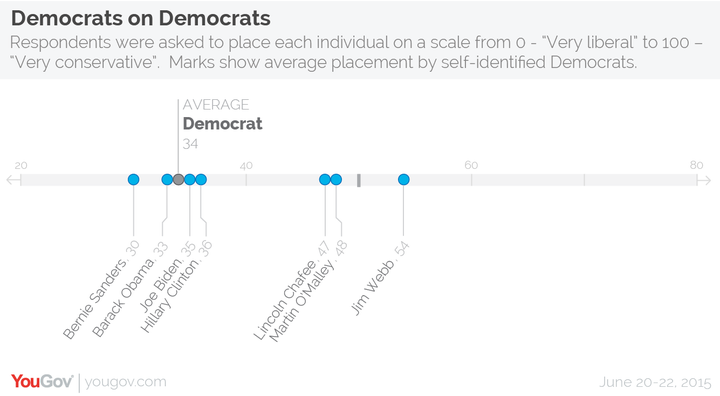 Perhaps because they're most familiar with Clinton's views, 45 percent of Democratic voters in the HuffPost/YouGov survey say Clinton is ideologically closest to their own views. Just 26 percent name Sanders, while 12 percent name Biden. 
Self-described liberals see themselves as closer to Sanders than to Clinton, but by only a 7-point margin, not large enough to make up for the 32-point edge she enjoys among self-proclaimed moderates. A significant fraction of those liberals plan to vote for Clinton anyway.
Clinton's greatest selling point to her party remains her perceived ability to win. Two-thirds of Democratic voters think she's the most likely to win the general election, while just 8 percent each say the same about Sanders and Biden. Even those Democrats who don't want Clinton as their nominee believe she's more electable than the others, a conclusion similar to the one reached in a HuffPost survey of party activists, who feel warmly toward Sanders but overwhelmingly see Clinton as the only viable candidate.
With months still to go before the first primary votes are cast, there's plenty of time for preferences  to change. But Sanders -- and Biden, if he chooses to step in -- faces a distinctly uphill challenge in turning things around on a national scale. The contingent of Democrats looking for someone besides Clinton is small and doesn't appear to be on the rise. Whatever concerns Democrats may have about Clinton, a significant bloc of the primary electorate is already solidly behind her.
The HuffPost/YouGov polls cited consisted of 1,000 completed interviews each, conducted Aug. 5-6 and Aug. 6-9 among U.S. adults, using a sample selected from YouGov's opt-in online panel to match the demographics and other characteristics of the adult U.S. population.
The Huffington Post has teamed up with YouGov to conduct daily opinion polls. You can learn more about this project and take part in YouGov's nationally representative opinion polling. Data from all HuffPost/YouGov polls can be found here. More details on the polls' methodology are available here.
Most surveys report a margin of error that represents some, but not all, potential survey errors. YouGov's reports include a model-based margin of error, which rests on a specific set of statistical assumptions about the selected sample, rather than the standard methodology for random probability sampling. If these assumptions are wrong, the model-based margin of error may also be inaccurate. Click here for a more detailed explanation of the model-based margin of error.
Calling all HuffPost superfans!
Sign up for membership to become a founding member and help shape HuffPost's next chapter