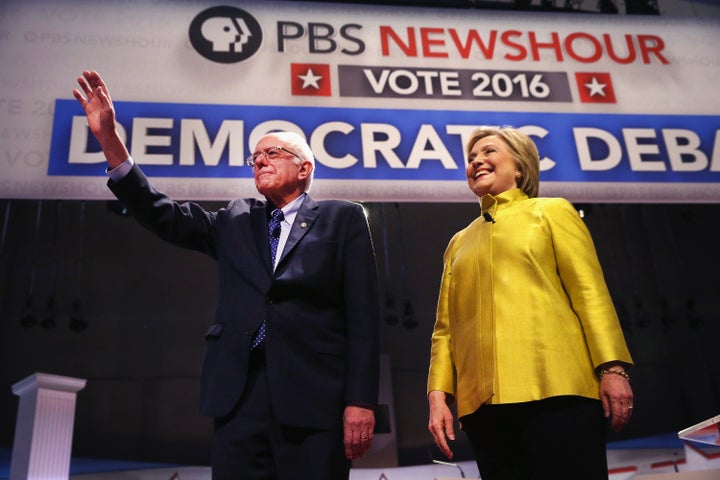 Hillary Clinton's overwhelming win in South Carolina's Democratic primary comes in the midst of an increasingly acrimonious race between her and Vermont Sen. Bernie Sanders, with the pair sparring in recent debates over everything from Clinton's ties to Wall Street to Sanders' previous criticism of President Barack Obama.
An observer of the debates between each candidate's more fervent online supporters could be forgiven for thinking that the party electorate is similarly divided. Charged arguments have left Clinton's backers denouncing their rivals as "Bernie bros," a characterization that Sanders' supporters emphatically reject.
But Twitter and Reddit, as either scientific studies or a bit of common sense can attest to, are far from representative of the broader electorate. And such animosity hasn't taken much hold among the majority of party voters, who like both their candidates and are already largely willing to rally behind either in a general election.
Exit polls in South Carolina, like those in previous states, show that a strong majority of voters would be satisfied to see either candidate as the nominee. And a national HuffPost/YouGov poll, conducted before the primary, shows Democrats generally happy to accept either candidate.
According to that survey, 77 percent of Democratic primary voters nationwide would be at least satisfied with a Clinton nomination, and 63 percent would be at least satisfied with Sanders as the nominee. Fewer than a fifth would be angry about either outcome.
While Clinton, who continues to hold a small lead in national polls, has the edge, even those who'd be less than happy with a Sanders victory would support him over a Republican rival.
Democratic primary voters overwhelmingly say they'll stay within party lines come November, with 76 percent saying they'd vote for Clinton and 77 percent that they'd vote for Sanders. The remainder are more likely to say they're undecided or not planning to vote than that they'd turn out for a Republican.

And most Democratic primary voters have nothing but good feelings for their fellow party members, regardless of whom they're backing. Seventy-three percent take a positive view of Clinton supporters, while 69 percent feel warmly toward Sanders' supporters.
The HuffPost/YouGov poll consisted of 1,000 completed interviews conducted Feb. 22-24 among U.S. adults, using a sample selected from YouGov's opt-in online panel to match the demographics and other characteristics of the adult U.S. population.
The Huffington Post has teamed up with YouGov to conduct daily opinion polls. You can learn more about this project and take part in YouGov's nationally representative opinion polling. Data from all HuffPost/YouGov polls can be found here. More details on the polls' methodology are available here.
Most surveys report a margin of error that represents some, but not all, potential survey errors. YouGov's reports include a model-based margin of error, which rests on a specific set of statistical assumptions about the selected sample, rather than the standard methodology for random probability sampling. If these assumptions are wrong, the model-based margin of error may also be inaccurate. Click here for a more detailed explanation of the model-based margin of error.
Support HuffPost
The Stakes Have Never Been Higher
Popular in the Community