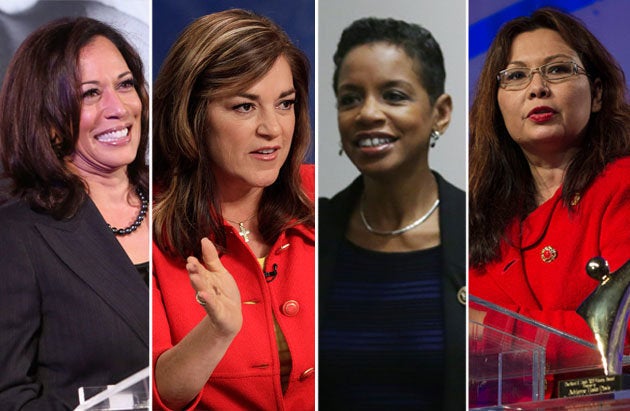 WASHINGTON -- There are already at least five major Democratic candidates of color running for U.S. Senate in 2016, a significant boost in diversity to a group that has traditionally been overwhelmingly white.
Of the 14 major Democratic Senate candidates thus far this cycle, 36 percent of them are people of color: state Attorney General Kamala Harris and Rep. Loretta Sanchez in California, Rep. Tammy Duckworth in Illinois, Rep. Donna Edwards in Maryland and former state Attorney General Catherine Cortez Masto in Nevada.
"We're at a tipping point. ... People of color, particularly women of color, are positioned not only to run these viable, strong campaigns but to actually win," said Aimee Allison, senior vice president at PowerPAC+, which works to increase diversity in progressive politics.
These numbers are likely to change before the general election. People are still jumping into races, and some of the candidates have to go through tough primaries that could knock them out of the race.
But a win by any of these women would be significant -- it would double the number of women of color in the Senate.
There are currently six minority members of the 100-person Senate. Three are Republicans (Ted Cruz of Texas, Marco Rubio of Florida and Tim Scott of South Carolina), and three are Democrats (Cory Booker and Robert Menendez of New Jersey, and Mazie Hirono of Hawaii).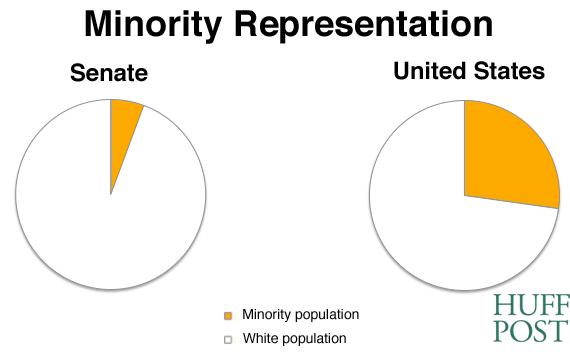 The Democratic field is also significantly more diverse than in past cycles. There were just two candidates of color in 2002, 2004, 2010 and 2012, and only one in 2006, 2008 and 2014.
"Several months into the cycle, we are proud to already have the most diverse group of candidates in our history," said Sadie Weiner, spokeswoman for the Democratic Senatorial Campaign Committee. "This cycle's talented candidates are poised to change the face of the U.S. Senate and help regain the majority so that we've got a Senate that is once again focused on the middle class."
Republicans have at least two candidates of color -- state Assembly member Rocky Chavez in California and Lt. Gov. Carlos Lopez-Cantera in Florida. The National Republican Senatorial Campaign Committee did not return a request for comment.
Allison said that although more minorities identify as Democrats, the party infrastructure still needs to make sure that it's recruiting and supporting candidates who know how to engage with communities of color and talk about what's important to them -- topics like income inequality, education and criminal justice reform -- in order to turn out people to vote.
"Democrats, both in the party and the other institutions that recruit candidates, need to recruit the kinds of candidates that represent the hopes and aspirations of the majority of people in this country," she said. "We know that people of color are about 35 percent of the country, but that's rapidly changing [and growing]."
Popular in the Community