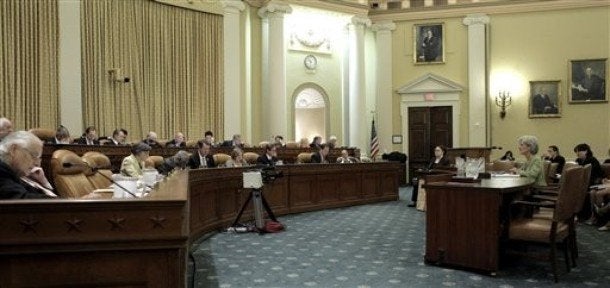 The battle for health care reform has intensified, with an actual plan beginning to materialize and key interest and political groups gearing up for a once-in-a-generation legislative fight.
Sources who have spoken with key players in the White House and Congress now say, more definitively than in the past, that the time frame for a bill is October. But what members will ultimately produce is far from clear. Part of the delay is owed to a decision among administration officials to let the process originate on Capitol Hill. Much of it, however, is due to divisions within the Democratic Party over just how far a reform effort should go.
No clearer evidence exists than the salvos launched this past week for and against the creation of a public plan for insurance coverage. The newest Democratic Senator, Arlen Specter, and the consummate centrist, Ben Nelson, both pledged to oppose such a measure, projecting the damage it could cause to the private insurance industry. But one prominent progressive told the Huffington Post that reform without a public plan would be tantamount to "a slap in the face."
Added former DNC chair Howard Dean, in an interview with the Huffington Post: "If you don't have a public option it is not worth doing... The idea that insurance companies and Republicans can prevent Americans from having choice is just wrong. And I don't think the American people will put up with it. The vast majority of Americans, including Republicans, believe there ought to be a choice for the American people."
To this point, the Obama White House has been tight-lipped about its preferences. But high-ranking Democrats say that in private discussions, Obama himself has expressed his desire for a public option.
"The president is ahead of some of his own staff members here," said Dean. "I think we are going to have a public health insurance plan because, in the end, it is what the president wants."
One thing that Democratic sources say the White House and Congress are looking closely at is the model Gavin Newsom has constructed in San Francisco, in which a universal program (at a relatively low cost) has been applied through the use of public clinics. Newsom met with administration officials as well as House Speaker Nancy Pelosi this past week and came away convinced that something would have to be done "not in 16 months but in six months." Helping to corral other mayors to support the president's health care priorities, Newsom was appointed chair of the US Conference of Mayors' Task Force on Health Care Reform.
But Newsom expressed concern that the dialogue coming from the Capitol was too nationally focused. "One-sided health solutions don't work," the mayor told the Huffington Post. "People, particularly in diverse communities, have a connection to their communities and to their clinics. Cultural competency needs to be a huge part of this debate and focus, and I don't hear a lot of that up in Washington, D.C."
In testimony on Capitol Hill on Wednesday, Health and Human Services Secretary Kathleen Sebelius touted community health centers as well as various local and state programs that had proven successful in "incentivising" coverage.
Her main detractors came from the Republican side of the aisle, where efforts have increased to oppose a public plan. And while Sebelius remained fairly broad on what a new health care system might look like, her remarks provided an unusually stronger indication of where the administration stands.
"Can you construct an un-level playing field with a public option unfairly competing with private options? You bet," she said. "Is that the intention of the administration or the majority of Congress when they talk about it? I don't think so at all. It can be designed in any number of ways... so if there really is a level playing field that private insurers don't have the advantage of cherry-picking the market and the public plan doesn't have the advantage of undercutting the cost of driving everybody out, it can work very effectively and does work very effectively all across this country."
Popular in the Community