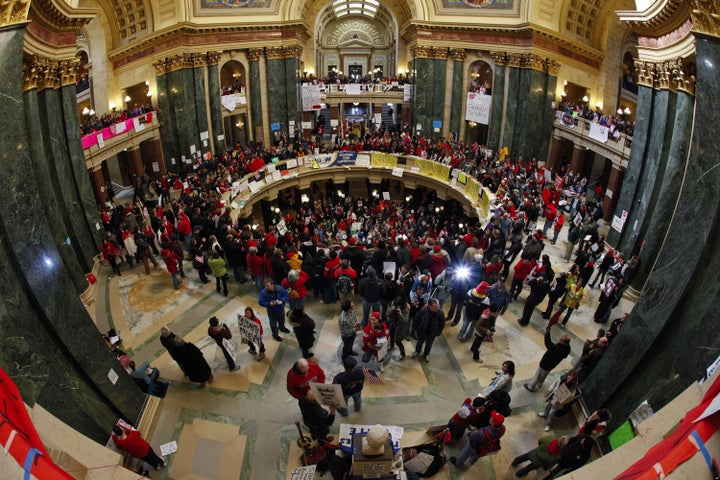 MADISON, WIS. -- Final passage of Gov. Scott Walker's (R-Wis.) controversial proposal to strip away collective bargaining rights from public employees is currently stalled, thanks to Senate Democrats who left the state in order to prevent their GOP colleagues from reaching a quorum needed to move forward.
But many remained worried that once they come back, Republicans will push through the legislation anyway. Democrats, however, haven't given up yet and say they have a two-pronged strategy for moving forward.
In an interview with The Huffington Post on Saturday, freshmen Democratic Assembly Member Brett Hulsey said that until the legislation passes, they're trying to put as much grassroots pressure as possible on Republicans.
"What we're telling people is to call people you know in Republican districts," said Hulsey. "Tell them to call their senators and Republican members at home. When you see them at church and at the grocery store, tell them to kill the bill."
The second strategy will come only if Republicans decide to stick with Walker. According to Wisconsin law, voters can recall any elected official in the state, as long as they've been in office for at least a year. This process involves collecting signatures for a recall position and then holding an election with the incumbent against any other candidates who jump in. As ThinkProgress' Ian Millhiser has reported, there are eight Republicans who could currently be recalled.
"We've seen what happens when Scott Walker and the Republicans have total control: You get dictatorial power," said Hulsey. "The tyranny of the majority, as [James] Madison spoke of in the Federalist Papers."
"Recall Walker" is a popular chant amongst protesters in Madison, although Walker just took office in 2011 and therefore is not eligible to go through the process yet. (Most protesters who talked with The Huffington Post admitted that they knew about this technicality but wanted to join in the chanting anyway.)
But that doesn't mean labor leaders aren't already thinking about recalling Walker when it's time.
"We would do it now," said AFSCME President Gerald McEntee in a phone interview with The Huffington Post's Sam Stein, "but we don't have the opportunity because he has to be in there a year. But whether or not we lose this battle, that is one of our possible objectives, to pursue a recall against him."
The Wisconsin Republican Party did not return a request for comment.
Part of the irony of the Walker recall effort is that the governor was elevated in public life thanks to politician's recall woes. In 2002, Walker won a special election to serve as Milwaukee County executive after Tom Ament, plagued by scandal and facing recall, decided to retire.
Conservatives are also reportedly eyeing recall efforts against two Democratic state senators who left Wisconsin this week. When asked about whether he's worried something like this, Hulsey said he thought it was a politically risky move for Republicans: "Rock and roll! Let's rock!"

Popular in the Community