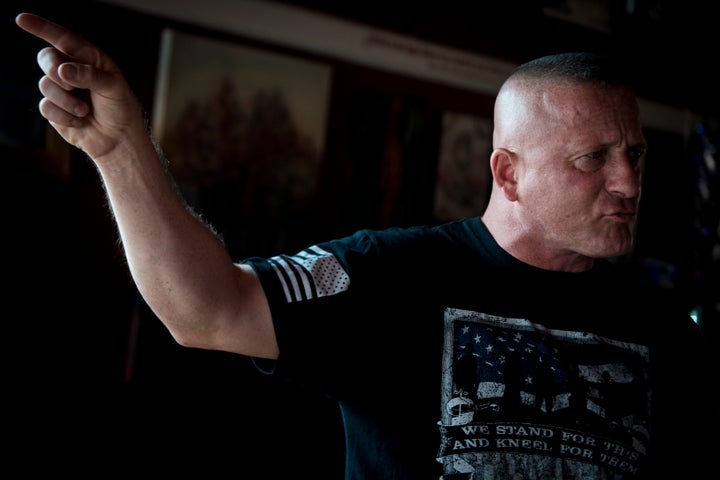 A group supporting Democratic veterans is set to spend $8 million boosting veteran congressional candidates in the final weeks before the 2018 midterm elections, including a massive outlay in Florida's hotly contested Senate race and smaller sums in key House races.
The spending from VoteVets.org is part of a yearslong strategy by the group to increase the number of Democratic veterans in Congress, a strategy that has helped elected Reps. Ted Lieu (Calif.), Tulsi Gabbard (Hawaii) and Seth Moulton (Mass.). The long-term goal? To make sure Democrats have veterans in office to help battle GOP plans to privatize veterans' health care and wage unnecessary wars, said Jon Soltz, the group's president.
"This is part of a much longer, larger strategy to help Democrats," Soltz said, noting the group is also endorsing more than 80 candidates for state legislative seats around the country.
The spending could play a crucial role in helping Democrats win House and Senate seats in areas where President Donald Trump triumphed in 2016.
VoteVets.org's biggest outlay will be in Florida's Senate race, where it is supporting Sen. Bill Nelson, an Army veteran, by airing an ad slamming Florida Gov. Rick Scott for "defrauding the military's health care program" when he was the CEO of a hospital chain. The group is spending $4 million on the race, which is one of the nation's priciest political contests.
The group is also set to roll out an ad attacking Republican Carol Miller in West Virginia's 3rd District, part of its efforts to boost Army veteran Richard Ojeda in a district Trump won by 50 percentage points in 2016. The ad features a veteran who became addicted to opioids slamming Miller for her ties to the pharmaceutical industry.
"Carol Miller profited off of my addiction," Nick Ganser, an Iraq War veteran from Chapmanville, says in the ad. VoteVets.org is spending at least $450,000 to air the spot.
The group is also spending $700,000 on Democrat Jason Crow's run against GOP Rep. Mike Coffman in Colorado's 6th District and $800,000 boosting Democrat Dan Feehan against Republican Jim Hagedorn in Minnesota's rural 1st District.
Soltz said the group is preparing other ad buys it's not yet prepared to reveal.