Democratic women are poised to rule in Michigan. In January, the state will have a female governor, Gretchen Whitmer, and secretary of state, Jocelyn Benson. Attorney general-elect Dana Nessel will be Michigan's first openly gay elected official. Two are taking over from Republican men, and one from a Republican woman.
Democratic women are also approaching equal representation in their party's caucus in the state legislature.
Faced with this apparently terrifying wave of estrogen, the state's male-dominated GOP is, to put it precisely, freaking out.
Republican legislators in Michigan's House are floating a raft of measures during this lame duck session meant to weaken the roles of all three women. One would undermine the governor's and attorney general's abilities to intervene in lawsuits; another diminishes the secretary of state's role in campaign finance oversight. They're even looking to limit the governor's ability to appoint a director of the state police.
Last month, the lame-duck legislature voted to keep a ban on telemedicine abortions in place. And last week, GOP legislators passed one bill gutting paid sick and family leave and another weakening a planned minimum wage hike. The two policies would disproportionately hurt women, who make up the majority of low-wage earners and are more likely to need leave.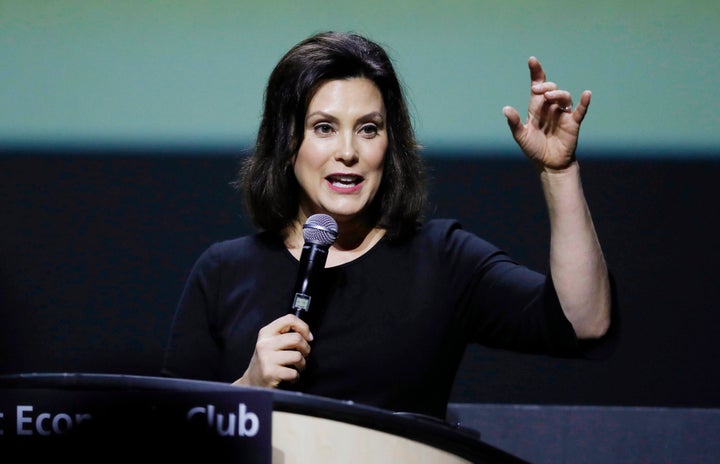 The GOP moves in Michigan are an attempt to "silence women," the majority of voters who swept Whitmer and company into power, said Angela Wittrock, a spokesperson for Planned Parenthood Advocates of Michigan.
"It's literally women saying, 'Here is what we want,' and men walking over and saying, 'Shhhhh.'"
What's happening in Michigan is worth a closer look as an unprecedented number of women are set to enter Congress. And it's a sign of how heated the political arena can get as women start chipping away at what's been centuries of male-dominated politics.
"In the 40 years that I've been here, I have not seen any such effort to curtail the powers of the governor and the executive branch," a Wayne University law professor recently told the Detroit Free Press.
To be sure, the GOP's mad rush to hold on to power is primarily about partisanship.
"This is about a party of sore losers intent on keeping a hold on power as they see a group of incoming Democrats about to take power in Michigan," said Samantha Hart, the spokeswoman for the Michigan House Democrats.
Republican state legislatures are trying similar tactics in other places. In Wisconsin, as Gov. Scott Walker (R) makes his way out the door, the legislature has passed measures weakening the incoming governor and attorney general, just as Tony Evers and Josh Kaul are set to take over.
Yet, Hart conceded, gender can't be dismissed as a factor this time around. She pointed to a contentious campaign for governor in which Whitmer's opponent kept "mistakenly" calling her Jennifer ― apparently confusing her with Jennifer Granholm, the only other woman ever elected governor in the state. (Seen one lady gov, you've seen 'em all.)
Whitmer was also called "unladylike" for using a mild profanity in her popular campaign slogan, "Fix the Damn Roads."
"A lot of the attacks that came from the Republicans were either dog-whistle or straight-up insinuating that the women weren't qualified or effective," said Wittrock.
"A lot of the attacks that came from the Republicans were either dog-whistle or straight-up insinuating that the women weren't qualified or effective."
Whitmer beat her GOP opponent, Attorney General Bill Schuette, by nearly 10 points in November. Her victory was a sharp rebuke to Democrats who saw Donald Trump's 2016 victory in the state as a sign that only a certain kind of white man could win an election, said Susan Demas, the editor-in-chief of the Michigan Advance, who wrote about the lame-duck shenanigans in a recent column titled "Whoa, there, little ladies. GOP men will show you who's boss."
Women in the state legislature have also long had to deal with outdated comments and actions from their male counterparts.
In 2012, Democratic state Rep. Lisa Brown was barred from speaking because she used the word "vagina" during a debate about abortion.
"I have not asked you to adopt and adhere to my religious beliefs. Why are you asking me to adopt yours?" she said at the time, then uttering the fateful sentence: "And finally, Mr. Speaker, I'm flattered that you're all so interested in my vagina, but 'no' means 'no.'"
Whitmer, at the time a state representative, organized a protest on the issue ― helping stage a reading of "The Vagina Monologues" outside the statehouse.
"We have a long tradition of trying to silence women," Wittrock said.
But women aren't down for being silenced in 2018. They flocked to the statehouse last Tuesday to protest the wage and leave bills, and more protests are expected next week.
"Things feel very personal right now. As a woman in 2018, I feel attacked by the current administration and by the Republican Party," said Rachel Tocco, a 35-year-old project manager who lives in Dexter, Michigan.
Tocco became politically active after the 2016 election and now co-chairs a local branch of the grassroots group Indivisible. "I consider political activism to be my main hobby right now," she said.
CORRECTION: A previous version of this story said Michigan's top three elected positions were currently held by men. The outgoing secretary of state, Ruth Johnson, is a woman.
Popular in the Community