WASHINGTON ― In a major win for the labor union-backed Fight for $15 movement and the progressive wing of the Democratic Party, Sens. Bernie Sanders (I-Vt.) and Patty Murray (D-Wash.) are introducing a bill to raise the federal minimum wage to $15 an hour.
Sanders, who caucuses with Democrats, introduced a similar $15 minimum wage bill in July 2015, but it garnered the support of just six senators, including himself.
With a more gradual phase-in period, the new legislation already has the backing of 23 senators, including Murray, the ranking member on the Health, Education, Labor and Pensions Committee, and Senate Minority Leader Chuck Schumer (D-N.Y.).
Rep. Keith Ellison (D-Minn.), co-chair of the Congressional Progressive Caucus, and Rep. Bobby Scott (D-Va.), ranking member of the Education and the Workforce Committee, are debuting companion legislation in the House.
Asked Wednesday if Democrats had finally arrived on a minimum wage plan they could all agree on, Murray told HuffPost that was the "wrong question."
"The question is will the Republicans work with us to raise the minimum wage," Murray said. "I think that we have designed [this bill] in a way that people across the country can get behind it."
This is a case for economic justice.

Sen. Chuck Schumer (D-N.Y.)
The Raise the Wage Act, as the bill is known, would phase in an increase beginning this July, with the largest boost occurring in the first year of its implementation.
Under the proposal, the federal minimum wage would go from $7.25 to $9.25 in 2017, before proceeding to $12 in 2020 and $15 in 2024. Thereafter, the minimum would rise in tandem with median wage growth.
The legislation would also gradually increase the lower minimum wages for tipped workers and workers with disabilities employed in specialized workplaces so they achieve parity with the broader minimum wage.
Sanders, Murray, Schumer, Ellison, Scott and other lawmakers joined with striking federal contract workers for a rally on Capitol Hill Wednesday morning to announce the new legislation. (The lawmakers will formally introduce the legislation sometime next month.)
Schumer told the crowd that Democrats "are going to stop nibbling around the edges" and start fighting for "bold legislation" like the $15 proposal.
"It's not just about a number," he said. "This is a case for economic justice."
Sanders alluded to the fact that Democrats were proposing the higher minimum wage on the same day the White House began pushing for corporate tax cuts.
"There is something profoundly wrong when we have a president, and we have Republican congressional leaders, who are working overtime for tax breaks for billionaires, but they have nothing to say about raising the minimum wage," he said.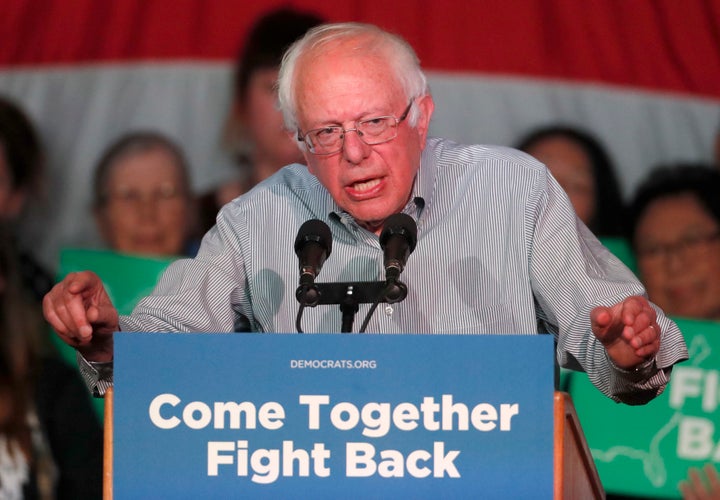 By the time it would take full effect in 2024, the minimum wage proposal would raise the pay of 41.5 million workers, according to an analysis released by the progressive Economic Policy Institute timed to coincide with the Capitol Hill rally. The bill would ensure that in 2019 the minimum wage would exceed the inflation-adjusted peak it reached in 1968, EPI estimates.
EPI is an influential think tank in Democratic circles. It did not endorse previous $15 minimum wage proposals in Congress, but it does back this one ― another sign that the more gradual escalation of the wage floor in this plan has broadened the tent of supporters on the left.
Sanders' previous legislation phased in the $15 minimum wage increase by 2020. The new legislation's slightly longer phase-in period was the result of a negotiation with Murray and Scott aimed at getting their support.
Congressional aides with knowledge of the discussions said the lawmakers agreed from the get-go that $15 needed to be the target, however. That is a change from April 2015 when Murray and Scott introduced a bill that would raise the federal minimum wage to $12 by 2020.
Economists are divided on the points at which increases in the minimum wage would reduce employment and create a risk that's no longer worth the benefit of raising low-wage workers' living standards. 
Dean Baker, co-director of the Center for Economic and Policy Research, a liberal think tank, worried that Sanders' 2015 legislation would have led to a "noticeable increase in unemployment." That would not only hurt workers but also provide fodder for conservatives to argue against future increases, Baker reasoned.
"I feel much better about this one," Baker said of the current bill. "I wouldn't say the risk is zero with that as a target in 2024, but it's certainly much smaller."
The federal minimum wage of $7.25 per hour hasn't been raised since 2009, after the last of a series of increases signed into law by President George W. Bush. President Barack Obama was the first president since Ronald Reagan not to put his signature on a minimum wage package. It wasn't for a lack of trying, though. Obama spent much of his second term stumping for a hike ― at first to $9, but later for the $12 proposal backed by moderate Democrats.
Republicans in Congress have been steadfast in not holding a vote on any minimum wage measures, saying a hike would hurt job growth and hiring. So far, there's been no change in the political dynamic to suggest this year will be different. 
You're seeing Democrats unify around a common political agenda and at the top of that is a $15 minimum wage bill.

Joseph Geevarghese, Good Jobs Nation
Although Democrats aren't making much progress with their colleagues across the aisle, it appears they're at least finding more unity within their own party on the issue. Just a few years ago, it would have been virtually impossible to envision a national $15 minimum wage becoming the consensus position among congressional Democrats.
Then, in 2012, the Service Employees International Union and other union allies launched the Fight for $15 movement to demand that fast-food and other service-sector workers get a $15 minimum wage and a union. Propelled by a series of one-day strikes from low-wage workers and growing liberal momentum behind the movement, major cities and states have since adopted the $15 minimum, beginning with SeaTac, Washington, in 2013 and Seattle the following year.
Good Jobs Nation, an offshoot of the union-led campaign, extended the Fight for $15 to employees who worked for companies with federal contracts, including the cafeteria workers in the halls of Congress. Sanders, Ellison and other progressives in Congress championed these workers' struggles and pressed the Obama administration to use the contracting power of the federal government to boost their pay.
President Donald Trump has thus far kept those two orders in place. He overturned a third measure, the Fair Pay and Safe Workplaces rule, which required the federal government to refuse contracts to companies with a history of wage law violations.
"It is significant that during the week that the nation is marking Trump's first 100 days in office, you're seeing Democrats unify around a common political agenda and at the top of that is a $15 minimum wage bill," said Joseph Geevarghese, director of Good Jobs Nation
The new legislative initiative shows Democrats are warming to the populist pitch of Sanders, Ellison and their allies in a bid to counter Trump with a proactive economic message, according to Geevarghese.
"This $15 minimum wage bill helps make the economic contrast between Democrats and Republicans, who ran as populists and are governing as business as usual," he said. "This is more than we are not the party of Trump, it is we are the party of raising wages and of workers."
Calling all HuffPost superfans!
Sign up for membership to become a founding member and help shape HuffPost's next chapter
BEFORE YOU GO
PHOTO GALLERY
2017 Scenes From Congress & Capitol Hill