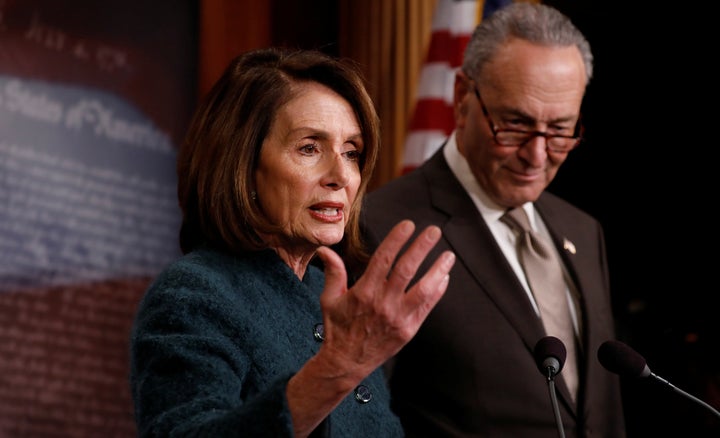 Democrats are planning to make Washington corruption a central focus of their midterm messaging, reviving a successful theme from when they took control of Congress in 2006.
The anti-corruption push is the second part of Democrats' "A Better Deal" platform. The first part, released last summer, focused on an economic agenda. The newest part is "A Better Deal for Our Democracy," which puts forward proposals to increase access to the ballot box, fight special interests and combat big money through campaign finance reform.
The new initiative will center on both President Donald Trump's administration and the culture in Congress that gives access to lobbyists and corporations. Trump's Cabinet officials, including Environmental Protection Agency leader Scott Pruitt and Interior Secretary Ryan Zinke, have drawn a torrent of negative headlines over allegations of unethical behavior, travel practices and ties to special interests. The president's hotel in downtown D.C., in particular, has been the subject of several lawsuits.
Congress has to rein in the excesses of the executive branch, Democrats argue, and the current crop of Republican leaders aren't going to do it.
Democrats unveiled their agenda Monday during a press conference on Capitol Hill. House Minority Leader Nancy Pelosi (D-Calif.) and Senate Minority Leader Chuck Schumer (D-N.Y.) were joined by other lawmakers who have been working on these issues, including Rep. John Sarbanes (D-Md.) and Sen. Sheldon Whitehouse (D-R.I.).
"President Trump has become the swamp and Americans are paying the price. The American people deserve better," Pelosi said at the press conference, citing the Trump administration's failure to reduce the price of prescription drugs and its repeal of numerous Obama-era regulations concerning air and water.
Schumer similarly lamented that Trump had failed to take on the powerful pharmaceutical industry, which is something he promised to do while on the campaign trail.
The Senate minority leader also pointed to the president's personal attorney, Michael Cohen, as an example of how influence peddling and special interests had consumed the Trump administration. Following the 2016 election, Cohen leveraged his relationship with Trump to receive millions of dollars from companies eager for insight into his administration.
"The swamp has never been more foul than under this president," Schumer said.
Democrats said they would bring accountability and transparency back to Washington by providing aggressive oversight of the Trump administration and by toughening the nation's campaign finance laws in order to stem the flow of anonymous political spending known as dark money.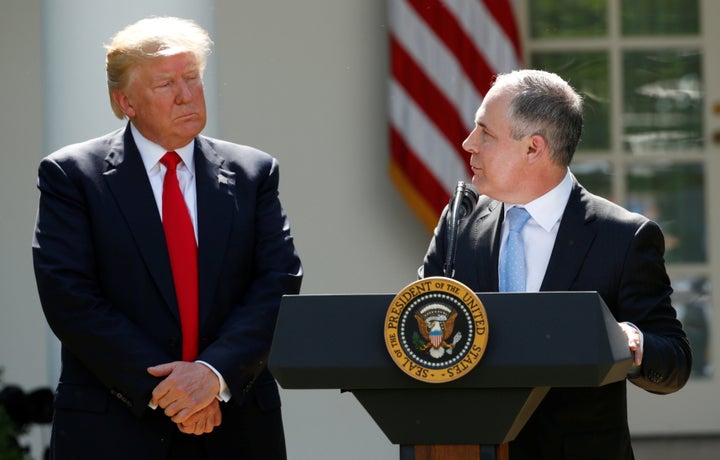 This focus on corruption is a revival of the party's successful messaging from the 2006 elections, when Democrats took control of the House and Senate from Republicans. They hammered away at the GOP's "culture of corruption, cronyism and incompetence."
In that election cycle, the GOP was besieged by scandals amongst House members. The most famous was the Mark Foley scandal, which involved Republican congressman from Florida sending sexually explicit text messages to teenage boys.
When that news broke in September 2006, Republicans knew they were doomed. But other scandals had been dripping out bit by bit in the prior months.
"Choking your mistress. Touching little boys. Taking money from the Russians. Questionable business dealings," said a GOP strategist who worked at the National Republican Congressional Committee in 2006 and requested anonymity to speak candidly. "You name it, we had it. On and on, never ended."
Pelosi has been testing out the anti-corruption message since at least April; for example, she went after Pruitt for being "a part of the Trump Administration's culture of corruption, cronyism and incompetence."
But it remains to be seen how much of this push will actually trickle down to the districts. While Democratic candidates have been talking about the tax law and its benefits for big corporations and lobbyists, they so far have not been focusing on Trump and the problems in his administration. It's rare to hear candidates talk about Trump in swing districts, with much more of the focus there resting on policy issues such as health care and gun control.
This article has been updated with comment from Monday's press conference.
Popular in the Community