WASHINGTON ― Democrats rolled out a new, populist-leaning agenda on Monday that they're branding "A Better Deal." Although specific legislative proposals haven't been laid out yet, the rough outline suggests a significant shift in party thinking on an issue that touches all Americans: monopoly power.
Senate Minority Leader Chuck Schumer (D-N.Y.), writing in The New York Times, named antitrust law reform as one of the major planks in the new agenda. Corporate mergers, he said, have driven up prices for consumers and given them fewer choices. That, in turn, has concentrated wealth in fewer hands and made income inequality worse.
"Right now our antitrust laws are designed to allow huge corporations to merge, padding the pockets of investors but sending costs skyrocketing for everything from cable bills and airline tickets to food and health care," Schumer wrote. "We are going to fight to allow regulators to break up big companies if they're hurting consumers and to make it harder for companies to merge if it reduces competition."
The focus on monopolies in the Democratic Party's image reboot drew cheers from the progressive wing of the party, especially as it came from a party leader known for his ties to Wall Street:
Decades ago, it would have been unremarkable to hear mainstream Democratic politicians condemn corporate consolidation and its effects on consumers and workers. But when it comes to monopolies, the modern, more business-friendly Democratic Party isn't the same trust-busting party it was a century ago. Look no further than one Democratic senator's reaction this month to the prospect of Amazon's purchase of Whole Foods:
As Matt Stoller recently wrote in The New Republic, corporate consolidation "pervades every corner of American life," from our airline tickets and drug prices to our cable bills and favorite beers. The concentration of economic power over the last several decades has happened under the watch of Democrats as well as Republicans. If Democrats want to find new relevance in the Donald Trump era, Stoller and others have argued, they need to tackle the issue of corporate mergers.
The prominence of corporate consolidation in the "Better Deal" platform is a victory for party progressives like Sen. Elizabeth Warren (D-Mass.), who have been hammering the issue for years. In a speech last year sponsored by New America ― a think tank that's been churning out research on monopoly power ― Warren said that economic consolidation "threatens our markets, threatens our economy, and threatens our democracy." Noting that nine American airlines have become four, Warren said the concept of "too big to fail" is now "hiding in plain sight all across the American economy."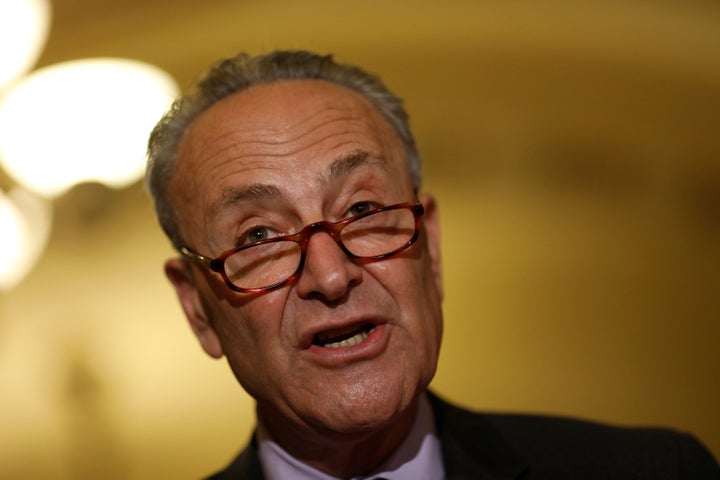 In a guide to the antitrust plank of their agenda, Democrats said they would propose new standards to make it easier for regulators to prove that consolidation will hurt competition, and would block the largest mergers by default until the companies could prove the value of consolidation to the public. They also proposed creating a new "competition advocate" that would field complaints from the public and recommend investigations to the Federal Trade Commission and the Justice Department.
The party singled out a handful of industries for busting up: airlines, cable and internet providers, agrochemical producers, and eyeglass makers. The latter, they noted, is dominated by Luxottica Group, parent company to Oakley and Ray-Ban.
Judging from the "Better Deal" rollout, Democratic leaders may be willing to confront the party's lax attitude toward consolidation in recent decades. Speaking on ABC's "This Week" on Sunday, Schumer said that the "the old Adam Smith idea of competition, it's gone." He offered one particular example of consolidation ― the Exxon-Mobil merger ― which happened in 1998, under the Bill Clinton administration.
"How the heck did we let Exxon and Mobil merge?" Schumer asked. "And that was Democrats."
Popular in the Community