Four Latino Democratic politicians were arrested outside Trump Tower in New York on Tuesday while protesting the president's actions on immigration and calling for legislation to protect young undocumented immigrants who came to the U.S. as children.
Reps. Luis Gutiérrez (D-Ill.), Raúl Grijalva (D-Ariz.) and Adriano Espaillat (D-N.Y.), along with New York City Council Speaker Melissa Mark-Viverito (D), and several other protesters, sat on the street blocking traffic during a protest organized by immigration advocacy group Make The Road New York. President Donald Trump was in New York for the United Nations General Assembly and stayed at his home in Trump Tower.
Demonstrators' goal was to "make it clear to President Trump, the Republicans and the Democrats that we will continue this peaceful fight for Dreamers and immigrants as long as it takes to enact legislation and put Dreamers in a safe place," Gutiérrez said in a statement, referring to young undocumented immigrants who came to the U.S. as children.
"A few Congressmen and elected-officials gathering in front of Trump Tower doesn't mean much if it is not backed up by the grassroots and allies and today we are standing with diverse allies to make sure Congress and the President do more than just talk about solutions, they actually follow through with action," Gutiérrez added.
Trump rescinded the Deferred Action for Childhood Arrivals program, or DACA, this month. Although he did not revoke work permits and protections for so-called Dreamers immediately, they will begin to lose DACA protections in greater numbers beginning on March 6 unless Congress intervenes.
Members of Congress in both parties have said they want to help DACA recipients, but have not settled on a way forward. Democrats are pushing for the Dream Act, a bill that would grant legal status to young undocumented immigrants who came to the U.S. as children, and party leaders in Congress said last week that they had a loose deal with Trump to tie that legislation to border security measures.
Trump and other Republicans denied that there was a deal and said they would not agree to anything without border security and enforcement measures included.
The protesters outside Trump Tower called for a "clean" Dream Act that would not include separate border security measures.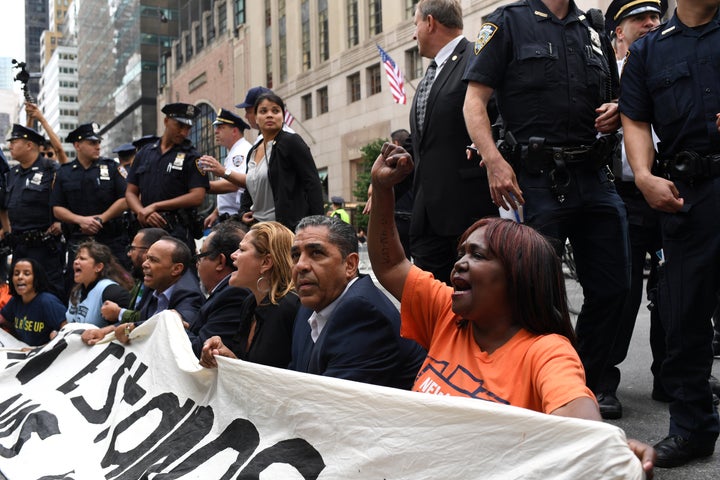 "We are here to defend our immigrant communities," Mark-Viverito said before her arrest, according to the New York Daily News. "We don't want families to be divided. Trump's policy goes against what the majority of this nation supports and believes in. It goes against our values."
Espaillat, the first formerly undocumented member of Congress, participated because he wanted to stand up "for immigrant youth to say loud and clear – unequivocally, that he dedicates his work in Congress to protecting immigrants, immigrant families, and their future in America," his spokeswoman Candace Randle Person said in a statement.
'Since day one, the Trump Administration has threatened Latinos, Muslims, LGBT, women and the list continues," Person said. "His decision to end the DACA program earlier this month increased the urgency of what's at stake and the lives at risk when we fail to speak out against racism in America."
Popular in the Community