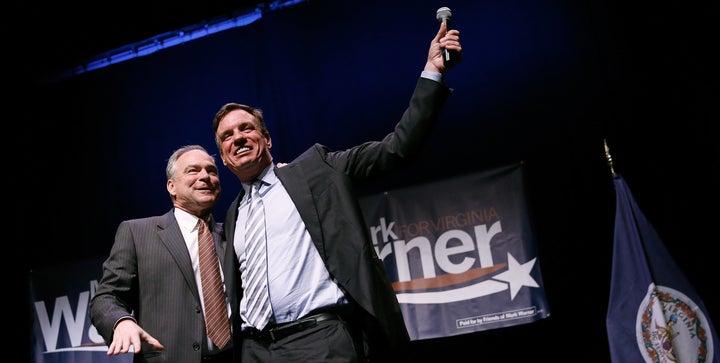 Tim Kaine isn't shy about his work as a fair housing lawyer. When he ran as the Democratic Party's vice presidential nominee in 2016, the Virginia senator routinely touted his past pro bono efforts to help low-income families deal with shady landlords and racist lenders. Combined with his affable dork-dad delivery, Kaine helped shore up Hillary Clinton's credibility on an ambitious anti-discrimination agenda. And it didn't sound like empty politician talk: Kaine had done the work.
He still feels a connection with civil rights attorneys. "In representing people who are getting ripped off or who don't have anybody else to stand up for them or who don't even know the questions to ask or where to turn for help, you are the hero," Kaine told a Washington gathering of the nonprofit National Consumer Law Center in November.
And on Monday, the Senate will hold a key vote on a Kaine-sponsored bill that deliberately undermines the government's ability to enforce laws against racial discrimination in the housing market. The legislation would block the Consumer Financial Protection Bureau from collecting key data showing when and where families of color are being overcharged for home loans or steered into predatory products. It's just one small provision in a broad financial deregulation package, which is almost certain to clear both chambers of Congress and receive President Donald Trump's signature. Last week, 17 members of the Senate Democratic caucus voted to advance the bill.
The effort to chip away at anti-discrimination enforcement has largely gone overlooked this year, as banking watchdogs focused their criticism on the legislation's rollback of tougher rules against risk-taking at megabanks that were implemented in response to the 2008 financial crisis. Both foreign financial conglomerates and big American regional lenders would enjoy lighter federal supervision if the bill passes.
To its opponents, the bill represents a contorted statement of values, prioritizing short-term bank profits over consumer protection and financial stability.
"This is a bad bill," Sen. Elizabeth Warren (D-Mass.) told HuffPost. "No Democrat and no Republican should support it."
The federal government has been collecting basic data on mortgage discrimination since 1975, tallying by race which families receive loans and which are denied. Banks have always made a habit of turning down mortgages in black neighborhoods ― a practice known as redlining that is still very much alive and well. But the housing bubble and subsequent foreclosure bust laid bare another ugly trend. Lenders had also been targeting minority families with subprime mortgages and other predatory loans, instead of simply denying mortgages outright.
The 2010 Dodd-Frank financial reform law sought to address this by setting tougher predatory lending rules and by requiring banks to turn over a broader swath of information to the newly created CFPB. In addition to basic facts about loan approval or denial, lenders had to report a borrower's age and credit score as well as the property value of the home being purchased, the interest rate, loan terms, and other pricing features of each mortgage. All of this information can be used to help determine if families of color are being ripped off or disproportionately pushed into predatory loans. The CFPB looks through the data for violations or red flags, and publishes it online so consumer groups can do their own research.
The bill the Senate will consider next week would wholly exempt banks that make 500 or fewer mortgages a year from reporting any of this additional data. That would shield about 85 percent of banks and credit unions from scrutiny, according to the CFPB's estimates. These smaller lenders issue only a small fraction of the home loans provided by the financial system, but still work with hundreds of thousands of borrowers every year.
A Kaine spokesperson said the senator is just looking to provide "relief for small community banks and credit unions in Virginia while strengthening consumer protections for all Americans." The spokesperson also noted Kaine's background: "As a former fair housing attorney who fought against discriminatory lending practices, Senator Kaine supports stringent requirements to protect against unfair lending, and this legislation keeps those protections in place."
But the National Consumer Law Center isn't buying it. In December, the center teamed up with two other consumer groups to urge every senator to vote against the "harmful legislation" that Kaine is backing. "This bill contains destructive policies that roll back or eliminate essential protections," the groups wrote.
It's hard to find a liberal organization that likes anything about the bill. The AFL-CIO, the consumer watchdogs at Public Citizen, the establishment think-tankers at the Center for American Progress, the wonk-activists at Indivisible and the banking experts at Americans for Financial Reform have all weighed in against the legislation, citing harms to consumers and risks to financial stability. The National Fair Housing Alliance, the National Housing Law Project and the National Urban League have all specifically criticized the provision on anti-discrimination data.
Supporters of the bill bristle at the suggestion that it protects racial discrimination. They say it would allow banks to make more loans by cutting costs and help small banks stay in business in a market that favors Wall Street ― standard defenses for any measure that saves money for little banks. A spokesperson for Sen. Mark Warner (D-Va.) said the legislation would not end the reporting of any data about race. That's technically true: Banks would still have to report the race of loan applicants to regulators, just not the new details about rates and types of loans.
A spokesperson for Sen. Jon Tester (D-Mont.) argued that the loss of some financial data was a reasonable price to pay for helping smaller lenders save money on paperwork: "The bill would exclude only 3.57 percent of data while exempting around 75 percent of insured banks and credit unions."
Detailed numbers from the CFPB show the data loss would be heavily concentrated on poor neighborhoods ― precisely the communities most at risk for predatory lending. More than 1,700 census tracts officially designated as "low and moderate income" would lose at least 20 percent of the data they'd collect without the new law, while 185 cities and towns would lose at least 10 percent.
For progressive interest groups, the idea of turning a blind eye to just a little housing discrimination in order to help banks trim paperwork costs suggests a twisted set of priorities.
"This bill opens a door for racial discrimination in mortgage lending," said Chad Bolt, a senior policy manager with Indivisible, a coalition of liberal activists formed after the 2016 election. "Why go back there?"
Banks already keep track of loan price and borrower details for their own files. The CFPB estimates that the current rule will cost small, "low-complexity" banks about $1,900 a year, plus about $3,000 in upfront costs. The potential profits from exploiting families of color are harder to quantify.
Senate Democrats, even those ardently pro-financial reform, have been telling community banks for years that they're willing to cut them a break on some post-crisis regulations. But Sen. Sherrod Brown (D-Ohio), the top Democrat on the Senate Banking Committee, had balked at Republican efforts to undermine basic consumer protection law. So the community bank lobbyists threw in their lot with big banks that were looking for their own set of favors. Until late last year, it seemed like a bad legislative strategy. Combining Wall Street deregulation with attacks on consumer protection enforcement was fine for cultivating Republican votes, but Democrats were reluctant to stage a frontal attack on President Barack Obama's financial reform law.
The Senate Banking Committee hasn't traditionally functioned as a platform for serious Wall Street oversight. Party leaders tend to pack the panel with swing-state Democrats, who can use their position to fundraise by doing various favors for the financial sector. With Brown refusing to bend on GOP demands, Sens. Warner, Tester, Heidi Heitkamp (D-N.D.) and Joe Donnelly (D-Ind.) decided to go around Brown and cut a deal with committee Chairman Mike Crapo (R-Idaho). Eight more Democrats, including Kaine, are also co-sponsoring the bill.
Heitkamp and Donnelly face tough re-election battles this fall, and the paucity of legislation during the Trump era makes the campaign finance strategy at work here fairly easy to interpret. According to Center for Responsive Politics data, the top three recipients of campaign contributions from commercial banks in the 2018 cycle have been Heitkamp, Donnelly and Tester, in that order. Heitkamp's $157,000 haul is nearly double what Crapo ― usually a top target as the committee chair ― brought in. Only Tester made the list of the top 20 Senate recipients of commercial bank cash in the 2016 cycle, suggesting that the bank lobby has been working overtime to get Democratic help this year.
"This bipartisan legislation would provide regulatory relief to Indiana's 103 community banks and 154 credit unions, many of which are located in rural areas facing significant declines in lending activity," Donnelly spokesman Sarah Rothschild told HuffPost. "That is why Senator Donnelly has worked since 2013 to make it easier for Hoosier families to get mortgages or obtain loans to start small businesses."
A representative for Heitkamp declined to comment.
For the financial industry as a whole, the anti-discrimination data provision is essentially a sideshow ― something thrown in to appease small banks that are comparatively disadvantaged by other parts of the bill.
Dodd-Frank imposed a tougher set of rules on the biggest banks than it placed on smaller firms. Banks with at least $50 billion in assets have to undergo frequent stress-testing by the Federal Reserve to determine whether they can withstand an unexpected financial shock. They have to finance their operations with more capital and less debt, and they have to keep more cash on hand. But the new deregulation bill would raise that minimum definition of big banks to $250 billion in assets ― which means even huge regional players like BB&T and Regions Bank would no longer have to follow the tougher Dodd-Frank rules. Foreign conglomerates with trillions of dollars in global assets like Deutsche Bank, Credit Suisse and UBS would also be exempted from U.S. enforcement of big bank standards, since they keep less than $250 billion of their assets in the United States.
"It's a whose-side-are-you-on moment," said Brown. "Are you with the big banks and the Wall Street operators who wrecked the economy and got big bailouts, or are you with families and workers? ... There is collective amnesia on Capitol Hill about what happened 10 years ago."
During the financial crisis of 2008 and 2009, a host of banks in the $100 billion to $200 billion range rushed into emergency acquisitions that ended with huge bailouts. Bank of America acquired Countrywide under duress, before the combined firm received a massive slate of taxpayer aid. GMAC, a major auto lender now known as Ally Bank, received several rounds of government help.
"Clearly the distress or failure of some of these banks could trigger reactions spreading broadly to the financial system," former Federal Reserve Chair Paul Volcker wrote in a letter to Brown highlighting the risks of rolling back oversight of "several large foreign banks." Volcker suggested that a $100 billion threshold would be more appropriate.
But for Warren and some other progressive Democrats, the bill looks like a solution in search of a problem. Dodd-Frank isn't strangling large banks. They're enormously profitable at the moment, and they were among the biggest beneficiaries of the tax bill Trump signed last year.
"To commemorate the 10th anniversary of the financial crisis, some Democrats are joining Republicans to pass a bill that will deregulate 30 of the 40 largest banks in the country that received a combined $50 billion in bailout money," Warren told HuffPost. "This is not the work we should be doing."
This story has been updated to reflect that the Senate has voted to advance the bill.
Popular in the Community