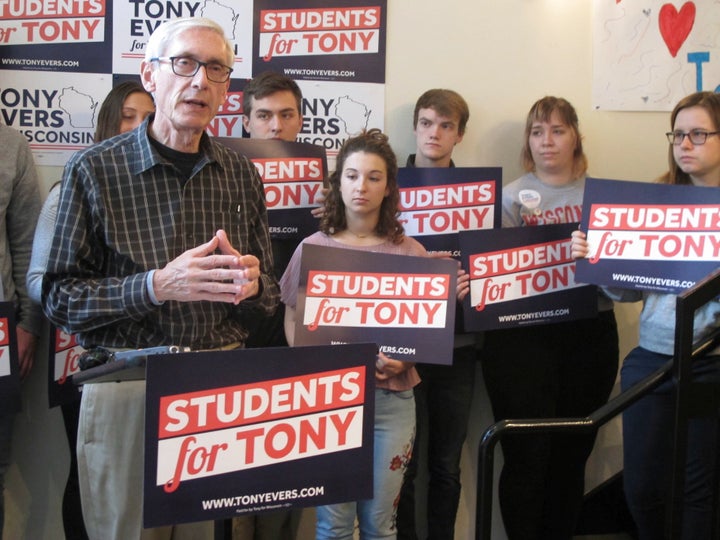 MILWAUKEE — On back-to-back days last week, some of the most exciting Democratic politicians in the country came to get out the vote in this crucial swing state.
Tony Evers, the Democratic nominee for governor, was also there.
California Sen. Kamala Harris, who has unveiled game-changing proposals on housing and taxes, and made a mark with her questioning of Supreme Court nominee Brett Kavanaugh, kicked off a canvass in North Milwaukee on Sunday. On Monday morning, Vermont Sen. Bernie Sanders — the grandfather of progressive politics, who turned Medicare-for-All and debt-free college tuition into primary litmus tests — came to the city's branch of the University of Wisconsin.
Evers showed, and spoke briefly, at each event. But he wasn't the main draw for either politician — both spoke effusively about his ticket-mate, Democratic Sen. Tammy Baldwin. And he wasn't a headliner — Nina Turner, the former Ohio State senator who leads Our Revolution spoke after Evers, and for longer, at Sanders' rally.
The big Democratic names are still coming — former President Barack Obama visited later in the week, and former Vice President Joe Biden was in the state on Tuesday. But Evers and Wisconsin Democrats don't mind that their candidate, Wisconsin's 66-year-old Superintendent of Public Instruction, isn't the center of attention.
Polls show Evers with Democrats' best chance ever of defeating Republican Gov. Scott Walker, whose moves to crush unions and subsequent political survival have made him public enemy number one for Badger State liberals. Democratic enthusiasm in the state — helped by opposition to Trump, the presence of progressive Sen. Baldwin on the ballot, and long-standing antipathy to Walker — remains high.
While Democrats in Sun Belt states like Georgia, Florida and Arizona have picked young politicians of color — Stacey Abrams, Andrew Gillum and David Garcia, respectively — as their gubernatorial nominees in hopes of firing up Democratic voters who often don't show in midterm election years, Democrats across the Rust Belt have instead selected experienced technocrats, and are pitching themselves to swing voters as the solution to America's political chaos.
"It's just who I am," Evers said of his low-key, low-drama, low-excitement style in a phone interview a few hours after his rally with Sanders. "I think people are sick of polarization, and sick of not getting things done."
It's a tack Democrats are pursuing throughout the Midwest, nominating a self-proclaimed nerd in Ohio's Richard Cordray, a deal-cutting legislative insider in Michigan's Gretchen Whitmer, and a buttoned-down businessman in Iowa's Fred Hubbell. All are promising to end one type of chaos or another: Hubbell is promising to undo a flawed privatization of Medicaid; and Whitmer's modest major policy promises are to "fix the damn roads" and end the water crisis in Flint. Evers is focused on protecting pre-existing conditions and fixing the state's potholes, which he calls "Scottholes."
And it could be replicated in 2020. With President Donald Trump's White House in constant flux, his rhetoric's divisiveness increasing without apparent end and more Americans describing themselves as "exhausted" by politics, Democratic strategists have begun musing that the best way to defeat Trump may be to go boring.
And it's the matchup between Evers and Walker — whose eight-year tenure has included mass protests of his union-busting bill at the state capitol, followed by a recall attempt and a presidential run — that provides the clearest test of the strategy.
"Democratic candidates in the Midwest are pushing back on Donald Trump's chaos with competence," Democratic Governors' Association spokesman Jared Leopold said. "Voters want steady leaders who'll get things done and fight back against wrong-headed policies from D.C."
Evers doesn't push back too hard against the "boring" label. In a video his campaign posted where he reads mean tweets, he responds to a missive calling him boring by noting he knows how to both dance the polka and play euchre.
In the primary, voters chose Evers over two younger, more progressive options: 41-year-old firefighters' union leader Mahlon Mitchell once described Evers as "like my grandfather," and 39-year-old state legislator Kelda Roys rose concerns Evers wouldn't be able to turn out young people. Unlike Mitchell and Roys, Evers didn't support the legalization of marijuana, instead asking for a statewide referendum.
And on another key progressive priority, health care, Evers is treading carefully. While he hammers Walker over his administration's support for repealing Obamacare's protections for pre-existing conditions, he says he supports slowly moving toward single-payer.
"There's going to be incremental steps for this," he said, noting he would first push for Wisconsin to expand Medicaid under Obamacare, then push for a public option in the state's Badgercare program. "It's got to be a stepping stone. We can't get too far ahead of ourselves."
For his part, Walker — a preacher's son who is known to wear camouflage hunting gear and ride Harley-Davidson motorcycles — isn't a thrill-ride of a candidate either. (The Capital Times, the major newspaper in Madison, recently dubbed the governor's race a battle of "bland vs. bland." In the story, Evers said in the early '80s, he and his wife "belonged to the Lions Club together and did all that kind of crazy stuff.")
The Walker campaign, meanwhile, is trying to turn Evers into a figure exciting enough for Republicans to oppose. The incumbent governor has a significant spending advantage, according to operatives on both sides, and has aired 34 different ads this cycle, attacking Evers as a tax-and-spend liberal. They've lately slammed him for plagiarizing parts of his budget documents — Evers has apologized, and said the works were improperly cited.
"National Democrats are spending tens of millions of dollars targeting Wisconsin and are lining up their top surrogates to try and provide a jolt to Tony Evers' campaign and defeat Scott Walker," said Brian Reisinger, a spokesman for Walker. "The problem for Evers is all the national Democrats flooding our state only further highlight his liabilities with voters — from the tax-and-spend record of Jay Inslee to the rampant plagiarism of Joe Biden."
Back at the field office in Milwaukee, a crowd of around 100 had crammed into a small room to see Harris, lining up to take selfies with her, and happily singing "Happy Birthday." She didn't mention Evers much — the two had just met — but she said Baldwin had been talking up the gubernatorial candidate.
"Tony," the likely 2020 presidential candidate said. "You're a rockstar."
Popular in the Community