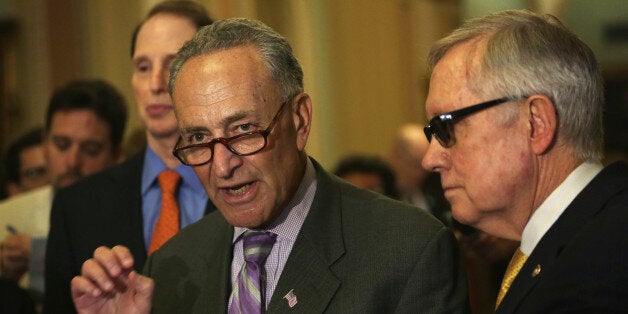 WASHINGTON -- Senate Democrats are threatening to filibuster any short-term extension of the federal fund that pays for the nation's highways, bridges, roads and mass transit when the clock runs out at the end of July.
Last month, Congress passed a short-term extension of the Highway Trust Fund, ensuring that the Transportation Department can use the rest of its reserves until July 31.
Lawmakers have talked of passing a second short-term patch in six weeks after the current one runs out, giving Congress time to work out the details of a multiyear bill by the end of 2015.
"Critical infrastructure is bleeding out," said Sen. Ron Wyden (D-Ore.), ranking member on the Senate Finance Committee, which is responsible for coming up with a funding mechanism for the trust fund.
"If you look at the record of these short-term patches, it's always a short-term patch and then everybody just goes off into budget la-la land," Wyden said Tuesday.
Sen. Barbara Boxer (D-Calif.), ranking member on the Senate Committee on Environment and Public Works, painted a starker picture.
"I have a list of bridges that are deficient -- bridges like the Brooklyn Bridge, bridges like the Golden Gate Bridge," Boxer said. "Think about what I'm saying. We cannot have a bridge collapse."
Boxer's committee plans to mark up framework legislation for a multiyear funding fix next week, but Democrats and Republicans have yet to decide how they will find the money to go into a six-year extension.
On Tuesday, Democrats sent a letter to Senate Majority Leader Mitch McConnell (R-Ky.), urging him to commit to a specific timetable to get a long-term funding fix passed by the end of July.
In the letter, Democrats called for hearings in all four of the authorizing committees by the end of next week, subsequent markups in the committees by July 10 and a long-term highway bill on the Senate floor by July 20.
"Bottom line is, we are asking them to meet our timetable. If they don't meet this timetable, it will be very hard for us to do another short-term extension," said Sen. Chuck Schumer (D-N.Y.), hinting at the possibility of a standoff with Republicans.
Schumer isn't the only highly placed Senate Democrat backing the strategy. Senate Minority Leader Harry Reid (D-Nev.), along with Sens. Dick Durbin (D-Ill.) and Patty Murray (D-Wash.), also emphasized the importance of avoiding another short-term fix on highways.
Reid argued that short-term extensions make it impossible for state transportation departments to do much more than fill potholes.
"Any long-term planning is gone," Reid said, referring to states' abilities to plan for large transportation projects. "We need Republicans to sit down with us... and negotiate a solution."
Democrats have subscribed to the proposal offered by President Barack Obama, which looks to international tax reforms for funding. Within that is a controversial plan to offset funding by allowing companies to return overseas profit to the U.S. Tax revenue from those repatriated profits would go toward the highway fund. A number of lawmakers argue that this would only be a temporary solution, and would not provide adequate funding.
When asked about the possibility that Democrats would block another short-term patch, Republican leaders accused Democrats of trying to draw attention away from current business in the Senate.
"To me, it seems like what they are trying to do with that is distract away from what's happening on the floor today," said Sen. John Thune (R-S.D.) on Tuesday. "They don't want to talk about funding for the military. I think they are trying to set up this shiny object that people will follow."
The Senate is considering a defense spending bill this week, which Democrats are also threatening to block because it fails to fix sequester caps. It's a strategy Democrats are hoping will lure Republicans to the negotiating table to fix sequestration for domestic programs.
McConnell brushed off the Democrats' threats, insisting that a long-term fix would be accomplished on the highway fund.
"We will be dealing with the highway bill before the August recess," McConnell said. "There is strong bipartisan desire to have a multiyear bill and we are working on it. It's just not the current business before the Senate."
Before You Go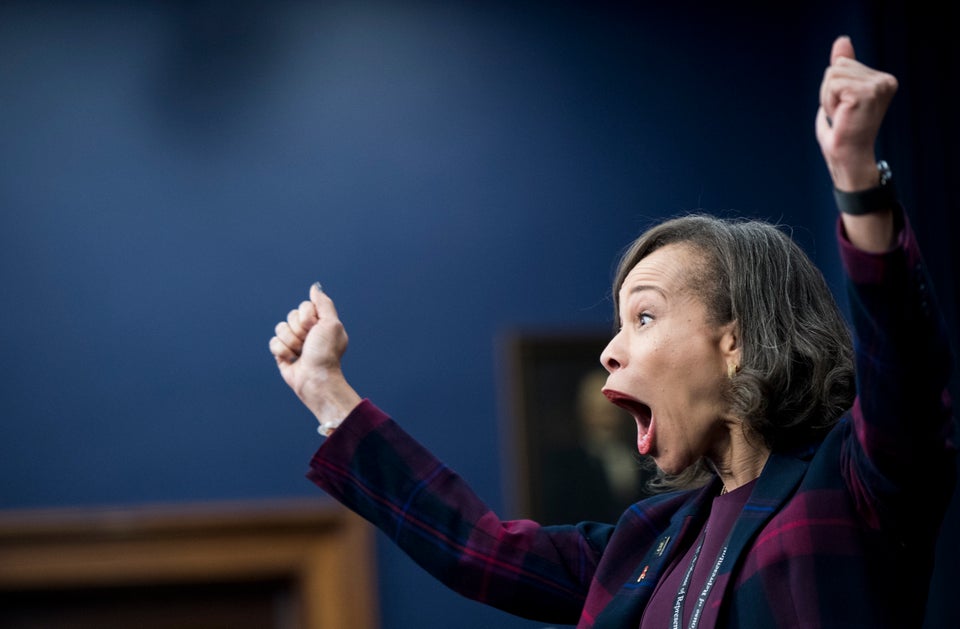 Scenes From 114th Congress And Capitol Hill
Popular in the Community