Senate Democrats blocked a vote on a bill Monday that would have stripped federal funds from Planned Parenthood, the nation's largest family planning provider.
Republican backers of the bill needed 60 votes to advance it to the Senate floor for debate, but it fell short in a vote of 53-46. Every Democrat except Sens. Joe Donnelly (Ind.) and Joe Manchin (W.Va.) voted against proceeding to debate. Sen. Mark Kirk (Ill.) was the only Republican to vote no. Sen. Lindsey Graham (R-S.C.) was absent.
Ahead of the vote, Democrats decried the bill as an ideological attack on women's health care and abortion rights.
Senate Minority Leader Harry Reid (D-Nev.) said Republicans have "lost their moral compass" in going after an organization that provides health care and family planning services to one in five women in the U.S. "Senate Democrats will fight vigorously this and any other attempt by Republicans to deprive American women of health care," he said.
The legislation, sponsored by Sen. Joni Ernst (R-Iowa), would have prevented Medicaid reimbursements and federal family planning funds from flowing to Planned Parenthood. The provider uses federal funds to subsidize non-abortion-related services, like birth control, cancer screenings and sexually transmitted infection treatments, for low-income patients. Republicans said the bill would protect women's health by redirecting those funds to community health centers that don't provide abortions.
"In my state, there are eight times as many community health centers as there are Planned Parenthood facilities," Republican Whip John Cornyn (Texas) told reporters last week. "I have every confidence they can absorb the legitimate health care needs of women for purposes that we all agree on, the primary health care."
In fact, community health centers may not be able to absorb all of Planned Parenthood's Medicaid patients. According to the Government Accountability Office, there is a nationwide shortage of Medicaid-participating providers, particularly for reproductive health care. Planned Parenthood says more than half of the 2.7 million patients it serves each year depend on public health programs like Medicaid for their health care.
Republicans have been trying to defund Planned Parenthood since 2011, when Speaker of the House John Boehner (R-Ohio) threatened to shut down the federal government over the issue. This latest effort comes after a series of heavily edited undercover videos showed Planned Parenthood doctors discussing the donation of fetal tissue after abortions for scientific research. Republicans claim the video shows Planned Parenthood doctors illegally attempting to sell fetal parts for profit.
"I know Democrats have relied on Planned Parenthood as an ally recently, but they must be moved by the horrifying images we've all seen," Senate Majority Leader Mitch McConnell (R-Ky.) said before the vote. "They must be shocked by the utter lack of compassion that's been on display. They must care about women's health as much as they care about some scandal-plagued political organization."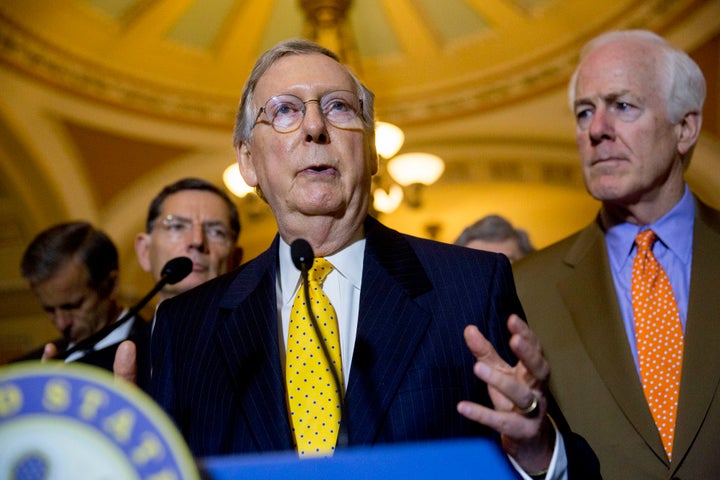 The full, unedited videos do not show any illegal activity by Planned Parenthood. The doctors say repeatedly in the footage that Planned Parenthood affiliates are not trying to profit off of donating fetal parts, but trying to recoup the small costs of preserving and transporting tissue for donation.
Donating fetal tissue after abortions has been legal since 1993, and several Republicans in Congress, including McConnell, actually voted for the legislation that legalized it. The bill specifically allows for "reasonable payments associated with the transportation, implantation, processing, preservation, quality control, or storage of human fetal tissue" after elective abortions -- which are the kind of payments Planned Parenthood doctors were filmed discussing in the videos.
Planned Parenthood President Cecile Richards said Monday that her organization makes "zero money from fetal tissue research," and she stands by the practice of donating it.
"It's being used for Parkinson's research, Alzheimer's research, a whole host of important diseases," Richards told MSNBC's Andrea Mitchell.
"I think it's really important," she added, "that in all of this political smear campaign that opponents of legal abortion have created, that in no way this taints the importance of fetal tissue research to solving and getting cures for some of the most important diseases we face as a country and as a people."
While the legislation to defund Planned Parenthood failed in the Senate, some Republicans have already threatened to try to shut down the federal government over the issue in the fall. Eighteen House Republicans wrote in a letter to GOP leadership last week that they are "deeply disturbed at recent reports that Planned Parenthood has been selling the tissue of unborn babies for profit" and will not vote for any government funding bill this year that includes money for the provider.
"These activities by Planned Parenthood cannot go unanswered by Congress," the lawmakers wrote.
Richards released a statement applauding the vote Monday.
"While some extreme Republicans may continue to insist on shutting down the government in order to deny health care, including birth control, to millions of women, that is a fight the American people have zero appetite for and a fight these extremists will not win," Richards said. "We're grateful that the Senate stood up for women across the country and rejected this bill."
CORRECTION: A previous version of this article incorrectly stated that John Boehner is House Majority Leader.
Popular in the Community