FRESNO, Calif. — Andrew Janz lost the race to represent California's 22nd Congressional District by more than 11 percentage points to one of President Donald Trump's most loyal allies on Tuesday, but that didn't stop his fans from drinking wine, eating churros and rocking out to the corny songs that are staples at these kinds of events.
Democrats knew Janz didn't have much of a chance of winning in the bright red central California district, but at least he "had the balls to compete," said Stacey Woo, a 48-year-old supporter.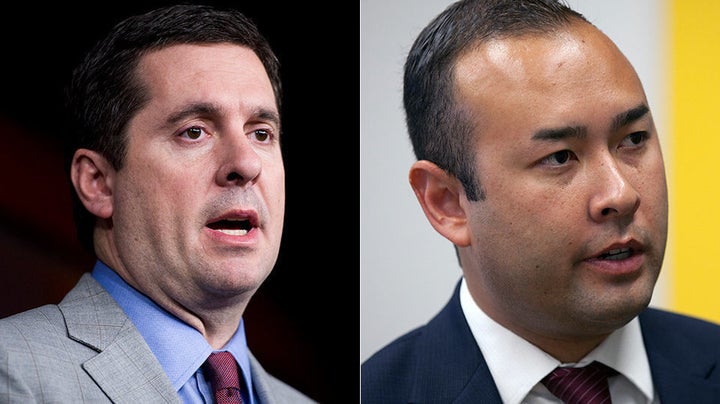 Devin Nunes, the incumbent Janz lost to, was exactly the type of Republican that Democrats hoped to oust as part of the highly anticipated 2018 blue wave.
He shamelessly abused his power as head of the House Intelligence Committee to protect the president from a serious investigation by the panel into Russia's effort to help Trump win the 2016 election. He peddled conspiracy theories that seemed spoon-fed by the White House about Obama administration loyalists waging a "deep state" campaign to undermine Trump. He voted to gut health care and he refused to show up for town halls with constituents.
But Janz' massive fundraising and voter outreach efforts weren't enough to put him over the top. And that same scenario repeated itself in some other red districts where Trump is popular.
GOP Rep. Steve King, a white nationalist, held onto his seat in Iowa. Rep. Duncan Hunter, the California Republican under indictment for campaign fraud, won re-election. So will Rep. Chris Collins, the New York Republican indicted for insider trading.
These seemingly unflippable seats show just how deeply entrenched party loyalty is in vast swaths of the country and how hard it will be for Democrats to win in 2020.
In the case of Janz, he got more support in his district than any of his Democratic predecessors — Nunes won his last race by more than 30 points — but he still couldn't close the gap.
Janz tried to keep spirits high at his Tuesday night gathering. He cheered the fact that Nunes will no longer head the House intelligence committee, with Democrats set to take over the chamber in January. He encouraged his supporters to work to defeat Trump two years from now.
But privately, Janz and his team were disappointed by the results. They didn't necessarily expect to win, but they had hoped it would be a little closer.
His campaign knocked on 25,000 doors and made 10,000 calls in the 24 hours before polls closed, Mari Harren, Janz's communications coordinator, told HuffPost late Tuesday night. "I've noticed that a lot of people in this district are party over policy," she said "They see red, that's all that matters to them. It's really disheartening."
Campa-Najjar wasn't expecting the race to be called so quickly in favor of Hunter, who faces a possible prison sentence for using $250,000 of campaign funds for personal expenses. At a campaign event in October, he had told supporters he expected the results from the San Diego district to be among the last to trickle in. News outlets called the race just a few hours after polls closed.
In Sioux City, Iowa, fans of J.D. Scholten, the Democrat who challenged King, were stunned that the incumbent had won a ninth term. "You know, I think in the past, we didn't really have a candidate," said Jonny Wilder, a 24-year-old fast food worker who drove three hours to Scholten's election night party. "It was always about voting against Steve King. J.D. this time gave us someone to vote for. I don't know, I thought we were gonna win. I'm kinda shocked, to be honest."
Back in Fresno, Josephine Perez, a 58-year-old social worker who lives in Nunes' district, said she doesn't usually make it to the polls for midterms. But this year felt different. As a woman of color, she said worried about her sons being racially profiled and is horrified by how open Trump is about his prejudice toward anyone who isn't white.
Sick of watching Nunes fall in line behind the president, especially on hardline immigration issues, she made it a point to participate in this year's midterm and vote for Janz.
Harren, Janz's communications coordinator, hopes that people like Perez don't give up after seeing another Democrat fail to oust Nunes. "We're all just hopeful that maybe the little wave we started here will turn into something bigger in 2020," she said.
Christopher Mathias contributed reporting.
This story was updated after Harren noted that the Janz campaign had knocked on 25,000 doors, not 2,500, as she'd previously stated.
REAL LIFE. REAL NEWS. REAL VOICES.
Help us tell more of the stories that matter from voices that too often remain unheard.