BROWNSVILLE, Texas ― Eight Democratic lawmakers visited the Rio Grande Valley on Sunday to try one of their only options for fighting President Donald Trump's policy of separating families at the border: Speak out and hope their Republican colleagues pay attention.
Trump could single-handedly end the practice of splitting up families at the border, but Democrats have little hope he will halt a policy that he thinks will deter unauthorized immigration and win him leverage for a border wall and a broader immigration crackdown. And Republicans in Congress have done little to pressure the president to change his mind.
That means that until Democrats control the House or Senate, all they can do is raise hell.
"If we can build the public pressure, then maybe [House Speaker] Paul Ryan will rediscover his spine," Rep. Mark Pocan (D-Wis.) said after touring a facility holding children apprehended at the border, some of whom were separated from their parents. "That's something that we're going to work on. But for the time being, we're going to have to endure this terrible policy and make sure that the kids aren't terribly scarred [by] it."
The Trump administration began a "zero tolerance" policy for illegal border crossing last month. Administration officials hope to prosecute as many people crossing the border illegally, including parents traveling with their kids and people seeking asylum. Nearly 2,000 children were separated from their parents by the U.S. government after being apprehended at the border and placed into Office of Refugee Resettlement facilities from April 19 through May 31, a Department of Homeland Security official said on Friday.
Led by Sen. Jeff Merkley (D-Ore.), the group of Democratic lawmakers visited multiple facilities during their visit on Father's Day: a port of entry where an asylum-seeker said she had to pose as a window-washer to get past U.S. agents turning away people, a processing facility where a confused mother said she had been split from her 13-year-old child, a former Walmart store holding about 1,500 migrant kids and an immigrant detention center for adults.
The family separations policy is deeply unpopular and has been widely condemned, including by a number of faith leaders who called on the Trump administration to change course last week. Former First Lady Laura Bush decried the policy in an op-ed on Sunday, calling it "cruel" and "immoral." And in a statement of her own, First Lady Melania Trump said she "hates to see children separated from their families and hopes both sides of the aisle can finally come together to achieve successful immigration reform."
Even Trump claims he doesn't like the separations and has tried to shift the blame to Democrats. But the separations are entirely a result of his administration's policy and his demands that Democrats in Congress agree to a host of unrelated immigration changes.
Some Republicans in Congress, including Speaker Ryan (R-Wis.), have said they disagree with family separations as well. But Republicans aren't doing much of anything to stop immigrant families from being split up. Ryan, like Trump, tried to shift blame for the separations away from the president.
This week, the Speaker is presiding over a vote on an immigration bill that Republicans are calling a "compromise." The proposal is part of a deal Ryan made with moderate Republicans to prevent them from teaming up with Democrats on immigration. But Democrats, who have been shut out of House immigration negotiations, do not view the GOP's "compromise" bill as a realistic path towards actually stopping family separations. The first draft of the legislation didn't even include anything that would prevent family separations. (The bill's backers said it might eventually include something to address the issue.)
"It's a face-saving maneuver," Rep. Peter Welch (D-Vt) said on Sunday. "It's not about trying to get a good immigration bill."
The Democratic lawmakers on the south Texas trip, many of whom were skipping Father's Day at home, listed several efforts of their own to make a change through Congress, including legislation they hope Republicans will support and hearings they hope Republicans will hold. Sen. Dianne Feinstein (D-Calif.) introduced a bill last week that would make it illegal to separate migrant families unless they were found to be at risk of abuse or trafficking. Democrats in the House plan to introduce a similar bill this week.
But Democrats acknowledged they might not be able to change the policy right away. Welch said he believes a court could rule the policy violates U.S. asylum law and block it. Democratic members said they had heard from advocates that asylum-seekers attempting to go to ports of entry to seek safety through a legal process were being systematically turned away, pushing them to cross illegally instead. (The Trump administration has denied turning away asylum-seekers at ports of entry for reasons other than limited capacity).
Rep. Sheila Jackson Lee (D-Texas), speaking during a press conference, said she believed federal courts would likely end the family separation practice, and added that lawmakers might be able to pass legislation that would help.
"The real question is whether Republicans will join us to say to the president, 'Enough is enough,'" Jackson Lee said. "I hope that there is enough mercy to do so."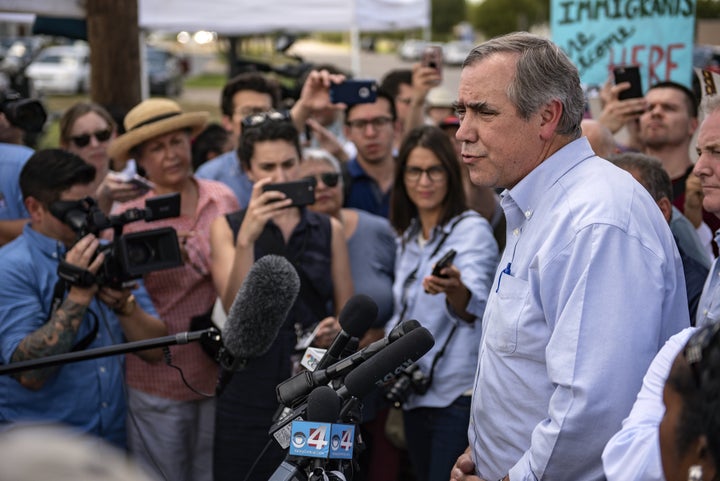 Before You Go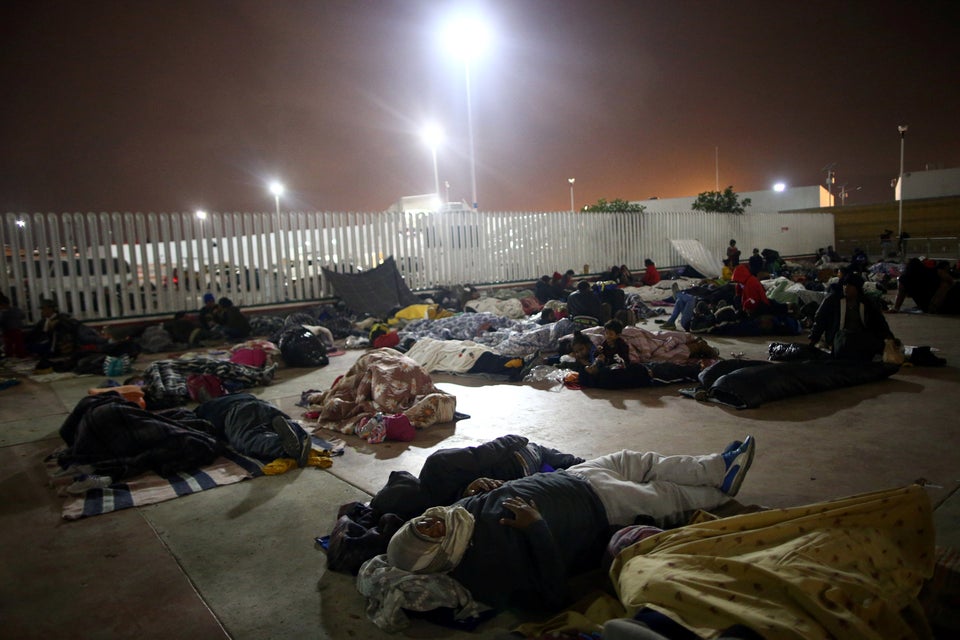 Migrant Caravan
Popular in the Community