A pair of moderate Senate Democrats met with Brett Kavanaugh, President Donald Trump's pick for the Supreme Court, on Wednesday to discuss his record and judicial experience on the U.S. Court of Appeals for the D.C. Circuit.
Sens. Joe Donnelly (Ind.) and Heidi Heitkamp (N.D.) ― both vulnerable Democrats who are facing tough re-election fights in November ― sat down separately with the conservative jurist behind closed doors in their offices on Capitol Hill.
After his talk with Kavanaugh, Donnelly remained undecided on the nomination.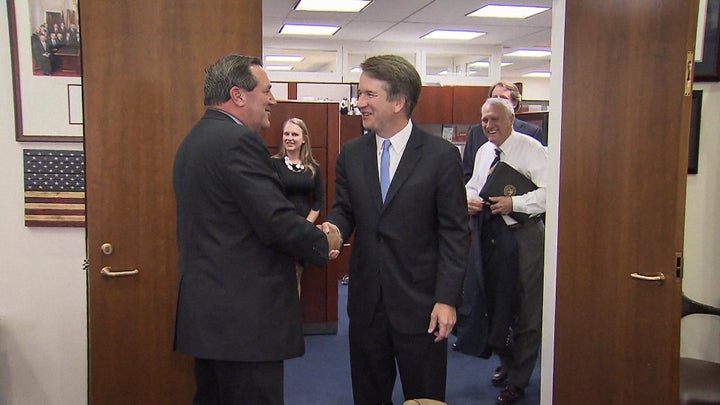 "I plan to keep doing my homework and make a decision sometime after Kavanaugh's committee confirmation hearing," Donnelly said in a statement after the meeting on Wednesday. He added that the two men had a "wide-ranging conversation" about Kavanaugh's experience working in the George W. Bush White House and his views on "precedent, health care, and judicial independence."
Heitkamp also issued a noncommittal statement after meeting with Kavanaugh later on Wednesday.
"I learned more about his judicial record and temperament ― which will also hopefully become clearer during his Senate hearing in the Senate Judiciary Committee," she said.
Donnelly and Heitkamp both voted for Trump's first high court nominee, Neil Gorsuch, last year ― as did Sen. Joe Manchin (D-W.Va.), who is also up for re-election and who already met with Kavanaugh last month. Republicans are looking to win their votes once more after a Senate Judiciary Committee confirmation hearing that is scheduled to take place early next month.
The trio of moderate Senate Democrats is facing pressure from both the left and the right on the subject of Kavanaugh's nomination. Progressive groups have spent millions of dollars to launch television ads in Indiana, North Dakota and West Virginia, urging the senators to oppose Kavanaugh by warning that the nominee could participate in court decisions to eliminate health care protections for pre-existing conditions and overturn Roe v. Wade. Their GOP challengers, meanwhile, are attacking the senators for not immediately meeting with and supporting the president's nominee. Trump carried all three states in the 2016 presidential election and is popular in each.
"Rather than waiting for permission from the liberal-wing of his party to support him, I challenge Senator Donnelly to join the majority of Hoosiers ― including myself ― in immediately announcing his support for Judge Kavanaugh," Rep. Mike Braun, the Republican running against Donnelly, said in a statement on Wednesday.
Democratic leaders initially demanded paperwork relating to Kavanaugh's past, which includes a lengthy tenure in the George W. Bush White House as associate counsel and staff secretary, before sitting down to meet with him.
Republicans, however, have dismissed demands for thousands of documents pertaining to Kavanaugh's work as Bush's staff secretary, calling them a "fishing expedition" and a stalling tactic. They're producing only documents from Kavanaugh's time in the White House Counsel's Office.
Rather than rely on the National Archives to produce the voluminous record request, which the agency said it would not be able to fulfill until late October, Republicans have pressed forward by setting up a separate and parallel process ― run by a group of Bush lawyers ― to release Kavanaugh documents.
Senate Minority Leader Chuck Schumer (D-N.Y.) blasted the highly unusual confirmation process for Kavanaugh in a tweet on Wednesday.
"Republicans used to demand transparency for [Supreme Court nominations]," Schumer wrote on Twitter. "Now they're blocking nearly all of Judge Kavanaugh's records from public release and trying to rush through his nomination. What are Republicans hiding?"
This story has been updated with comment from Sen. Heitkamp.
Popular in the Community