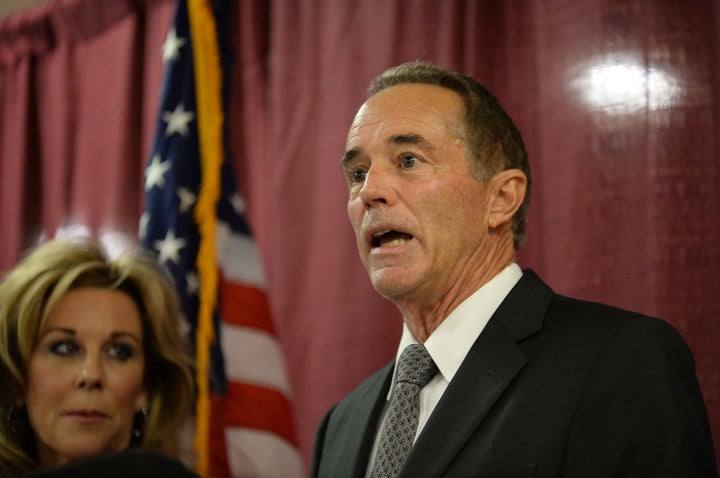 Rep. Chris Collins (R-N.Y.) plans to seek re-election despite being indicted for insider trading, the embattled three-term congressman announced Monday.
Democrats welcomed Collins' decision, suggesting that it had made his ordinarily solid-red western New York seat more competitive. Democrat Nate McMurray, the town supervisor in Grand Island ― a municipality just outside the district ― is challenging Collins.
"The voters of New York 27th Congressional District now have the clearest of choices between scandal-plagued Chris Collins and Nate McMurray, who will be a real fighter for the families of western New York, and the stakes just got a whole lot higher on Nov. 6," said Meredith Kelly, a spokeswoman for the Democratic Congressional Campaign Committee, which helps elect Democrats to the House of Representatives.
McMurray, who planned to run against Collins' alleged corruption regardless of who his opponent was, also said he was pleased with Collins' decision.
"We always knew we were running against Chris Collins," McMurray said. "There are laws for a reason. There is accountability in our society for a reason. And in the greatest democracy in the world, voters weren't going to take this kind of sham switching around names on a ballot at the whims of local party bosses."
The National Republican Congressional Committee, the DCCC's Republican counterpart, did not immediately respond to a request for comment on the development.
The nonpartisan Cook Political Report moved the race from "Solid Republican" to "Likely Republican" in response to the news.
The FBI arrested Collins on insider trading charges in August. Federal law enforcement officials subsequently indicted Collins, his son Cameron and Stephen Zarsky, the father of Cameron's fiancée. Authorities claim Collins tipped off his son that Innate Immunotherapeutics, an Australian pharmaceutical company, had failed a key clinical trial. The information from Collins, an Innate Immunotherapeutics board member, allowed the son and other family members to sell the stock and avoid major financial losses as a result.
Collins, who was the largest shareholder in Innate Immunotherapeutics and sat on the company's board, had long promoted investment in the company to his congressional colleagues. His role as an ambassador for the company had already drawn scrutiny from ethics watchdogs, who argued that it posed a conflict of interest with his congressional duties.
Shortly after the indictment, Collins announced that he would not seek re-election. Carl Paladino, a former Republican gubernatorial candidate from the region, and several other prominent area Republicans announced their interest in the bid.
But after reportedly learning that removing himself from the ballot was a complicated task fraught with legal difficulty, Collins reversed course.
What may have spared Republicans a bureaucratic headache could nonetheless hinder their ability to withstand charges of corruption in the district. Democratic National Committee Chairman Tom Perez, a native of Buffalo, previewed that message on Monday during a campaign stop for McMurray.
"As much as anything, integrity is on the ballot," he said.
New York's 27th, which includes affluent Buffalo suburbs and surrounding rural areas, is not exactly fertile ground for Democrats. Collins, the first member of Congress to endorse President Donald Trump, was re-elected there by 34 percentage points in 2016. For his part, Trump edged Hillary Clinton among district voters by 25 points.
In addition to criticism McMurray is likely to endure for not living in the district, he also faces a massive fundraising gap. McMurray had just under $82,000 in the bank as of the end of June; Collins had $1.3 million.
The DCCC did not announce any additional investment in the race or add the district to its "Red to Blue" list of high-priority targets. New York's 27th was already on the DCCC's list of "battleground" districts, a lower-priority category that covers 111 districts.
If nothing else, having Collins on the ballot helps Democrats make their national case that the reigning GOP is beset by ethics issues. A couple weeks after federal prosecutors charged Collins, Rep. Duncan Hunter (R-Calif.), the second member of Congress to endorse Trump, was indicted for allegedly using over $250,000 in campaign funds on personal expenses.
"In the most stark sign that House Republicans are a corrupt and unethical body only out to benefit themselves and their special interests, there are now two indicted Republicans on the ballot in November," the DCCC's Kelly said.
REAL LIFE. REAL NEWS. REAL VOICES.
Help us tell more of the stories that matter from voices that too often remain unheard.
BEFORE YOU GO
PHOTO GALLERY
Sen. John McCain's Funeral On Capitol Hill