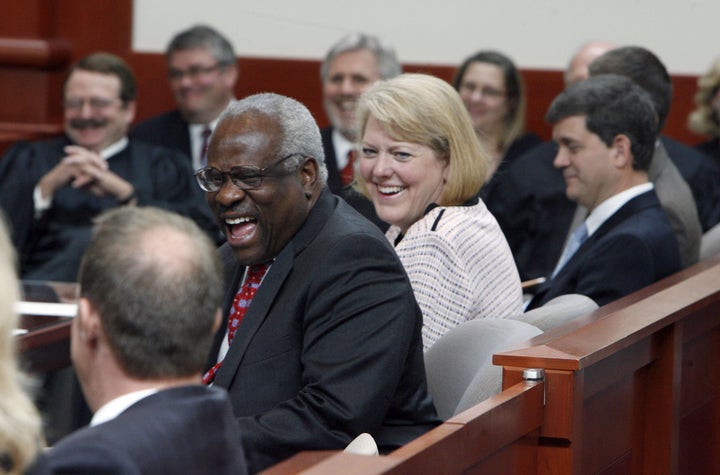 A group of 74 House Democrats is joining together to call for Supreme Court Justice Clarence Thomas to remove himself from any forthcoming review of the nation's new health care law, claiming that his wife's reported ties to the Tea Party and other anti-health care initiatives are grounds for him to step aside.
"The appearance of a conflict of interest merits recusal under federal law. From what we have already seen, the line between your impartiality and you and your wife's financial stake in the overturn of healthcare reform is blurred," the lawmakers, headed by Rep. Anthony Weiner (D-N.Y.) wrote, according to a copy from Politico. "Your spouse is advertising herself as a lobbyist who has 'experience and connections' and appeals to clients who want a particular decision -- they want to overturn health-care reform."
The representatives then called attention to a recent controversy concerning a potential conflict of interest posed by Thomas's failure to report his wife's income from a distinguished anti-health care reform think tank.
"Moreover, your failure to disclose Ginny Thomas's receipt of $686,589 from the Heritage Foundation, a prominent opponent of health-care reform, between 2003 and 2007 has raised great concern," they claim.
Legal challenges to the Patient Protection and Affordable Care Act are widely expected to end up being passed to the Supreme Court following decisions both for and against the law in federal courts, and due to the slim chances that a repeal effort will pass through Congress. The Democrats' request is just the latest sign that legislators from both sides of the aisle are preparing preemptive strikes in anticipation of a tight ruling by the high court.
Sen. Orrin Hatch (R-Utah) suggested last week that Justice Elena Kagan should sit out any deliberations on the health care law because of her proximity to the legislation as President Obama's Solicitor General.
For a list of the letter's signees, click over to Politico.
Popular in the Community