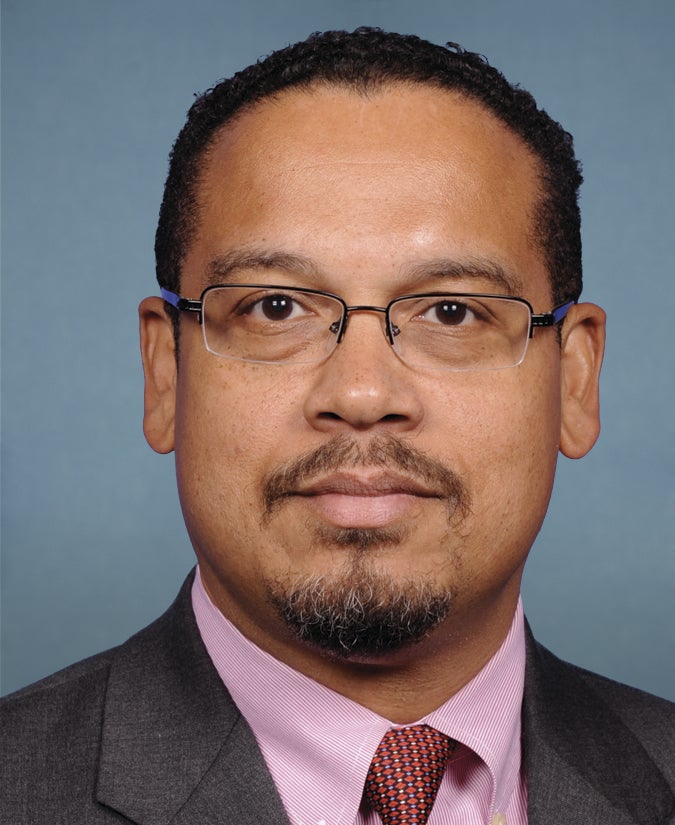 Let's be clear about opposition to Rep. Keith Ellison to chair the Democratic National Committee. As Ellison supporter Sen. Bernie Sanders has observed, the argument that the DNC needs a fulltime chair, and that Ellison could not do the job as a sitting congressman, is a Trojan horse for other objections to Ellison. What might those other objections be? Ellison, who is black, is the first Muslim to be elected to Congress and would be to the political left of any DNC chairman in recent memory, including former Vermont Gov. Howard Dean, who is attempting to get his old job back.
It's impossible to look into the hearts and minds of people, but what we know is that establishment Democrats are a timid bunch and that the fulltime-versus-part-time argument is flimsy and technocratic on its face. Timid is something that Ellison most certainly isn't, which is why against the great weight of the leadership of his party, he vigorously backed Bernie Sanders over Hillary Clinton in the Democratic primaries. That decision should be a baseline for determining who should now be the Democratic Party's leaders.
Millions of Democratic primary voters who supported Sanders, including this one, foresaw the train wreck coming with the nomination of Hillary Clinton. Unlike Gov. Dean, some party leaders had the same foresight and courage as these voters. Having failed a basic litmus test that has cost Democrats nearly everything, why would Democrats now entrust Dean to lead them?
Which brings me to a larger point beyond the DNC contest. Democrats pride themselves on being a party that looks like America. Yet, in the outgoing Congress, the average age of Democrats in the House was five years older than for Republicans, 59 to 54. This picture of relative ossification will not be helped by re-electing Nancy Pelosi, 76, as minority leader; Steny Hoyer, 77, as minority whip; and James Clyburn, 76, as assistant Democratic leader. The orderly procession of seniority that might carry these figures back to their respective posts is the same "it's my turn" thinking that made Hillary Clinton the Democratic nominee. The rest, of course, is a harrowing history.
More to the point, each of these leaders endorsed Clinton in the Democratic primaries. It's fine to make a mistake in judgement, but if Democrats are going to hold Trump voters responsible for their electoral malfeasance of elevating a fool to the presidency, we need to hold our leaders no less accountable for their miscalculations.
And that accountability shouldn't end with the DNC and congressional leadership. In the final analysis, it was black and Latino voters who tilted the primaries toward Clinton. Black voters received strong cues from the Congressional Black Caucus, whose members overwhelmingly backed Clinton and whose political action committee endorsed Clinton while declining to endorse progressive CBC member Donna Edwards in her bid to become only the second black woman elected to the U.S. Senate. Moreover, CBC members offered some of the lamest imaginable ratiocinations for preferring Clinton over Sanders in the primaries. CBC members, some of whom appear to view Congress as a retirement plan rather than a vehicle to advance the wellbeing of blacks, should have to answer for their misjudgments in contested primaries.
Donald Trump, who lost the popular vote, didn't receive a mandate in this election. Democrats did: to clean their own house—now!
REAL LIFE. REAL NEWS. REAL VOICES.
Help us tell more of the stories that matter from voices that too often remain unheard.
This post was published on the now-closed HuffPost Contributor platform. Contributors control their own work and posted freely to our site. If you need to flag this entry as abusive,
send us an email
.