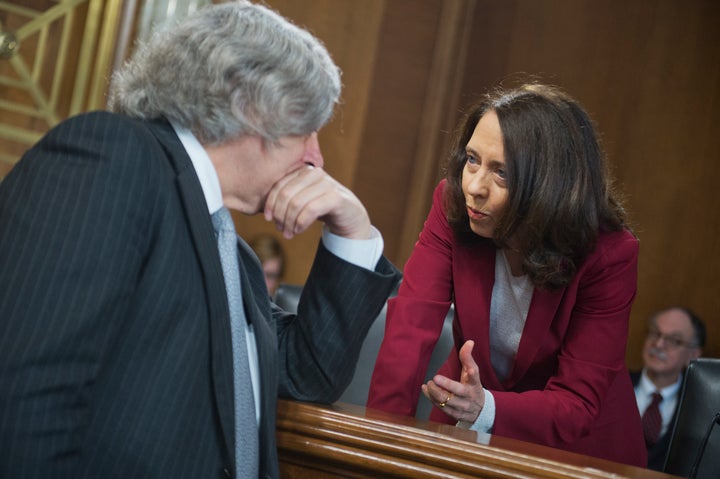 WASHINGTON -- Leading Senate Democrats unveiled climate change legislation on Tuesday that is expected to go nowhere.
The point: Present a united party front on the energy and climate debate.
Sen. Maria Cantwell (D-Wash.), the top Democrat on the Senate Energy and Natural Resources Committee, authored the bill, which would declare it national U.S. policy to reduce greenhouse gas emissions by 2 percent per year.
Notably, the bill doesn't attempt to put a price on carbon emissions, which many experts see as a more effective way to mitigate climate change. That omission is arguably an acknowledgement by Democrats that a tax on carbon would diminish the bill's chances of garnering Republican co-sponsors.
Asked if the exclusion of such a tax indicates that the bill is a retreat from more realistic goals, Senate Minority Leader Harry Reid (D-Nev.) said that "compared to what Republicans are doing, it's pretty damn good."
Cantwell too pushed back against the idea that the bill represents a capitulation of some kind. She said she didn't want to pass up any opportunities to tackle greenhouse gas emissions.
"I don't think it's a retreat. Change happens incrementally," Cantwell told reporters on Tuesday. "These are real things that can get implemented now."
Aside from the 2 percent reduction marker, the bill also offers a long-term performance-based tax incentive program, which Cantwell worked through with Sen. Ron Wyden (D-Ore.), a longtime champion of clean energy tax incentives.
Included in the plan are tax credits for clean electricity from renewable to fossil fuel facilities. The cleaner the energy, the bill says, the higher the tax credit. The plan also offers a credit for clean transportation fuel, translated to a production tax credit of up to $1 per gallon.
The bill attempts to cover all the bases, including permanently reauthorizing the nation's Land and Water Conservation Fund, investing in energy research and development, modernizing the electric grid and repealing fossil fuel subsidies. It would also stipulate that the U.S. use its leadership to pressure other countries into commitments to cut their greenhouse gas emissions.
Cantwell said Democrats decided push the bill now to coincide with visits to the U.S. from Pope Francis, who has written an encyclical on the moral obligation to combat climate change, and Chinese President Xi Jinping, who recently entered into a deal with the U.S. to curb emissions.
But the odds of getting a vote on the Senate floor appear to be nil, as Republicans have widely opposed the Obama administration's climate initiatives. Senate Majority Leader Mitch McConnell (R-Ky.) himself has vowed to work against the president's so-called war on coal to the very end.
Pressed on the bill's future, Cantwell said she thinks there is a willingness among Republicans to have the debate. Specifically, she said, she believes an opening will come once the Senate eventually considers a different, all-encompassing energy bill that was voted out of the energy committee earlier this year.
"It was very clear to both sides that once this bill hits the Senate floor, there were going to be ideas on both sides that people were going to propose," Cantwell said. "That's where we think this has an avenue."
She acknowledged, however, that in the end they will have to see if McConnell decides to give her and Sen. Lisa Murkowski (R-Alaska), chair of the Senate Committee on Energy and Natural Resources, the "time to talk about energy policy."
Co-sponsors praised Cantwell for putting forward the bill as Republicans prepare to bring up legislation that would lift a decades-old oil export ban in the coming months. So far, 28 Democrats have signed on to Cantwell's bill, along with Sen. Angus King (I-Maine).
Despite the holdups, environmental groups largely cheered the bill, with the Sierra Club calling it a "bold, ambitious vision."
Popular in the Community