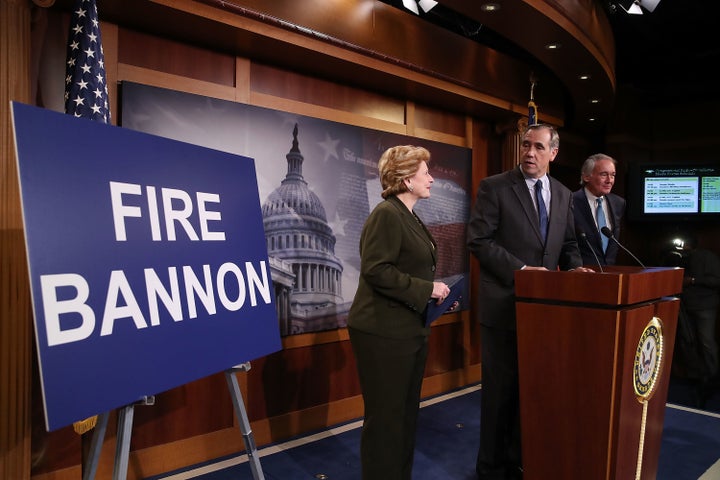 WASHINGTON ― When President Barack Obama first entered the White House, Republicans came up with a game plan: Block anything and everything. The strategy, at least from a partisan perspective, worked, securing Republicans full control of the federal government.
Yet even with one of the most divisive presidential candidates ever readying to take office, Democrats appear intent on taking a different approach.
In an attempt to move forward after their devastating election losses, a number of Democrats want to find common ground with President-elect Donald Trump, arguing that obstructing everything would not be wise. A smaller minority, meanwhile, are calling on Democrats to stand on principle and oppose anything Trump puts forward unless he renounces his ties to toxic advisers.
What can they work on with a President Trump? The first word out of Democrats' mouths is infrastructure. But lawmakers are aware that they will be toeing a thin line for the next four years.
Already Democrats are doubting whether Trump will take into account the fears of the millions of Americans who didn't vote for him, and fire Breitbart News executive chairman Steve Bannon. Trump on Sunday named Bannon, whose website traffics in misogyny and white nationalism, as his chief strategist and senior counselor.
"To the extent that there are these other efforts trying to roll back the progress we've made toward social justice ... they will get the fight of their lives."
At a press conference on Tuesday calling on Trump to fire Bannon, Senator-elect Chris Van Hollen (D-Md.) said Democrats want to work with Trump on modernizing the nation's infrastructure but that doesn't mean they will back down on other issues on which they are at odds with Republicans.
"[Infrastructure] would be an area we would look to to try to find common ground, but make no mistake, to the extent that there are these other efforts trying to roll back the progress we've made toward social justice, as I've said, they will get the fight of their lives because we're not going to turn back the clock in America," he told reporters.
Sen. Mazie Hirono (D-Hawaii) sees room to work with Trump against Republican proposals to privatize Medicare and Social Security. Sen. Jeff Merkley (D-Ore.) is eager to look for other areas of compromise, including creating more jobs ― a common theme during Trump's campaign.
Asked if by working with Trump on possible bipartisan issues, Democrats would legitimize the rest of his agenda, Merkley said "not at all."
"That is the attitude that has been taken by the Majority Leader [Mitch McConnell]: To say we are not going to solve America's problems in order to prevent President Obama from having victories," Merkley said. "Victories should be solving problems for the American people and that's what I keep foremost in my mind."
But throw in the possibility that Trump may want to attach measures expanding fossil fuel development to an infrastructure package and that's a "whole other conversation," said Merkley.
Sen. Cory Booker (D-N.J.) said Democrats still have time to make the decision.
"The reality is we're going to see his full complement before we have to make those decisions. We're going to be able to see who he fully surrounds himself with, and that's going to be very telling," said Booker, adding that his pick of Bannon was "very, very discouraging."
Democrats, though, wouldn't have much ability to stop Trump if Republicans eliminate the filibuster. Sen. Bob Corker (R-Tenn.) said Tuesday he thought there may be some "self discipline" that kept Democrats from abusing it. Sen. Lindsey Graham (R-S.C.), meanwhile, said he would oppose any effort to undo it, meaning the filibuster is likely to stay.
Requiring Trump to work with Democrats, Graham added, gives him the chance to make the kinds of deals he wants to make. "There are deals to be made in this body ― big, huge deals," he said.
"I don't think he's an ideologue," Graham went on. "He lives in a world where the other side has to get something. He's not beholden to any one element. He's truly an outsider and if he will bring us all together and bring us around a table, some of this stuff will fall into place pretty quickly. To those Democrats who are going to hit him at every turn, you do so at your own peril."
All signs from Democratic leadership, though, point toward finding middle ground. In the same speech that Senate Minority Leader Harry Reid (D-Nev.) dedicated to attacking Trump for picking Bannon, the outgoing senator said Democrats want to work with the president-elect "when we can."
"For example, Democrats have been trying for decades to get Republicans to invest in our deteriorated infrastructure," he said. "If we can finally get Republicans to make the job-creating infrastructure investments we have been seeking for years, that will be a welcome development."
House Minority Leader Nancy Pelosi (D-Calif.) told Democrats during their first meeting since the election that they have a "responsibility" to find common ground wherever they can, but "not to anoint something that does not represent our values."
Pelosi, who is dealing with a stunned caucus itching to shake up leadership roles, will also have to corral rank-and-file members who aren't eager to play nice with Trump ― even for the sake of a transportation and infrastructure package.
"I think first thing is that something has to be done about this Bannon deal," Rep. Marc Veasey (D-Texas) said. "I just think that it's hard to have good open communication and dialogue when you have someone that has been that blatantly racist in writings and associations."
Taking a phrase from Republicans, Rep. Ruben Gallego (D-Ariz.) told The Huffington Post last week that Democrats need to "make sure [they] have a good check on Donald Trump in 2018 and only make him a one-term president in 2020."
Rep. Raul Grijalva (D-Ariz.) warned that the party can't normalize the rhetoric that got Trump elected.
"If he tries to effectuate his rhetoric, Democrats have to be a point of resistance all the way through," he said.
An infrastructure bill may be the "panacea" right now, Grijalva added, but "the fundamental question nobody's answered is, how is he going to pay for it?"
Rep. Katherine Clark (D-Mass.) would love to see a robust infrastructure bill that would help rebuild the country's bridges and roads, but she isn't convinced that Trump will abandon his campaign tactics of appealing to racism, nationalism, misogyny and anti-Semitic and anti-Muslim views.
"I just don't think that we really know what he's going to be as a president, but our initial indications are not good, and I tell you that I will not back down to a fight for the basic human rights of every American," Clark told HuffPost. "And if he is not willing to demonstrate that that's the type of president that he's going to be, I see very little room for compromise over something."
Michael McAuliff contributed reporting.