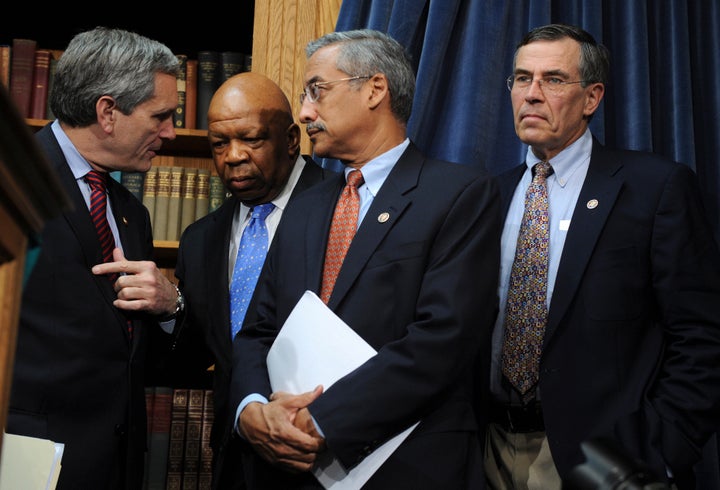 BALTIMORE -- The first words Rep. Elijah Cummings (D-Md.) spoke at the Democrats' annual issues conference here addressed the death of Freddie Gray in police custody and the massive unrest that followed. They weren't just about "police brutality," but also about "joblessness" and a "lack of opportunity." 
"It goes with so much of the abandonment and certain policies that have been made at the national level," Cummings told reporters on the first day of the retreat. "This is a city that continues to struggle."
This year, Democrats see a window opening to address two major symptoms of that struggle: the harm caused by mandatory minimum sentencing and America's addiction to heroin. Both are problems cities like Baltimore have grappled with for decades.
A reform of the strict sentencing laws that led to overpopulation of America's prisons has a real chance of moving in Congress this year. And heroin's infiltration of rural and suburban towns is bringing to the table lawmakers who previously dismissed the need for sentencing reform, afraid they'd appear too soft on crime.
"As sad as the circumstances are that created the aligning of these stars, the stars are aligned for change," Cummings, who represents Baltimore, told The Huffington Post at the end of the three-day retreat.
Cummings led a session on particulars of criminal justice reform during the second day of the retreat. Hours later, President Barack Obama addressed the issue himself during a private session at the Hyatt Regency in Baltimore's Inner Harbor.
Congress is not going to get much done this year, Obama told lawmakers, according to an aide in the room. But there are two areas Congress could get something done, he said: criminal justice reform and opioids.
Asked if such legislation could include a section on how to better fund the fight against the opioid and heroin epidemic, Pelosi said, "we have to do something about the opioid crisis, whether that's in the appropriations process or whether that is in the criminal justice" bill.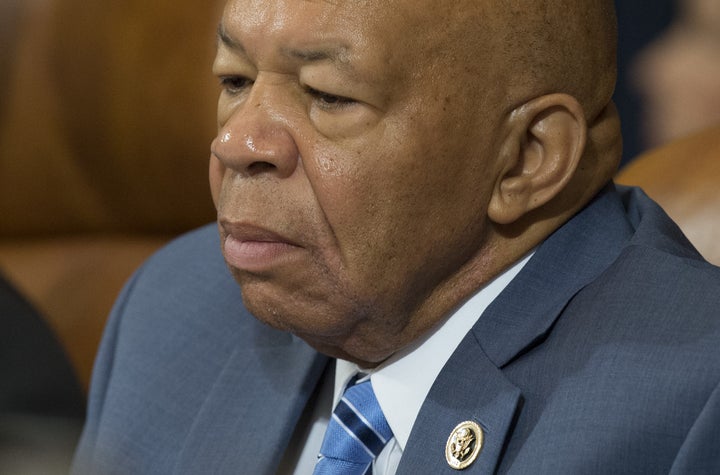 The irony behind the timing isn't lost on Cummings. Baltimore has been in dire need of both criminal justice reform and solutions to tackle heroin use for decades. But only in the past year have the two issues been on the lips of numerous politicians -- Republican and Democrats alike. 
Heroin, Cummings said, has "been in Baltimore ever since I was a child." He recalled the first time he heard of a heroin overdose in his childhood neighborhood and how incomprehensible it was: "it was like telling me someone had found something on Mars."
During the sessions on justice reform, Cummings relayed to his colleagues conversations with his young constituents: that they were "angry," concerned about their education and jobs. But the talk with members quickly turned to heroin, he said.
"There was a time the drug situation was seen as a black, urban issue and basically the response was 'lock 'em up, throw away the key -- for years, not months, years,'" Cummings said. Now, "the heroin epidemic has invaded all kinds of communities -- particularly New Hampshire, but it's everywhere."
Over the last few months New Hampshire has used its position as the first-in-the-nation primary state to get 2016 presidential candidates talking about heroin addiction. The addiction crisis has grown over the past two years, but it's been a problem in cities for decades. 
The overprescription of opioids, in particular, is credited with driving a growing number of people in the white middle class toward heroin for their addiction.
"It bothers me that people did not view it as a health issue before now," Cummings said. "Now we have people basically begging to see it as a health issue because we're seeing so many overdoses and we are seeing drug addiction invade communities that never even dreamed of it," he continued. "A lot of these folks are all white people."
Cummings quickly noted that he feels for anyone who has lost a loved one to addiction -- pointing to his loss of a nephew to gun violence just four years ago.
"I swear to god, my nephew was like my son," he said. "But again, the African American community has been begging for years, begging people to look at this as a health issue and you've had legislators who want not to appear soft on crime."
Cummings hopes that the new outlook on drugs will help Democrats gather more Republicans to their side. A majority of House Democrats back a bill co-sponsored by Reps. Jim Sensenbrenner (R-Wis.) and Bobby Scott (D-Va.) -- a sweeping bill that cuts mandatory minimums and invests in prevention, cop training and programs that reduce recidivism. But there are multiple bills floating around the House and Senate, threatening Democrats' chances of seeing their preferred bill through to the end. 
Overall, Cummings is optimistic, but he doesn't want to rush the issue if it looks like the two parties can't agree on a meaty bill. If that doesn't happen this year, Cummings said, he still believes "significant change" can be achieved through legislation in the next two to three years.
"Some of the greatest advocates for change have been people who have experienced pain," he said. 
The chairman of the House Democratic Caucus, Rep. Xavier Becerra (D-Calif.), also sees a window for change.
"The heroin epidemic sort of wedged open the door to have a conversation," he said.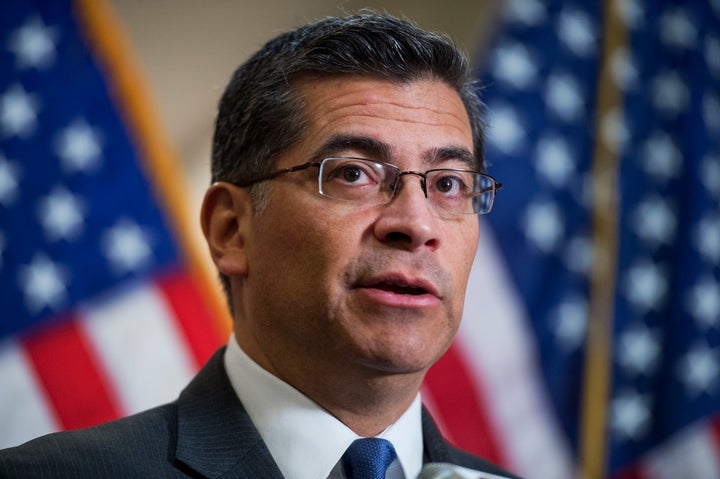 "To often some of our colleagues will think: 'criminal justice, that's not really an issue that I have to worry so much about in my district because it's really inner city, urban,'" Becerra said. "But then all the cities start to talk about heroin, and you hear it's.... in some of the places that our Republican colleagues represent. And all of a sudden it's: 'Yeah, we got to do something.'"
Becerra views the heroin crisis as the issue that will get his colleagues to the table to talk about criminal justice and beyond -- about crack cocaine and other addictive drugs that he's seen crush cities like Los Angeles, which he represents.
Becerra and his colleagues also understand that the shift in Republicans' thinking reflects its spread to white, rural and middle-class areas -- traditional GOP strongholds. 
"It's not lost on many of us that the more enlightened view being taken toward dealing with the heroin epidemic in America may in part relate to the fact that it has devastated suburban communities in ways not previously seen before," said Rep. Hakeem Jeffries (D-N.Y.)
But when Jeffries first entered Congress just four years ago, he didn't think it would be possible to address mass incarceration and the failed war on drugs, he recalled.  
"Hopefully in the face of this rise in the heroin epidemic in the inner city and rural America a more enlightened approach will prevail," Jeffries said. "Mass incarceration has been a failure, which is linked directly to the war on drugs, which has been improperly prosecuted for decades in this country."
And while the path to reform may be clearing, there are still obstacles in the way. Rep. Scott, the top Democratic co-sponsor on the SAFE Justice Act, has "devoted his life" to the issue of criminal justice reform, in the words of Pelosi. But he's not holding his breath.
Scott is worried lawmakers are too eager to pass legislation that is called criminal justice reform but that does little. Asked about a GOP-proposed Senate bill to cut mandatory minimums for non-violent drug offenders, Scott looked skeptical.
"The other [bills], it's hard to say if you'll have any reduction in incarceration or not," he said.
Sen. Chuck Grassley (R-Iowa) introduced the legislation that Scott is wary of in October, and it cleared the Senate Judiciary Committee in a bipartisan 15-5 vote shortly thereafter. The bill, which has a companion measure in the House authored by Rep. Bob Goodlatte (R-Va.), does seek to reduce mandatory minimums, reform compassionate release programs and offer those who were sentenced to life in prison for a crime committed when they were under the age of 18 the possibility of parole. But as Human Rights Watch put it, the bill "resembles an accordion -- it shrinks and then expands."
An example of this, the group points out, is that while both Grassley's and Scott's separate bills would allow judges to set sentences below the 10-year mandatory minimum for drug crimes, Scott's bill bases eligibility on the offender's role in the drug-trafficking conspiracy, not on the quantity of drugs. Grassley, a known defender of mandatory minimums, argues that his bill is one that tackles mass incarceration "while targeting violent criminals and masterminds in the drug trade."
In his own bill, Scott countered, "you get money for body cameras, prevention, second-chance programs and all that with the reduction of mandatory minimums -- that doesn't do everything but a there's a whole lot of reform in there."
On Tuesday, Scott and his Republican counterpart on the bill plan to hear from the Charles Colson Task Force on Federal Corrections, which has urged the U.S. to reduce the number of inmates by 60,000 over the next decade.
But Scott and Cummings both fear that something small could pass this year, and Congress will leave the rest of the issue on the table. Cummings hopes that a leader on the Republican side will rise, drawing more to the SAFE Justice Act, which has 57 co-sponsors, including 28 Republicans.
"I'm hoping that it's just not one of things where.... we've got to talk about these drugs because that's what people are talking about,'" he said. "No, no, no, no, no, no -- it simply cannot be a moment surrounding an election. It must be a movement."
Calling all HuffPost superfans!
Sign up for membership to become a founding member and help shape HuffPost's next chapter