WASHINGTON ― Eight days from a shutdown, Republicans and Democrats appear far apart on legislation to keep the government open and address an expiring immigration program that Democrats say is a condition of their support.
With the blessing of House GOP leadership, a group of House Republicans ― led by Homeland Security Chairman Michael McCaul (R-Texas) and Judiciary Chairman Bob Goodlatte (R-Va.) ― introduced a bill Wednesday that they say should serve as the basis for a legislative fix to the Deferred Action on Childhood Arrivals immigration program, a policy President Donald Trump has begun to rescind but says he wants Congress to preserve.
In exchange for granting temporary legal status to immigrants who were brought to the United States as minors, the Republican bill would authorize construction of a wall along the U.S.-Mexico border. It would end a green card program allowing family members to come to the United States (so-called "chain migration"), reduce the number of documented immigrants by about 25 percent (from over 1 million people a year to roughly 800,000), make the "E-Verify" program mandatory so that employers can hire only legal workers and, among many other items, increase the number of Border Patrol agents.
That bill, at least right now, is a non-starter with Democrats.
Rather than coming closer to the Republican demands, Democrats are moving further away, with progressives suggesting that Democratic leadership shouldn't give in on even the smallest demands, such as ending the visa lottery program. (Democrats signaled during the 2013 Senate immigration bill that they could live without the diversity visa program, but the Congressional Black Caucus is signaling concern over such a move.)
Rep. Michelle Lujan Grisham (D-N.M.), who led a rally with so-called Dreamers on Wednesday afternoon urging Congress to act on DACA, told HuffPost later in the day that a number of Democratic caucuses ― the Hispanic Caucus, the Progressive Caucus and the CBC ― all appear united on not "kicking the can" down the road again by passing another short-term government funding bill.
"We're going to hold them accountable," said Lujan Grisham, chair of the Congressional Hispanic Caucus. "You have had all year, and you've had from September on DACA."
Lujan Grisham said Democrats were tired of giving Republicans more time to find solutions on priorities like DACA, the Children's Health Insurance Program, veterans issues, miner pensions or spending. (Congress has yet to set an agreement on how much appropriators may spend in a fiscal year that began in October, and without an agreement the government would resort to automatic spending levels set in 2011 that are well below what defense hawks want to spend on the military.)
"We are not supporting measures, and we're not going to help you pass any measure, unless you're dealing with all of these issues: CHIP, DACA, veterans, pensions," Lujan Grisham said.
Democrats see their leverage on a spending deal as the natural place to have a fight over DACA and their other priorities, with Republicans concerned that they need a deal on spending caps to avoid sequestration, the automatic spending cuts that are set to kick in on Jan. 21.
Normally, when these sorts of government funding deadlines come up, lawmakers are willing to at least delay a shutdown. But Congress has now three times passed a continuing resolution (often called just a CR), and Democratic patience on DACA and CHIP has worn thin.
"Each of these CRs has become progressively hard for us to swallow," Rep. Jared Huffman (D-Calif.) said, adding that "our patience is expiring with getting a fix for DACA."
For Congress to avoid a shutdown, it appears that Democrats need at least a deal on the overall spending caps as well as clear signs that there will be a deal on DACA, at which point lawmakers could pass yet another CR to give appropriators time to write a bill. But there are a growing number of Democrats who don't see advantages to giving Republicans more time.
As Huffman told HuffPost: "If anyone expects me to vote for another CR, they're going to have to do some arm-twisting and they're going to have to convince me that a DACA is literally just around the corner."
Democrats expect Republicans to basically fold on DACA so that they can get a spending deal that would avoid those automatic sequestration cuts, but Republicans don't seem anywhere close to the Democratic demands ― and by introducing a bill with even more requirements than the ones Trump laid out at the White House on Tuesday with lawmakers, Republicans are moving further away, not closer.
Trump could still step in and potentially roll conservatives by forcing a vote on an essentially "clean" DACA bill, one not conditional on other issues, which would likely win the support of some defense hawks, some moderates and some Trump-aligned Republicans. But even he doesn't seem close to conceding on these points. The one thing Trump was clear about was that there be wall funding in this deal, and that seems unlikely.
Other than the wall, Trump seemed open to accepting almost anything Congress comes up with, laying out broad guidelines like "security," ending "chain migration" and stopping the diversity visa program. But the broadness of his platitudes has seemed to embolden both sides, with Democrats interpreting "security" to mean something very different than the Republican definition.
When Rep. Raul Labrador (R-Idaho) was asked Wednesday about all the additional demands in the Republicans' DACA bill he helped write, he answered that none of them were beyond what Trump wanted, claiming that things like a crackdown on sanctuary cities and the E-Verify program were all part of Trump's "security" demand.
"All those issues are needed for border security," Labrador said.
If that's the case, it's difficult to see a deal emerging in a week.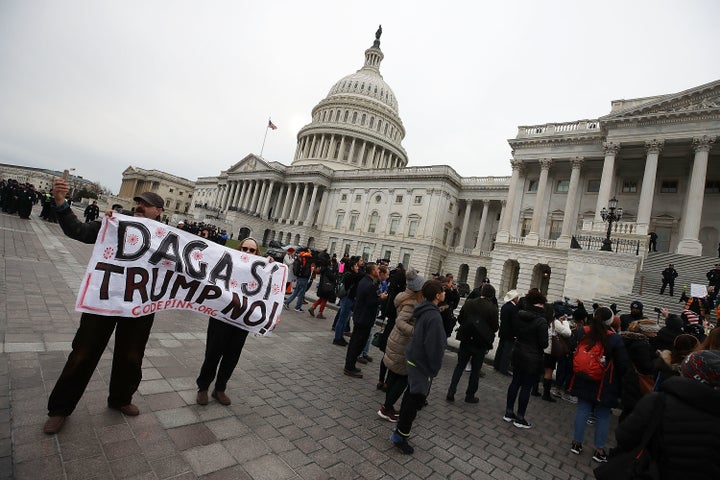 REAL LIFE. REAL NEWS. REAL VOICES.
Help us tell more of the stories that matter from voices that too often remain unheard.