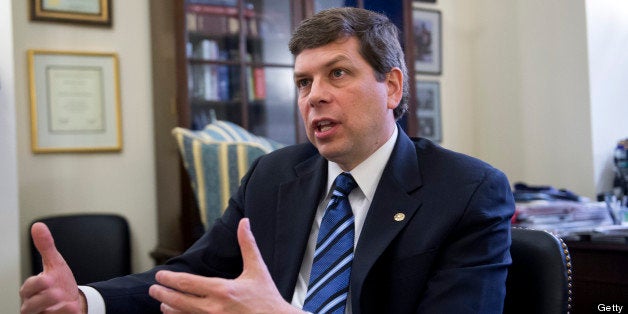 WASHINGTON -- While pushing an effort to defund Obamacare or risk a government shutdown, congressional Republicans have insisted they might have some unlikely allies on their side: Senate Democrats up for reelection in red states.
But at least two of those Democrats, Sens. Mark Begich (Alaska) and Mark Pryor (Ark.), laughed off the suggestion Thursday that they would vote for a continuing resolution that permanently strips the Affordable Care Act of its funding.
"We're not going through another [vote to repeal Obamacare], 43rd or 44th -- no," Begich told reporters on Capitol Hill. "Do I have issues with Obamacare? Yes. We've proposed multiple amendments and ideas to fix it, to make it better and take out things that aren't working ... but we're not going through this process."
When The Huffington Post asked Begich to respond to the idea that Democrats facing tough reelection battles in conservative states might favor House Republicans' strategy, which ties Obamacare funding to a continuing resolution to keep the government running past Sept. 30, Begich laughed and shook his head.
"No -- I think those guys over there should focus on what the American people want, and that is a budget done," he said. "Quit playing with the continuing resolution, putting the debt at risk, and causing this great economy that's moved in the right direction to falter again."
Pryor also told HuffPost he didn't favor the approach. "No, I just don't," he responded with a smile.
"We voted on Obamacare ... and it's the law of the land. It's been through the Supreme Court," Pryor said. "It's not perfect, but let's work to make it better."
Begich and Pryor, along with Sens. Mary Landrieu (D-La.) and Kay Hagan (D-N.C.), are all up for reelection next year in states that President Barack Obama lost in 2012. They've faced a multitude of attacks over Obamacare, with Republicans looking to seize on any delays or roadblocks in the law's implementation.
Hagan spokeswoman Sadie Weiner confirmed to HuffPost that the North Carolina senator would not vote for a continuing resolution that defunds Obamacare. Landrieu spokesman Matthew Lehner said in an email that the senator "will not vote for a continuing resolution that defunds the Affordable Care Act."
Some Republicans have nonetheless spent days prophesying that red state Democrats are so vulnerable, they might buck their own president on his signature health care law.
"I think if we get this bill out of the House and over to the Senate it'll be political suicide for the Democrats in red states that are up for election in the Senate," Rep. Thomas Massie (R-Ky.) told The Hill on Tuesday. "That's why I think we should send it over there and let them vote on it."
Rep. Tim Huelskamp (R-Kansas) echoed a similar view Wednesday when asked how Republicans could muster enough votes to defund Obamacare in the Democratic-controlled Senate.
"I want to see Mark Pryor vote on it," he told HuffPost. "I think people like [Pryor's GOP Senate opponent, Rep.] Tom Cotton and all their future opponents think this is a great thing politically."
Unfortunately for Huelskamp, that vote may never happen. Senate Majority Leader Harry Reid (D-Nev.) can strip out the provision that defunds Obamacare with a simple majority vote and, once the upper chamber passes a revised bill to keep the government funded, put the ball back in House GOP leadership's court.
Even Sen. Ted Cruz (R-Texas), one of the main proponents of the plan in the Senate, conceded there weren't enough votes in the upper chamber for it to be successful, and his colleagues seem far from eager to put up a fight. A number of Senate Republicans have continued to criticize the House GOP's plan; their skepticism only mounted on Thursday.
"Everybody knows we can't win this fight. That's the problem," Sen. Orrin Hatch (R-Utah) told reporters.
"I oppose Obamacare as much as anybody in the Senate, but it's just difficult for me to see how this leads us anywhere but a boxed canyon," said Sen. Bob Corker (R-Tenn.).
This post has been updated to include comment from Landrieu's spokesman.
Correction: This story has been corrected to reflect that Sadie Weiner is a spokeswoman for Sen. Kay Hagan, not Sen. Mary Landrieu, and to clarify Hagan's position on a continuing resolution that defunds Obamacare.
Calling all HuffPost superfans!
Sign up for membership to become a founding member and help shape HuffPost's next chapter
BEFORE YOU GO
PHOTO GALLERY
Conservatives Pointing Fingers