WASHINGTON — Rep. Adam Schiff (D-Calif.) and other Democratic members of the House Intelligence Committee have demanded that the committee's chairman, Devin Nunes (R-Calif.), recuse himself from investigating potential ties between the Trump administration and the Russian government.
In a statement Monday, Schiff, the committee's vice chair, said his recommendation came "after much consideration."
"[I]n much the same way that the Attorney General was forced to recuse himself from the Russia investigation after failing to inform the Senate of his meetings with Russian officials, I believe the public cannot have the necessary confidence that matters involving the President's campaign or transition team can be objectively investigated or overseen by the Chairman," he said.
Nunes met the source on White House grounds in order to view sensitive documents in a "secure location," Jack Langer, Nunes' communications director, said Monday in a statement, CNN first reported.
In an interview with CNN's Wolf Blitzer on Monday evening, Nunes insisted there was nothing "clandestine" about his visit and that the documents in question had "nothing to do with Russia." But the revelation about the visit adds to speculation that Nunes coordinated with Trump's team before making allegations about the Obama administration's information-gathering.
The day after meeting with his source, Nunes told reporters that he had viewed several dozen reports showing that members of Trump's team ― and possibly the president himself ― were the subjects of "incidental" collection during routine surveillance targeting suspected foreign spies. He said the surveillance was legal but that he was concerned that the names of Trump surrogates were "unmasked" in internal intelligence reports. After briefing reporters, Nunes went to the White House to share his revelations with Trump, whose team is being investigated by the FBI for possible ties to Russian government officials who allegedly interfered in the 2016 U.S. election.
Schiff said that while it is "impossible to judge" whether the documents support the idea that Trump surrogates may have been unmasked, what is clear is "there was no legitimate justification for bringing that information to the White House instead of the committee."
"That it was also obtained at the White House makes this departure all the more concerning," Schiff said. "In the interest of a fair and impartial investigation whose results will be respected by the public, the Chairman's recusal is more than warranted."
Nunes told reporters Monday evening that he has no intention of stepping down and that calls for him to do so were politically motivated, Voice of America reported.
In an interview Monday night with Fox News' Bill O'Reilly, Nunes said, "I'm sure the Democrats do want me to quit because they know that I'm quite effective at getting to the bottom of things."
Speier, in a statement, called Nunes' admission that he met with an unidentified source on the White House grounds as "the last straw" and said it implies he and the White House "colluded in a desperate attempt to salvage the President's credibility, after the President's bogus wiretapping claims were debunked by his own FBI Director."
"Russia attacked our democracy this last election. Our constituents are counting on us to find out how they did it, whether any U.S. persons assisted them, and how to make sure it never happens again," Swalwell said. "That requires an impartial pursuit of the truth. So far, too many people in the White House and Administration, and now, the Chairman of the House Intelligence Committee, have betrayed their duty to conduct an independent, bipartisan inquiry into the Trump team's ties with Russia."
Earlier Monday, Senate Minority Leader Chuck Schumer (D-N.Y.) called on Ryan to remove Nunes as head of the House Intelligence Committee. "Chairman Nunes is falling down on the job and seems to be more interested in protecting the president than in seeking the truth," Schumer said.
Late Monday evening, Trump took to Twitter to argue that the House Intelligence Committee should spend its time investigating Bill and Hillary Clinton, not him.
"Trump Russia story is a hoax. #MAGA!" he wrote.
UPDATE: This article has been updated with additional statements from Reps. Devin Nunes, Jackie Speier and Eric Swalwell and House Minority Leader Nancy Pelosi. It also includes Nunes' comments Monday night on Fox News and Trump's posts to Twitter.
Before You Go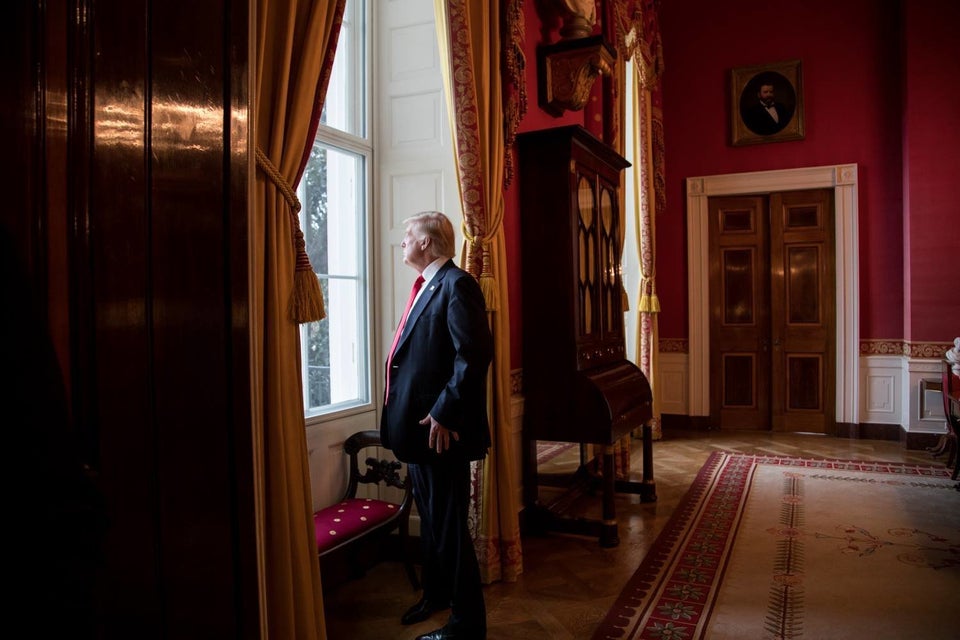 Trump's First 100 Days
Popular in the Community