WASHINGTON ― Democrats left President Donald Trump's first address to Congress feeling less like they'd watched a presidential speech and more like they'd wandered into an alternate universe.
Yes, they are still disappointed 2016 Democratic presidential candidate Hillary Clinton was not standing before the assembled lawmakers. But they've moved beyond the November loss and now find themselves wrestling with a reality that, to put it bluntly, they find bizarre, and even threatening.
"It was a surreal experience," Rep. Hakeem Jeffries (D-N.Y.) told The Huffington Post moments after Trump's address. "We have a reality show host in the White House masquerading as the president of the United States of America and half the country is still in complete shock."
For freshman Rep. Jamie Raskin (D-Md.), a constitutional law professor who won election in November, it was unlike anything he's ever heard.
"To me, it actually felt a little bit like The Hunger Games at points. There was something kind of dystopian, science fiction about the experience," he said. "I looked up and I saw [former House Speaker] Newt Gingrich and suddenly I felt that I was transported to a different world."
Raskin added that Trump's remarks were "toned down" compared to the "blood and gore and American carnage" in the president's inaugural address.
"But the basic Steve Bannon program was still there," he said, referring to Trump's controversial chief strategist.
Pressed on if there was anything they liked in Trump's speech, several Democrats said his call for paid family leave but nothing else. And the lack of specifics didn't surprise or sadden them.
"Depressing? "It wasn't. It was almost surreal," Rep. Barbara Lee (D-Calif.) said. "This is someone who came from the reality show environment. That's his platform."
Rep. Joe Crowley (D-N.Y.), the House Democratic Caucus Chair, also felt the entire day was "surreal."
"This president gives me a raison d'être to wake up every morning and say, 'What has he said today and how can I go after him?'" Crowley said. "I've got news for him this is not reality TV, this is the real deal."
House Minority Whip Steny Hoyer (D-Md.) went into the chamber Tuesday night with little hope that Trump would strike a unifying tone.
"One of the things we've learned in the last 15 months ― don't be surprised by what Donald Trump does," Hoyer told HuffPost. "He almost always does what you don't expect, and does what you don't think he ought to be doing."
If anything, Democrats appeared energized. The address Trump gave Tuesday won't quell the unrest that has sprouted up in their states across the country.
Rep. Earl Blumenauer (D-Ore.) emailed a one-word statement after the speech: "Resist."
Senate Minority Leader Chuck Schumer (D-N.Y.) admitted there were rough days after election, but he appeared eager for the fights that are ahead of Democrats under Trump's presidency.
"When Hillary first lost, I was shocked. And I taught my daughters — they were shocked too, one of them was working for Hillary — and I taught them the old Shirelles song, 'Mama said there'd be days like this, there'd be days like this my mama said,'" Schumer said.
But then he said he had an epiphany-like moment during the first week of Trump's presidency that had Clinton won the election, they'd have fun and "get more good things done." "But with Trump as president and with me as minority leader, my job was much more important because we were the backstop, just about the only one to Donald Trump," he added. "And that steeled me."
Pointing to the debate raging over Trump's plan to repeal the Affordable Care Act as one example, Schumer said, Democrats are succeeding. "We're on offense and my prediction is that odds are greater than half that we keep ACA," he said.
"We need to be strong in the Senate, and they need to be strong in the streets," Schumer said, "and if together, we're working together, we can stop this guy and turn America back to where it should be going."
Sign up for the HuffPost Must Reads newsletter. Each Sunday, we will bring you the best original reporting, long form writing and breaking news from The Huffington Post and around the web, plus behind-the-scenes looks at how it's all made. Click here to sign up!
Before You Go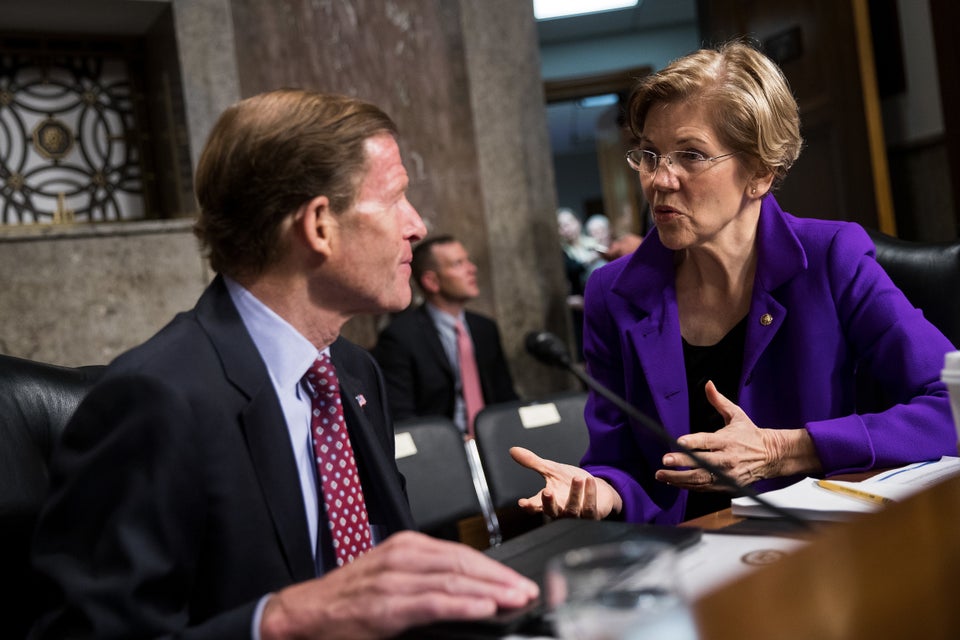 2017 Scenes From Congress & Capitol Hill
Popular in the Community