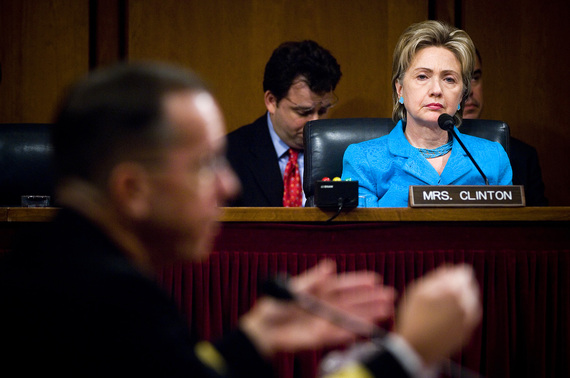 Officially, she's not running, but no one at the Harkin Steak Fry in Iowa on Sunday, September 14th, had any doubt that Hillary Clinton's campaign for President of the United States had already begun (why else would anyone go to Iowa?). What was more unexpected was the presence of several 'DREAMers', immigrants brought to the U.S. illegally as children, who were unafraid to bluntly ask the former Secretary of State where she stands on immigration.
"My name is Mónica Reyes and I'm an Iowa DREAMer," one of the brave unauthorized immigrants said to Clinton as she passed by, signing autographs and shaking hands. "Yay!" Clinton replied mechanically.
"I was wondering what do you feel about Obama's delay on immigration," Reyes continued.
"Well, I think we just have to keep working. Can't stop ever working," said Clinton.
Standing next to Reyes, César Vargas, the co-founder of immigration advocacy group the DREAM Action Coalition (DRM), stepped in to push for a substantive response from Clinton: "The President has broken his promise to the Latino community, Secretary, and we wanted to know whether you stand by the President's delay on immigration."
"You know, I think we have to elect more Democrats," Clinton replied before moving down along the autograph line.
Not often does one line say so much about the desperate and disheartening situation unauthorized immigrants, their families and their advocates currently find themselves in. If the last few elections are anything to go by, Latino voters have been turning out en masse to elect Democrats. In 2012, Latinos voted for Barack Obama over Mitt Romney for President by 71 percent to 27 percent, according to the Pew Hispanic Center.
The problem is not that an insufficient amount of Democrats are being elected but that elected Democrats are not keeping their promises on immigration. Most guilty of all is President Obama, increasingly referred to as the "deporter-in-chief" among immigration advocates for the unprecedented number of unauthorized immigrants he has deported from the United States.
On June 30th, Obama made a speech in the Rose Garden promising executive action on immigration before the end of the summer, blaming Republicans for Congress' failure to provide a solution to the "humanitarian crisis on the border." It was expected that the action would potentially save millions from deportation, allowing unauthorized immigrants to live without the fear of being forcibly separated from their families and perhaps even granting them work permits. It only took two months for Obama to break this promise, however, as he announced that he would delay any executive action on immigration until after the midterm elections.
The reasons for this delay are simple and the irony stark. Many Democrats about to run in difficult Senate races are worried that executive action on immigration would hurt their chances of being elected. Thus, while Latinos hoping for immigration reform are simply told to "elect more Democrats", Democrats are actively abandoning immigration reform to bring their fellow party members into office. It seems increasingly clear that Democrats are willing to take our votes but not to honor the promises they make to us in return.
Unofficially on the campaign trail, Hillary Clinton is rightly in the spotlight, for though she brazenly courts Latino votes, her immigration record is mediocre at best. Clinton has consistently claimed to support a path to citizenship for the millions of unauthorized immigrants currently residing in the United States, though she has also said that those who have committed crimes should be forced to leave. This doesn't sound much different from the position of deporter-in-chief Obama.
Moreover, Clinton has a record of hardening her position on immigration in a pitch to court votes in swing states. In 2008, the last time she ran for President, she addressed a South Carolina crowd stating: "Anybody who committed a crime in this country or in the country they came from has to be deported immediately, with no legal process. They are immediately gone." As First Lady under President Bill Clinton, she supported the 1996 Illegal Immigration Reform and Immigrant Responsibility Act, the basis of today's mass deportations. According to the American Immigration Lawyers Association (AILA), the Act "expand[s] the grounds of deportation, subjecting long-term immigrants to mandatory detention and automatic deportation for relatively insignificant crimes."
Clinton also publicly opposed former Governor Eliot Spitzer's proposal to allow unauthorized immigrants to obtain driving licenses. (Now, an unauthorized immigrant caught driving can be directly deported to his or her 'home country').
All in all, Hillary Clinton's most disturbing trait, her apparent ideological malleability, is also perhaps the most valuable to her continuing political relevancy. Time and time again, Clinton has morphed into someone more 'electable' depending on the time and place. In this way, she is a politician in the purest sense of the world. The only problem is that her platform will surely shift depending on the votes she feels she needs, not the votes she feels she has. And, if the above exchange shows anything, it is that Hillary Clinton feels the Latino vote is a given for Democrats.
And this is the difficult situation that immigration advocates (myself included) and many American families find themselves in. With Republicans as intransigent as they are, voting Democrat still represents the greatest chance at meaningful and comprehensive immigration reform. So we are stuck battling to elect more Democrats blindly hoping that, this time, they will not break their promises when pressured.
Nevertheless, one must make no mistake. Democrats taking the Latino vote for granted would be a grave mistake, for nothing would set a worse message to America's newest and most aspiring generation than for democratically elected leaders to ignore the voice of the people.
Popular in the Community