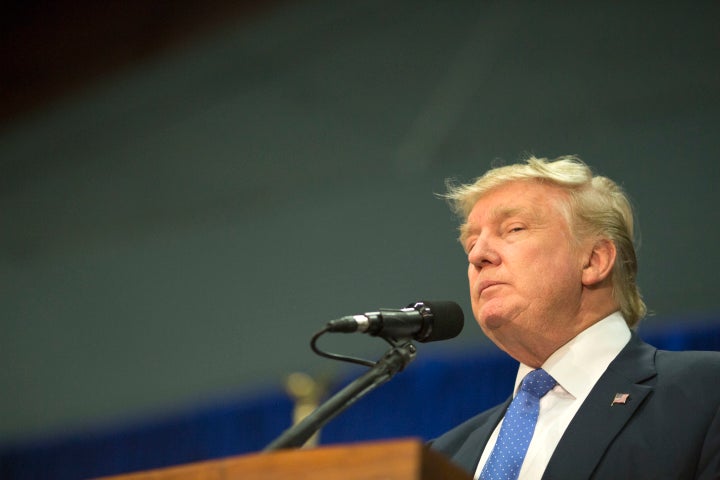 WASHINGTON ― Democrats and their affiliated groups have begun to look to support down-ballot candidates, as all polling models show Democratic presidential nominee Hillary Clinton with a large lead over Republican Donald Trump. At least one group is already sending its money that way.
Women Vote!, a super PAC operated by the pro-choice women's group EMILY's List, contributed $325,000 to various state-level super PACs in Colorado, Minnesota, New Mexico and Vermont in October. The group also sent $45,000 to House Majority PAC, a super PAC working to elect Democrats to the House of Representatives.
The contributions by Women Vote! are the first the group has made to state-level Democratic Party groups this election cycle. The group is giving $125,000 to Our Vermont, a super PAC run by the Democratic Governors Association; $100,000 to Patriot Majority NM; $50,000 to WIN Minnesota's 2016 Fund; $35,000 to Colorado Citizens Alliance and $15,000 to the group Common Sense Values, also in Colorado.
The money will go toward Democratic efforts to keep control of the governorship in Vermont, win back control of the Minnesota and New Mexico state Houses and win control of the Colorado state Senate.
Carolyn Fiddler, spokeswoman for the Democratic Legislative Campaign Committee, characterized the shift in resources down the ballot as "smart investments."
"Campaigns for state legislative races continue up through Election Day," she said. "The needles are still moving in these races."
These races are all very important to Democrats working to win back or maintain control in states with a strong Democratic tilt. The 2014 midterm elections were a nationwide wipeout for Democrats at the state level. Republicans won control of the Minnesota House (by a wide margin) and the New Mexico House (by a slim margin). In Colorado, Republicans won a one-seat advantage in the state Senate after the successful recall of two Democratic senators for their support of gun control legislation. Now, Democrats hope to win the chambers back.
In Vermont, Democrat Sue Minter is in a tight race with Republican Lt. Gov. Phil Scott for the governor's seat. They are running to replace the unpopular Democratic Gov. Peter Shumlin, who chose not to run for another two-year term after serving for eight years.
The group has endorsed seven women in New Mexico House races, including Joanne Ferrary, who is running to defeat an incumbent Republican in a swing district. In Minnesota, they have endorsed five women for the state House. And in Colorado, EMILY's List has endorsed four women for the state Senate. One of them is Rachel Zenzinger, who is running in a favorable district currently held by a Republican.
The contributions by Women Vote! are not the only ones from national groups to down-ballot super PACs. Labor unions, in particular, are major supporters of Democratic outside groups at the state level.
Patriot Majority NM has received $350,000 from the American Federation of State, County and Municipal Employees, $100,000 from American Federation of Teachers and $65,000 from the National Education Association's super PAC. The New Mexico group also received $100,000 from former New York City Mayor Michael Bloomberg's Everytown for Gun Safety Action Fund.
WIN Minnesota's 2016 Fund received $475,000 from AFSCME's national and local committees and $150,000 from the NEA. It also received $50,000 from Bloomberg's group and $50,000 from Americans for Responsible Solutions, a pro-gun control group founded by former Rep. Gabby Giffords (D-Ariz.), who survived being shot in the head in 2011 in a mass shooting that killed six people.
CORRECTION: An earlier version of this article mistakenly identified Common Sense Values as a Kentucky group. In fact, EMILY's List has not made a contribution to any Kentucky super PACs.
HUFFPOST READERS: What's happening in your state or district? The Huffington Post wants to know about all the campaign ads, mailers, robocalls, candidate appearances and other interesting campaign news happening by you. Email any tips, videos, audio files or photos to scoops@huffingtonpost.com.
REAL LIFE. REAL NEWS. REAL VOICES.
Help us tell more of the stories that matter from voices that too often remain unheard.