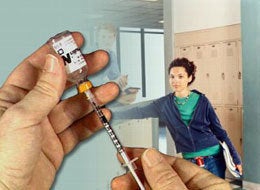 After benefiting enormously from the Latino backlash against GOP anti-immigrant race baiting Democratic legislators will have their first reality test, albeit a modest one, on this hot button issue.
This week SCHIP will hit the floor of the House of Representatives and head for the US Senate. SCHIP provides health insurance funding for children from moderate to low income families. The much lauded children's health care insurance program was derided in 2007 as a budget busting big government program. The derision occurred while we were spending $10 billion a month in Iraq and before we bought $1 trillion of bad bank stock. Current spending environments being what they are no one legislator may be able to kill the bill on the cost alone. Lets face it these days 35 billion additional bucks looks like the budget for a tax payer funded, AIG lead, training seminar at an all inclusive day spa with bottomless Champaign service .
But what some politicos will focus on is a provision that will allow DOCUMENTED immigrant children to benefit from SCHIP. Children who are fully documented residents can receive SCHIP benefits now if they have been in the country for five years. The new SCHIP provisions will merely remove the five year waiting period. But that one act of sensibility is sure to give Lou Dobbs a lead for at least three or four episodes of his ratings grabbing, GOP killing, television show.
While it looks like the House will pass the bill as written easily the Senate may be a different story. Beltway insiders tell me that Senator Max Baucus (D-MT) is ready to complain about the immigrant provision and fight the bill if it somehow remains intact. This is where the test for Democrats is born.
Democrats owe much of their success in the last two election cycles to strong Latino voter turnout. Any distancing of legally immigrated children is sure to have a huge impact on the faith of Latinos that voted and volunteered for change. Additionally the scapegoating of these minors will embolden anti-immigrant forces that hunger for a victory and whose real ambition is to destroy immigration reform and continue mass deportations.
Every expert understands that containing emergency room costs is a key to any attempt at health care reform. The SCHIP provision brings more children into a system where costs can be contained and future long term heath care issues can be ameliorated. In short the SCHIP provision to include as many currently uninsured children and children about to lose their healthcare coverage is a smart investment.
Senator Baucus needs to step lightly and his Democratic colleagues need to step away from him. If the future of these children or the overall savings of the program are not a big enough motivator there are others. Democratic leaders may ponder the impact of a low Latino turnout in the 2010 off year election and a potential opening for moderate Republicans into Latino family households. If the moral and fiscal imperatives of making SCHIP more inclusive are not strong enough the political reality should be.
Popular in the Community