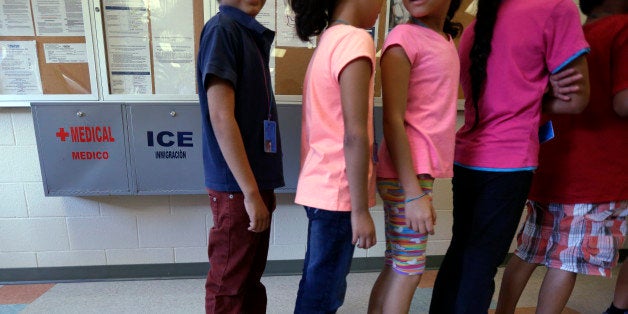 A group of 136 House Democrats signed a letter Wednesday calling on the Obama administration to stop locking up immigrant mothers and children in detention.
The letter, addressed to Homeland Security Secretary Jeh Johnson, marks the latest effort to prod immigration authorities to abandon family detention -- a largely discontinued practice that the Obama administration resurrected following last year's Central American child migrant crisis at the border.
"For nearly one year we have been closely following the troublesome conditions of confinement, due process issues, and serious developmental and medical concerns of those being detained," the letter says, adding: "We believe the only solution to this problem is to end the use of family detention."
Signatories included House Minority Leader Nancy Pelosi (Calif.) and Rep. Luis Gutierrez (Ill.), who has played a leading role in pressing for immigration reform.
Citing comments from Luis Zayas, the dean of social work at the University of Texas, the letter says detention harms children psychologically and notes that most of the people locked in family detention are asylum seekers who fled violence in their home countries.
"We believe it is undeniable that detention in a secure facility is detrimental to mothers and children and is not reflective of our values as a Nation," the letter reads. "Children require special protections and should not be placed in jail-like settings."
The Obama administration largely abandoned family detention back in 2009 after facing widespread criticism and protests about the ethics of locking up mothers and children in immigrant detention.
Last year, however, facing an unprecedented illegal crossing of some 68,000 unaccompanied minors and a similar number of mothers traveling with their children, the Obama reinstituted family detention, arguing that it would act as a deterrent. The administration constructed a new, 2,400-bed family detention center in Dilley, Texas, last year and expanded capacity for family detention at a second center in Karnes County, Texas.
Both the Dilley and Karnes County centers are run as for-profit enterprises by private corporations. The Corrections Corporation of America, the country's largest private prison contractor, runs the center at Dilley, while GEO Group, the second-largest contractor, runs the Karnes County center.
GEO Group has repeatedly denied any wrongdoing at the detention center.
"The Karnes County Residential Center provides high quality care in a safe, clean, and family friendly environment, and onsite U.S. Immigration and Customs Enforcement (ICE) personnel provide direct oversight to ensure compliance with ICE's Family Residential Standards," GEO Group said in a statement.
Popular in the Community