WASHINGTON -- Democrats' frustration with President Barack Obama's trade agenda bubbled over Thursday, with key opponents accusing their party's leader of putting more effort into a bid to aid corporate America than anything he's done for the middle class.
Calling it "maddening," Sen. Sherrod Brown (D-Ohio) told reporters that the Obama administration was putting on a full-court press unlike anything Democrats have ever seen in his presidency in order to win the authority to fast track enormous trade deals.
"I think if you could get my colleagues to be honest, on the Democratic side, with you -- and I think you can mostly -- they will say they've been talked to, approached, lobbied and maybe cajoled by more cabinet members on this issue than any issue since Barack Obama's been president," Brown said.
"That's just sad," he added.
Brown and Sen. Bob Casey (D-Pa.) spoke to reporters about their frustrations a day after the Senate Finance Committee advanced a package of legislation that would grant Obama Trade Promotion Authority, as fast track is more formally known. With it, the president would be able to use expedited procedures to pass the Trans-Pacific Partnership with a dozen Pacific Rim nations and the Transatlantic Trade and Investment Partnership with Europe. Together, those two deals represent about two-thirds of the world's economy. Once Obama signs the pacts, Congress would then have no ability to amend or filibuster them, having only an up-or-down vote.
"I wish they put the same effort into minimum wage. I wish they put the same effort into Medicare at 55. I wish they put the same effort into some consumer strengthening on Dodd-Frank," Brown said.
Casey added that he thought it would be better if the administration took "that intensity to lobby folks on trade" and applied it to the Democrats' efforts to focus on the middle class.
"My God, we should be spending our time on that, not having the debate we're having," Casey said.
On the other side of Capitol Hill, House Minority Leader Nancy Pelosi (D-Calif.) said she is "disappointed" with the current bill, sponsored by Rep. Paul Ryan (R-Wis.), Sen. Ron Wyden (D-Ore.) and Sen. Orrin Hatch (R-Utah.).
Pelosi backs a substitute version offered by Rep. Sander Levin (D-Mich.), who vehemently opposes the current bill backed by Obama. But Ryan blocked Levin's measure Thursday as their committee debated the trade legislation, ruling Levin's proposal out of order.
"I've said I'm looking for a path to yes. We recognize there will be bumps in that road, that path," Pelosi said, calling the bill put forward by Hatch, Wyden and Ryan "more like a pothole" on the path to yes.
Still, pressed on whether she was lobbying against the president, Pelosi said she isn't.
"I'm not lobbying against anything. I'm lobbying for a positive trade promotion and a positive bill," she said. "So I'm not lobbying anything except for us to arrive at an agreement where we can have 150 Democratic votes for the bill. But that may not be possible." The administration and GOP backers say the massive trade deals are needed to boost U.S. exports, increase foreign markets and combat the growing influence of China. They also argue that the increased economic activity will boost jobs and the economy, and say the TPA measure includes formal negotiating objectives that will ensure U.S. workers compete on a level playing field.
Yet most Democrats want obligations written into the law that trading partners must live up to, not just objectives.
Pelosi added that she and other Democrats within her caucus are concerned with currency manipulation, environment, food safety, agriculture and conflict resolution within the current bill.
The minority leader aims to unify Democrats behind the ideas in Levin's competing measure, hoping they can bring Republicans to the negotiating table. The effort pits her against Obama.
Brown wasn't willing to guess why Obama as president had come so far from his stance on trade as a candidate.
"I was sitting in Cleveland with my wife in Cleveland State University watching the debate between Obama and Clinton, and they both said they were going to renegotiate NAFTA," Brown said. "So ask him about his evolution on this."
UPDATE: 9:56 p.m. -- The House Ways and Means Committee passed its version of the trade legislation later Thursday, setting the stage for both the full House and the Senate to take up the measures.
Like with the Senate Finance Committee, a number of Democrats on the Ways and Means Committee crossed the aisle to back Obama and vote with the GOP, but most expressed frustration.
"I am convinced that President Obama would not have supported this six years ago when he was in the Senate," said Rep. Richard Neal (D-Mass.), before the fast-track bill passed 25 to 13.
Before You Go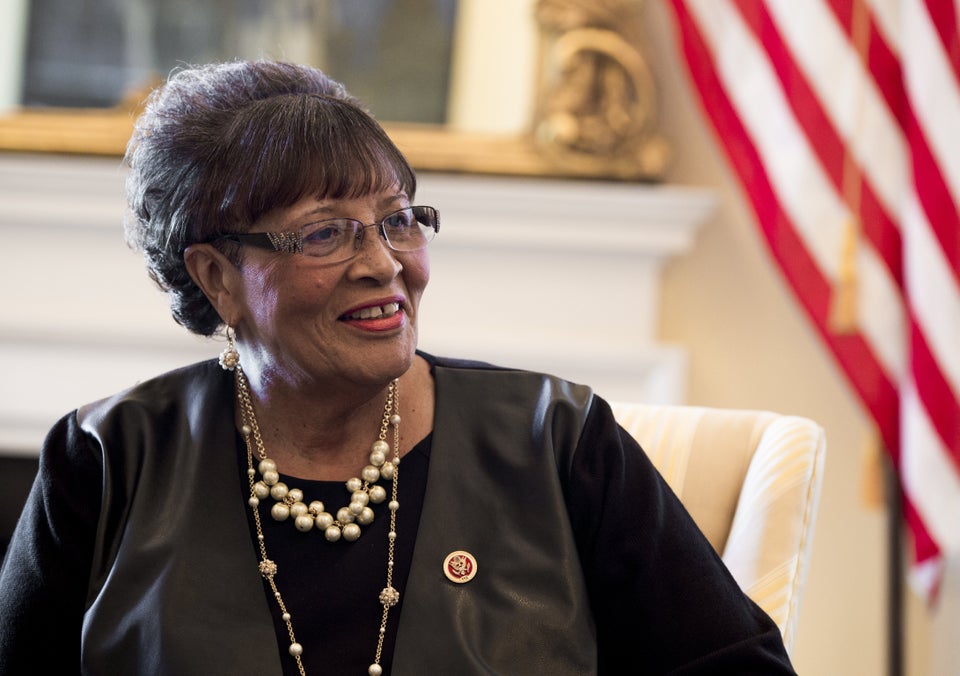 Women In Congress
Popular in the Community