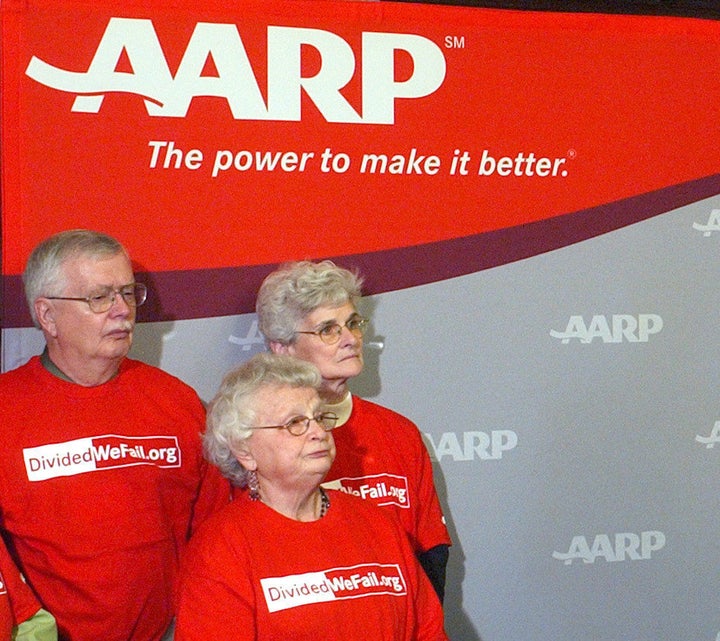 WASHINGTON -- In the battle over the Republican budget plan that passed the House Friday, Democratic insiders have been left wondering why the American Association of Retired Persons, the powerful lobby for older Americans and the defender of all things Medicare, has been largely sitting on the sidelines.
After all, the budget proposed by House Budget Committee Chairman Paul Ryan (R-Wis.), if signed into law, would slash Medicare and convert it to a system of government subsidies for private insurance. AARP has put out a statement raising concerns about that plan and fired up an email campaign to oppose it, but several Democratic operatives said they had hoped the lobby would do much more.
For his part, AARP spokesman James Dau insisted the lobby was fully engaged, contacting every House member and generating 126,000 grassroots emails opposing the Ryan budget in just 48 hours. "AARP has been working at the national and grassroots levels fighting against threats to critical lifeline programs like Social Security and Medicare since the deficit debate began more than a year ago," Dau said.
But during the health reform debate, Democrats say, the AARP was a much more active participant, to the Democrats' political benefit. Now, insiders speculate that recent probes mounted by House Republicans may have cowed the influential group.
"It's sort of like doing the bare minimum," a Democratic aide said shortly before the vote on Ryan's budget. "Considering the House is about to pass a bill ending Medicare, you'd think they'd be setting their hair on fire."
"It's definitely surprising," a Democratic-leaning lobbyist said of AARP's minimal resistance.
Two House Ways and Means subcommittees recently put AARP in their crosshairs. First came a hearing on whether the lobby's support of President Barack Obama's signature health care law -- which, in providing a new subsidized customer base to private insurers, bears some key similarities to Ryan's plans for seniors -- had benefited its insurance business.
And last week, based on a report released at the hearing, the Health and Oversight subcommittees' leadership followed up with a letter to the Internal Revenue Service demanding that the advocacy group's tax-exempt status be investigated.
The report "gave rise to a number of serious concerns regarding AARP's organizational structure and activities, and it raised questions about whether AARP. Inc. continues to qualify as a tax-exempt organization," the letter said.
Frustrated Democrats who see AARP as a vital ally suspect a link.
"It is really odd that AARP has been nowhere to be seen," said one congressional staffer. "Maybe the threat to their not-for-profit status has had its effect."
The lobbyist, who works for a high-profile Democratic-aligned Beltway shop, concurred, even while suggesting the House GOP probe was not that strong on substance.
"If the goal was to expose AARP, then maybe I'd give it a 'B'," the lobbyist said. "If was to chill AARP's political activities, then I'd say they get an 'A'."
One senior Democratic House staffer noted that even AARP's mild efforts could be felt, with the organization's email campaign generating hundreds of letters to House members' inboxes.
But that activity is a far cry from the health care debate, when AARP leaders were seen often on television, in press conferences and at the White House.
Friday even offered a prime opportunity to step to the fore, with House Democrats holding a rally with older Americans to decry the GOP's Medicare plans outside the Capitol.
AARP was not a participant, though lawmakers on hand were not ready to conclude why.
"I don't really know, but we certainly have a lot of [people who are] members of AARP, and we certainly have a lot of activists working on this," said Rep. Jean Schakowsky (D-Ill.), co-chair of the Democratic Caucus Seniors Task Force. "I don't know if there's an internal decision that was made at AARP, but it's an interesting question."
One Democratic staffer who also thought it was a worthy question -- and asked around in lobbying circles -- said there was a temporary strategic pullback.
"They're just shutting up because they don't want to be seen as sticking a thumb in the eye of Republicans right now," the Democrat said.
One AARP representative declined to be quoted, or confirm or deny AARP's stance, and referred The Huffington Post to the organization's website.
Dau, the AARP spokesman, maintained that the lobby has been vocal, however. "We opposed the House budget proposal because it would upend vital programs for health and retirement security without addressing the underlying problem of skyrocketing health care costs," he said. "No one has been more active in engaging older Americans and making sure lawmakers hear their voices, and we'll continue to leverage the power of those voices as the debate continues."
Insiders did note that it might not even be that useful for AARP to open fire right now, because few observers think the House plan will survive the Senate. The powerful group could have more impact later.
Rep. Doris Matsui (D-Calif.), another co-chair of the Seniors Task Force, told The Huffington Post she was working closely with AARP, at least in her California district.
"We're just now getting all this going, and I'm sure AARP is going to come out," Matsui said. "They've been in my hometown meetings."
REAL LIFE. REAL NEWS. REAL VOICES.
Help us tell more of the stories that matter from voices that too often remain unheard.