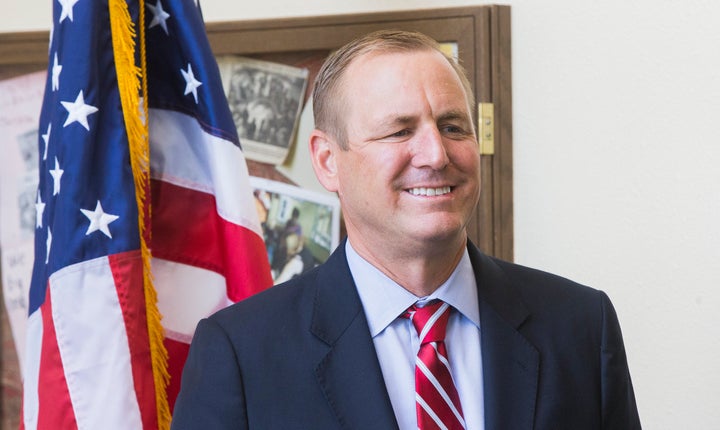 A California Democrats group wants to stop Rep. Jeff Denham (R-Calif.) from calling himself a "farmer" on the general election ballot, arguing that the label is "false and misleading."
Red to Blue California, a political action committee devoted to flipping GOP-held House seats, plans to petition a state court on Tuesday to order California Secretary of State Alex Padilla to remove the word "farmer" from Denham's description on the November ballot.
The lawsuit ― set to be filed in Sacramento on behalf of Jaime Trujillo, a farmer living in Denham's district ― takes aim at the image Denham has cultivated in California's agriculture-heavy Central Valley, parts of which he has represented in Congress since 2011.
California allows candidates to describe themselves on the ballot using no more than three words. In the information he provided to the state in March, prior to the June primary, Denham identified himself as a "Businessman/Farmer/Representative."
Denham earned upwards of $100,000 last year from a plastics company he owns and hundreds of thousands more from rental properties, including farmland, according to his 2017 financial disclosure form. Citing his federal disclosure forms, Red to Blue California's petition argues that Denham "does not currently work as a farmer and he has not earned income from farming since at least 2015."
If Denham merely owns farmland that he rents out, he should not be allowed to call himself a "farmer" on the ballot, according to Vince Rocha, executive director of Red to Blue California.
"For way too long Jeff Denham has claimed to be a farmer, when in actuality he's a landlord. That has absolutely nothing to do with being a farmer itself," Rocha said. "We are simply asking the question, 'Why is he lying to the voters in his district?'"
Red to Blue California is also funding a related digital video ad blitz. "Tell Jeff Denham to stop lying!" the narrator says in the 7-second ad.
Denham campaign spokesman Dave Gillard called the idea of the lawsuit "completely laughable."
Denham only began leasing his farm when congressional duties precluded him from tending it, according to Gillard. The congressman was raised on a farm in a neighboring county, developed the farm he owns and continues to earn income from farming, Gillard added.
"That's his profession ― he is a farmer. He's Mr. Ag in the district and anybody who says otherwise doesn't know the district and doesn't know Jeff Denham," Gillard said. 
The fight over something as seemingly innocuous as one word Denham uses to describe himself reflects a broader struggle over local authenticity in the Democrats' efforts to unseat Denham.
Josh Harder, the Democratic nominee for California's 10th Congressional District, left a career as a venture capitalist in the San Francisco Bay Area in 2017 to run against Denham. Although Harder returned to his hometown of Turlock, where his family goes back five generations, Denham has attacked his politically motivated move from the get-go. Ties to the wealthier, more diverse and more liberal Bay Area can be politically troublesome in the rural Central Valley.
"Harder continues to show allegiance to bay area progressives over our home: Central Valley," Denham tweeted on June 14.
Harder has taken issue not only with Denham's claims to be a farmer, but also with his roots in the district, noting in a response to that June 14 tweet that Denham grew up and began his political career in coastal Monterey.
In 2016, Democrat Michael Eggman, a bee farmer from Turlock, lost to Denham by a nearly identical margin. In California's nonpartisan primary this year, Harder handily outpaced Eggman for one of two spots on November's ballot. 
Denham has tried to distance himself from Trump and the national GOP. But he still voted for May 2017 legislation that sought to repeal the Affordable Care Act. That bill included a provision that would have allowed states to opt out of the landmark law's protections for people with pre-existing conditions.
REAL LIFE. REAL NEWS. REAL VOICES.
Help us tell more of the stories that matter from voices that too often remain unheard.
BEFORE YOU GO
PHOTO GALLERY
2017 Scenes From Congress & Capitol Hill