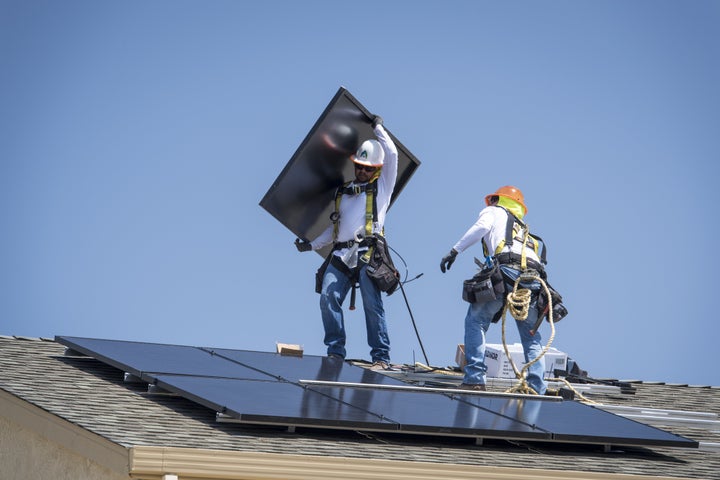 In a nationwide YouGov survey of 1,903 Democrats, registered voters on average ranked green jobs fifth among 15 progressive policy priorities ― behind universal health care, gun control, immigration reform and impeaching President Donald Trump. That ranking put green jobs ahead of several other priorities of the left, including criminal justice reform, strengthening unions and statehood for D.C.
The survey, commissioned by the progressive think tank Data for Progress and conducted online from Oct. 11-15, found even stronger support among young voters and people of color. Voters aged 18-29 ranked green jobs as their No. 4 priority, and voters of color in that age range ranked it No. 3.
Nonvoters who identified as Democrats also ranked green jobs third, suggesting that such a policy could open a previously untapped well of electoral support.
"This is really the future of the Democratic Party," said Sean McElwee, co-founder of Data for Progress.
In a Gallup poll last month, just 1 percent of Americans ― including Republicans and independents as well as Democrats ― chose "environment/pollution" as the country's most important problem from a list of dozens of issues. In a separate May 2017 Gallup survey, just 2 percent of Americans listed "create more 'green' jobs" as the best policy to increase employment in the United States, compared to 19 percent who listed "keep manufacturing jobs here/Stop sending overseas."
The findings come as the Trump administration is on the cusp of fully rolling back two of the most critical federal rules to reduce greenhouse gas emissions. Next year, the White House is planning a make a new push to build more oil and gas pipelines, Larry Kudlow, the president's top economic adviser, said at an event this month.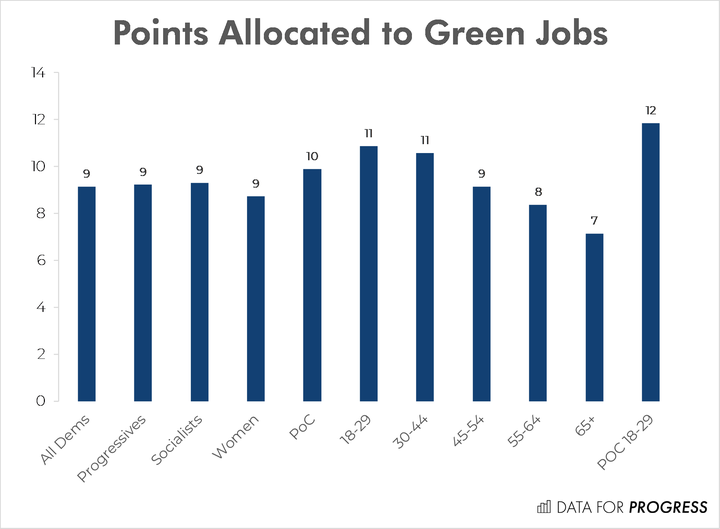 But the new Data for Progress poll suggests a popular alternative to Trump's vision for a fossil fuel bonanza. Candidates could find support for an ambitious plan to fund federal jobs deploying renewable energy and retrofitting homes to make them more efficient.
Already, at least six of the Democratic senators expected to run for president in 2020 are backing legislation to guarantee a job to every American worker who wants one. It's an idea roughly 46 percent of Americans support, according to an April survey by Rasmussen Reports. Polling Data for Progress released in September pegged the number slightly higher, at 55 percent of eligible U.S. voters, but found that those opposed decreased from 23 percent to 18 percent when the guaranteed jobs are green.
Even among Trump voters, the September survey found, support for guaranteed jobs is stronger when the jobs are green, with 35 percent in support and 36 percent opposed. Without an environmental focus, Trump voters in support of guaranteed jobs dropped to 30 percent, with 45 percent opposed.
Roughly 75 percent of Trump voters supported "action to accelerate the deployment and use of clean energy," according to a survey of 1,000 people released in December 2016 by the Republican polling firm Public Opinion Strategies.
Even in deep-red counties in fossil fuel-producing states, support for requiring utilities to produce 20 percent of electricity from renewables averages well above 50 percent, according to 2018 survey data from the Yale Program on Climate Change Communication. Support for providing tax rebates for energy-efficient vehicles and solar panels soars well above 75 percent in most of those same counties.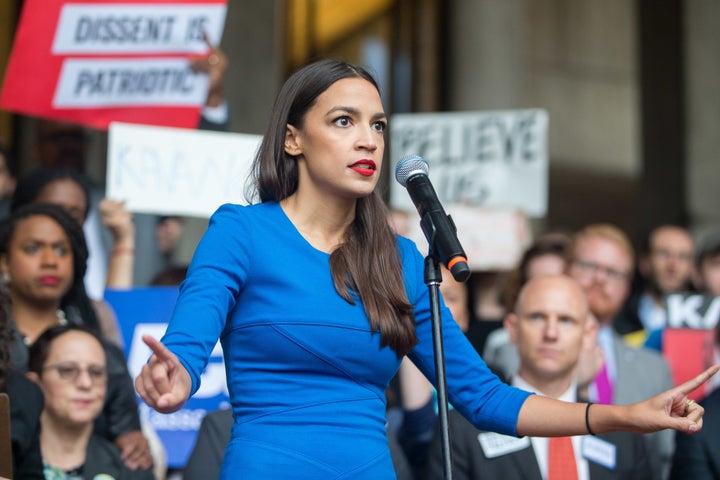 Adopting a green jobs plan could also help Democrats ease the tension between the party's labor and climate hawks. In August, the Democratic National Committee backtracked on a two-month-old ban on fossil fuel donations. The move was a cave to unions that overwhelmingly support pipeline projects that pay much better than renewable energy jobs, which tend not to use organized labor.
Still, the policy seems far off at best. It's difficult to imagine such a bill passing a Republican-dominated Congress, much less gaining Trump's signature. Democratic leadership has indicated it has no plans to push a major climate bill even if the party takes the House of Representatives in next month's election.
Yet there's a small contingent of left-wing candidates ― including Wisconsin congressional candidate Randy Bryce and Kevin de León, the California lawmaker challenging Democratic Sen. Dianne Feinstein ― who are running on a so-called "Green New Deal," a reference to the Great Depression-era spending programs that established many of the nation's infrastructure landmarks. Ocasio-Cortez, the democratic socialist expected to become the next U.S. representative for New York's 14th Congressional District, likened climate change to the "existential threat" posed by "Nazi Germany and the Axis."
"The last time we had a really major existential threat to this country was around World War II," Ocasio-Cortez said at a campaign event. "And so we've been here before and we have a blueprint of doing this before."
Climate scientists tend to agree. In July, Penn State University climatologist Michael Mann called Ocasio-Cortez's proposal for trillions in federal spending on a Green New Deal to be "just the sort of audacious and bold thinking we will need if we are going to avert a climate crisis."
"Adopting a green jobs plan could also help Democrats ease the tension between the party's labor and climate hawks."
Just three weeks ago, a sobering United Nations report warned that world governments have just 12 years to halve emissions in order to avert cataclysmic climate change. And even then, the researchers found that technologies to remove carbon dioxide from the atmosphere will be required to keep warming within 2.3 degrees Fahrenheit, beyond which scientists say many densely populated places will become uninhabitable.
Progress to mitigate climate change has been alarmingly limited. Despite the rapid construction of renewable energy infrastructure, the United States, the world's largest per-capita emitter, is aggressively bolstering its fossil fuel production. Last year, Trump announced the U.S. would withdraw from the Paris climate agreement, which every recognized country on Earth has signed. Brazil, the vast rainforests of which are critical to absorbing carbon dioxide from the atmosphere, is poised to elect a president who vowed to ramp up deforestation and withdraw from the historic 2015 accord as well. China, the world's top national emitter, is continuing to build new coal plants despite pledging to cancel the facilities.
"Trump is going to force the issue of infrastructure … but this is dirty infrastructure legislation," McElwee said. "Democrats should come back with a vision for a Green New Deal that can contest the Republican Party's vision for continued reliance on dirty energy."
Before You Go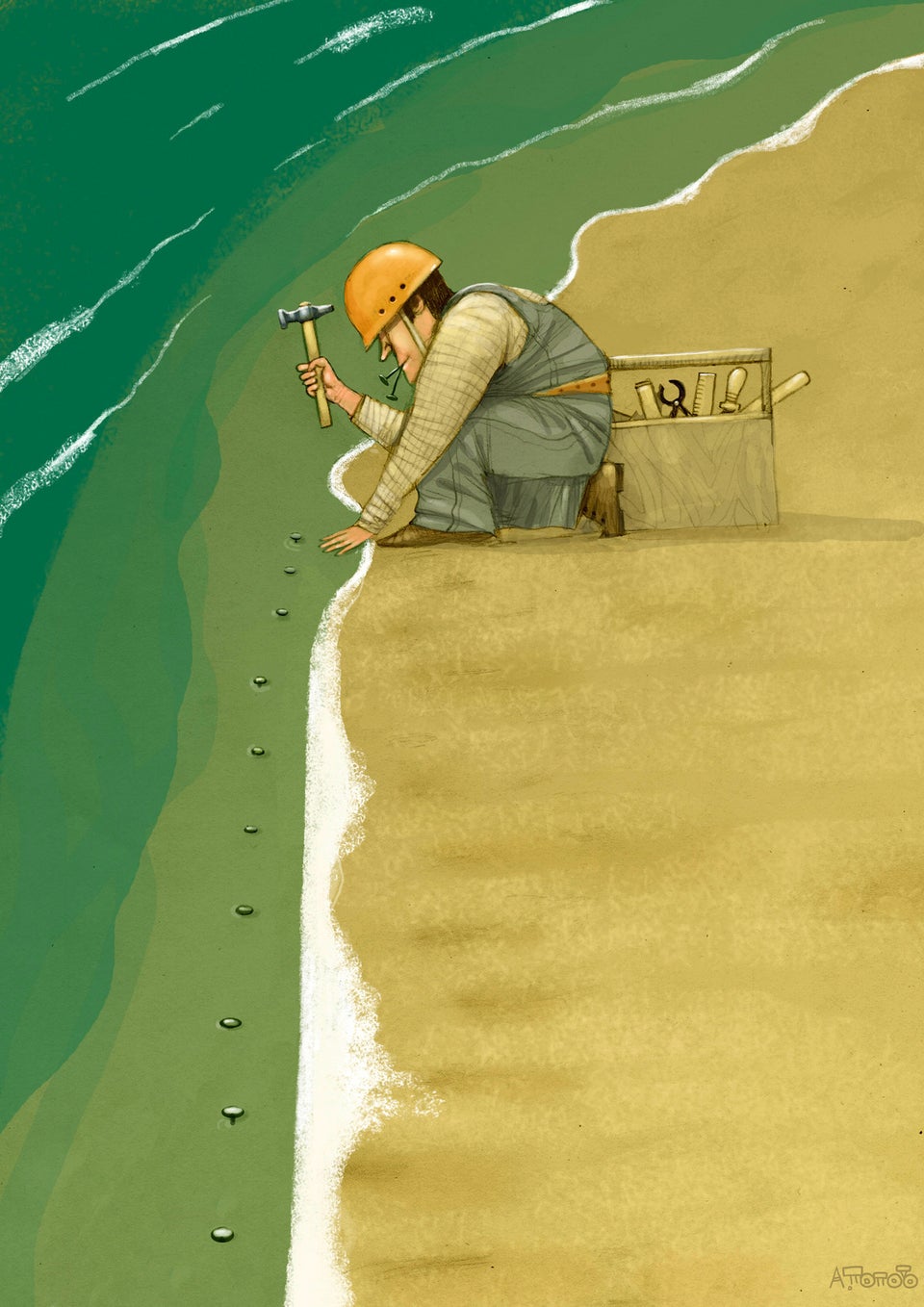 10 Political Cartoons That Put Climate Change In Perspective
Popular in the Community