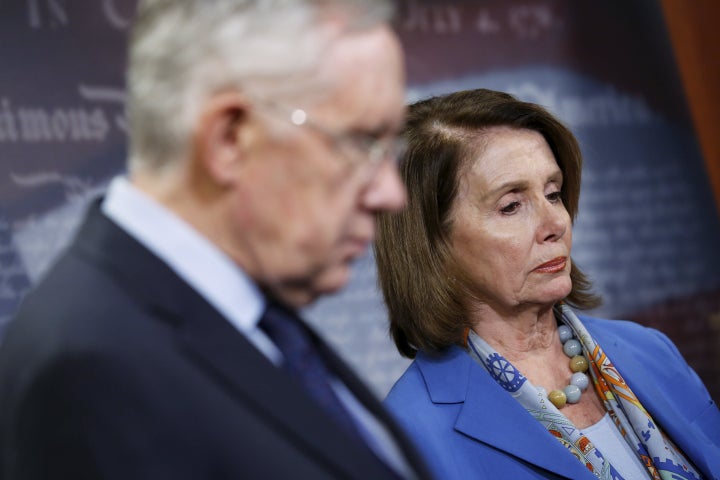 WASHINGTON -- With the nation reeling from the Orlando, Florida, shooting, Democrats are giving Republicans a preview of one issue they intend to bring up in November: guns. 
House Democrats used a routine procedural motion on Tuesday to send a message on the issue, calling for a vote on a bill written by Republican Rep. Peter King of New York that would prohibit people on the terrorist watch lists from buying firearms. And while Republicans had no problem voting against the party-line motion, there are clear signs that Democrats see an opportunity on gun legislation -- and Republicans see a thorny election-year issue.
The "No Fly, No Buy" legislation, as Democrats have dubbed it, is itself a controversial bill. Critics say it would deny due process rights to people placed on terrorist watch lists, which are famously loose as far as who is included. One terrorist watch list in 2013 included 1.1 million people (though many of those names were spelling variations, and the government has said that only about 25,000 people on that list are U.S. citizens or legal permanent residents). 
Rep. Charlie Dent (R-Pa.), for one, noted that local law enforcement officials in his district have ended up on the list, as has his chief of staff's mom. In her case, her name was similar to Cat Stevens, the British folk singer who converted to Islam and changed his name to Yusuf Islam. The musician erroneously ended up on a no-fly list, too, and was taken off a plane because his name was similar to someone else being monitored.
Regardless, Democrats were quick to issue a round of press releases and tweets Tuesday --marked with #NoFlyNoBuy -- over a pretty standard procedural vote. 
"It is appalling that days after our nation has suffered such a terrible attack, Republicans would vote to protect suspected terrorists' ability to arm themselves to the teeth at American gun stores," House Minority Leader Nancy Pelosi (D-Calif.) said in her release.
"Republicans' decision to block the bipartisan 'No Fly, No Buy' bill is dangerous and indefensible," she said. "If you're too dangerous to fly, you're too dangerous to buy a gun." 
Democratic candidates also got in on the act Tuesday, calling on their incumbent Republican opponents to allow a vote on the bill. But what may be more surprising than the outrage Democrats are exhibiting is the openness some Republicans are showing to the legislation.
"That sounds like a reasonable proposition," conservative Rep. Dave Brat (R-Va.) told reporters on Tuesday, when asked about the King bill. "I'm not going to commit yes or no on it, but that sounds like a reasonable proposition."
Agriculture Chairman Mike Conaway (R-Texas) also told reporters on Tuesday that it sounded like something he could support, and Rep. Lee Zeldin (R-N.Y.) was spirited Monday night about his desire to see new restrictions on suspected terrorists.
On the Senate side, Majority Leader Mitch McConnell (R-Ky.) said Tuesday that he suspected the Democratic push for the bill was politically motivated. 
"But we're open," McConnell said. "Nobody wants terrorists to have firearms. And we're open to serious suggestions from the experts as to what we might be able to do to be helpful."
Senate Majority Whip John Cornyn (R-Texas) accused Democrats of political posturing too, though he also suggested there was a legitimate problem with certain dangerous people getting their hands on guns.
"We have to decide whether we actually want to solve a problem or not, or whether people just want their political talking points," Cornyn said Tuesday. "Right now our Democratic friends seem to be more interested in opportunistically using this tragedy to advance their agenda, rather than working with us to solve problems."
Democrats clearly do see a political angle on the gun issue. But for many, it's also a deeply personal concern.
On Tuesday, New York Democrat Nydia Velázquez took to the House floor and, with tears welling in her eyes, read the names of the Orlando shooting victims.
Some Democrats have also indicated that they are serious about working through the judicial concerns members have regarding a bill to prevent suspected terrorists from buying guns. Sen. Dianne Feinstein (D-Calif.), one of Congress' most outspoken gun control proponents, is offering an amendment to an upcoming appropriations bill that would prevent people on watch lists from buying guns. And Feinstein said Tuesday that the next step for her would be to talk to Senate Minority Leader Harry Reid (D-Nev.), and then to McConnell.
"Which I will do on this," Feinstein said, "because I care a great deal about it."
Laura Barron-Lopez and Jennifer Bendery contributed to this report.
Calling all HuffPost superfans!
Sign up for membership to become a founding member and help shape HuffPost's next chapter
BEFORE YOU GO
PHOTO GALLERY
Orlando Shootings