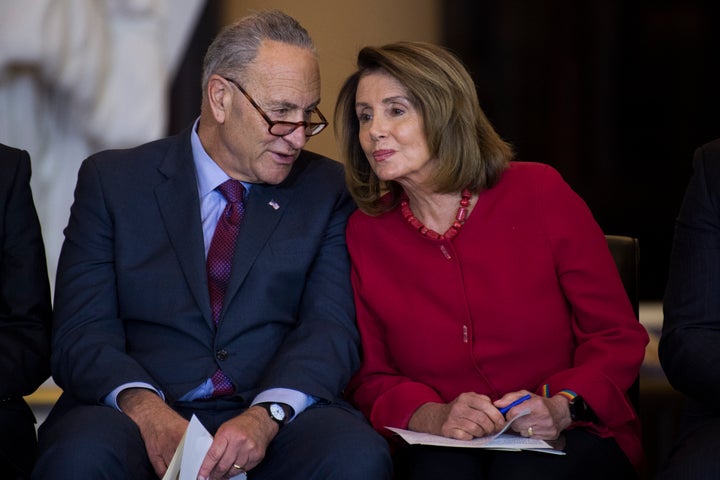 Flanked by union officials, Democratic leaders on Wednesday unveiled a comprehensive plan to overhaul federal law in a way that would strengthen the ailing labor movement and make it easier for U.S. workers to unionize.
The series of proposals have approximately zero chance of becoming law anytime soon, with Republicans in control of both chambers of Congress and President Donald Trump in the White House. But the aggressiveness of the plan ― introduced as an official plank of the party's "Better Deal" agenda ― underscores the leftward tilt in Democratic policy following the 2016 election, with party leaders taking up causes that were previously relegated to more progressive members.
"We all worry about the decline of the middle class, and the number one reason for the decline of the middle class is the assault on unions and on labor that's occurred over the last 30 years," Senate Minority Leader Chuck Schumer (D-N.Y.) said at a press conference on Capitol Hill, alongside House Minority Leader Nancy Pelosi (D-Calif.). "The union movement is under vicious, relentless attack by big corporate interests."
Schumer said the Democratic plan would begin to "unwind a rigged system that undermines every worker's ability to negotiate with the employer." Indeed, the reforms would revamp decades-old labor laws that unions believe are too friendly to employers and make it difficult to retain members or add new ones.
One proposal would ban states from enacting "right to work" laws, which give workers the option to stop supporting unions while still enjoying the benefits of representation. Other proposals include creating new penalties for companies that engage in union-busting and forbidding the use of permanent replacement workers during labor strikes. Another proposal extends collective bargaining rights to more public employees, including in states that have recently restricted them, such as Wisconsin and Iowa.
If that sounds like a wish list for unions, it pretty much is. As a pillar of the Democratic Party, unions have wanted for years to see mainstream Democrats push for major reforms to the law that would rejuvenate the ranks of organized labor. At the press conference Wednesday, AFL-CIO President Richard Trumka applauded the proposals, but also emphasized that many Democrats have taken their union support for granted.
"To be perfectly honest, Democrats in the past have lost some of their connection with working people in our communities who made up their base for generations," Trumka said. "But this ― these proposals ― will strengthen that bond."
Union membership in the United States has been hovering near a historic low in recent years, with less than 11 percent of workers now belonging to a union. That's down from a high of around 35 percent in the 1950s.
Five states have passed right-to-work laws since 2012. Such laws forbid contracts between unions and employers that require all the workers in a unit to pay fees to cover the costs of bargaining. Many workers choose to opt out once they have the chance, even though the union must continue bargaining on their behalf. A majority of states are now right-to-work, making it hard for unions to maintain their membership levels.
The Supreme Court case known as Janus could make it even harder. The conservative majority of justices may issue a ruling next year that would make the entire U.S. public sector right-to-work, giving hundreds of thousands of workers the option to stop paying union fees.
Randi Weingarten, the president of the American Federation of Teachers union, said Wednesday that the Democratic proposals would help counteract those threats. She also said they stood in stark contrast to the Republican plan being hashed out this week to slash corporate taxes.
"This is a which-side-are-you-on moment," Weingarten said. "The better deal starts with collective bargaining. It starts with having the freedom to negotiate, and it starts with unrigging the laws to ensure that."
Before You Go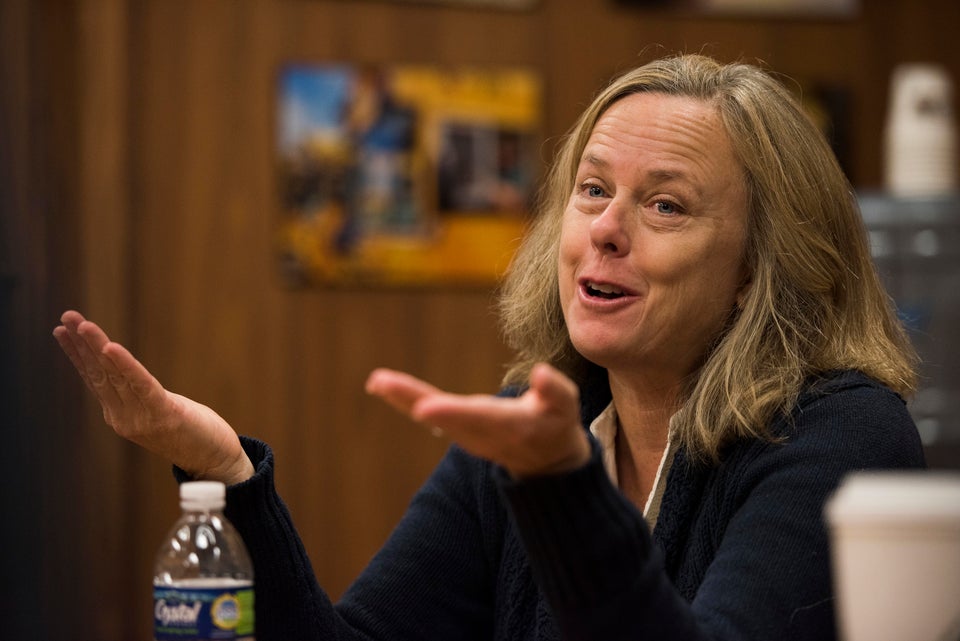 United Steel Workers Roundtable
Popular in the Community