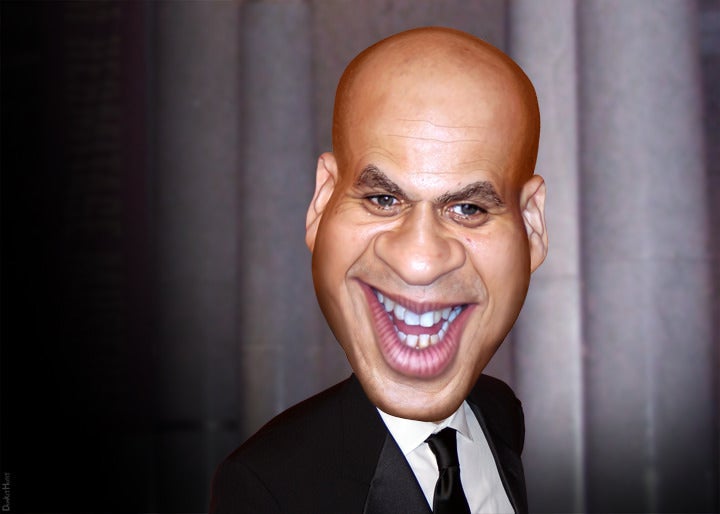 Oh, Senator Cory Booker. I was so looking forward to 2020, in hopes that you would run for president.
But now I fear that your 2020 campaign is doomed before it even starts.
You are a talented and thoughtful senator. Your leadership on the issue of criminal justice reform made you a rock star in my world.
But now you've revealed yourself to be just another Wall Street Democrat, out-of-touch with the concerns of Main Street America, just like your party's doomed 2016 nominee, Hillary "I'm Not The Bad Man Who Says Bad Things" Clinton.
This week, the Senate got on the fast track to its first agenda item in erasing any evidence there was ever a black president - the repeal of Obamacare. Democrats offered amendment after amendment to try and save any sliver of it they could. One by one, those amendments all failed.
But one amendment would have passed. Senators Bernie "Maybe Next Time You'll Pay Attention To Huge Rallies" Sanders and Amy "The Non-Franken Minnesotan" Klobuchar put forth an amendment to allow the importation of prescription drugs from Canada, in order to greatly reduce medication costs for Americans. Twelve Republicans voted for it, guaranteeing its passage if Democrats supported it.
Senate Amendment 178: The Chairman of the Committee on the Budget of the Senate may revise the allocations of a committee or committees, aggregates, and other appropriate levels in this resolution for one or more bills, joint resolutions, amendments, amendments between the Houses, motions, or conference reports relating to lowering prescription drug prices, including through the importation of safe and affordable prescription drugs from Canada by American pharmacists, wholesalers, and individuals with a valid prescription from a provider licensed to practice in the United States, by the amounts provided in such legislation for those purposes, provided that such legislation would not increase the deficit over either the period of the total of fiscal years 2017 through 2021 or the period of the total of fiscal years 2017 through 2026.
But some in the Democratic Party learned nothing from their electoral drubbing* and put the concerns of average Americans below the concerns of corporate campaign contributors.
Given that choice, Senator Booker, you chose Wall Street over Main Street. You joined with Democratic senators Bennet (D-CO), Cantwell (D-WA), Carper (D-DE), Casey (D-PA), Coons (D-DE), Donnelly (D-IN), Heinrich (D-NM), Heitkamp (D-ND), Menendez (D-NJ), Murray (D-WA), Tester (D-MT), and Warner (D-VA) in ensuring Americans continue to pay the highest price for prescriptions in the world. Also, Senator Feinstein (D-CA) couldn't be bothered to vote at all.
You and some of the other Big Pharma Democrats are trying to sell us the excuse that you're worried about the safety of imported drugs. We're not stupid. We know that people have been illegally importing prescription drugs from Canada for years now; we saw Senator Bernie "Who's The Unelectable One Now?" Sanders take busloads of seniors over the northern border to get cheap prescriptions filled and it didn't seem to kill them off. We've got friends in Canada who use those drugs and their country hasn't had any tainted prescription scandals.
"The importation of unapproved and potentially counterfeit medicines into the United States jeopardizes our secure medicine system and presents a serious risk to public health," a PhRMA spokesperson told HuffPost in a statement. "Guaranteeing patient safety is crucial, and we must have policies that ensure patients safely have access to the medicines they need."
The parents of a desperately ill child or the seniors whose lives depend on prescription medication aren't worried that the pills they need are unsafe if they can't afford to buy them in the first place. And Senator Booker, you knew full well that amendment only began the process of importing Canadian drugs, allowing Congress to further pass laws designed to ensure their safety. It's not as if your YEA vote would have put Canadian pills in pharmacies tomorrow.
Cory Booker, you have betrayed us. If you're the Democrats' hope for 2020, we all better prepare for eight years of a Trump Administration.
* And don't you start in on the "3 million more votes" or "James Comey" or "Russian hacking" excuses. Hillary Clinton was running against an incompetent profane idiot narcissist on the heels of her party's popular two-term incumbent who left her years of job growth, a surging stock market, increased health insurance coverage, reduced foreign occupations, and a dead Osama bin Laden to run on; she should have won by a landslide. Two-time Obama voters in the Rust Belt voted for Trump because they believed Hillary and the Democrats were oblivious to Main Street problems. Cory Booker and the Democratic Big Pharma caucus just proved them right.
** You're not off the hook, either, Democratic Senators Murray ($2,732,660) and Cantwell ($1,096,243) from Washington (120 companies), Democratic Senators Carper ($1,136,706) and Coons ($620,668) from Delaware (15 companies, including Astra-Zeneca), and Democratic Senator Casey ($2,187,181) from Pennsylvania (211 companies, including GlaxoSmithKline and Johnson & Johnson). Y'all just aren't running for president in 2020.
Popular in the Community