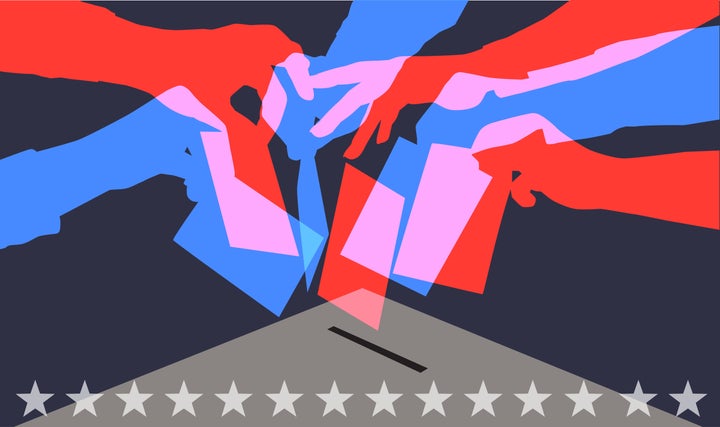 Democrats and Republicans have very different ideas about the issues defining the 2018 midterm elections.
Democratic voters are overwhelmingly focused on health care, according to HuffPost/YouGov polling taken throughout the summer and fall, while Republicans are most concerned with immigration. And those preferences closely mirror perceptions about what each party's candidates have focused on throughout the campaign.
What Americans say matters most has fluctuated modestly throughout the year, with health care and immigration both being top issues. Concerns about immigration peaked during the debate over family separations in the summer and again in October as the president ramped up anti-immigration rhetoric during the closing days before the election. The share of voters who named the Supreme Court as a top issue dropped by half between a poll ending Oct. 2 and a subsequent one ending Oct. 23 (Justice Brett Kavanaugh was confirmed between the two).
In the most recent HuffPost/YouGov poll, 35 percent of voters named health care as among the issues most important to them, and 34 percent named immigration. The economy, at 26 percent, took third place, followed by gun policies at 15 percent, social issues at 11 percent, and both the Supreme Court and "the way things work in Washington" at 10 percent. Seven other topics polled in single digits: the environment, Donald Trump's record as president, Trump's personality and character, tax reform, voting rights, foreign policy and infrastructure.
But results were sharply polarized. In the final survey before Election Day, 48 percent of voters who described themselves as Democrats or leaning toward the Democratic Party named health care as one of the two issues most important to them. Nothing else came remotely close ― the next two issues, gun policies and the environment, scored just 16 percent each. Republican and Republican-leaning voters showed a similar gulf between their top concern and everything else: 60 percent named immigration as among their top issues, with 38 percent picking the economy and fewer than a quarter naming anything else.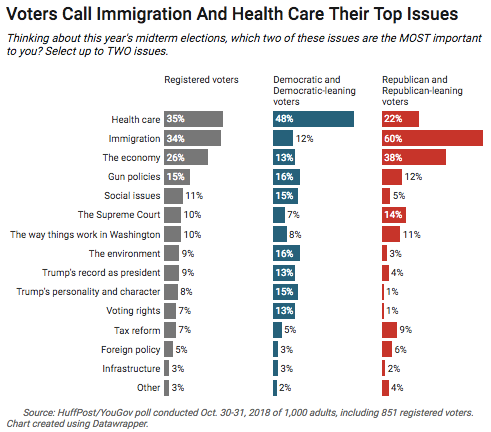 The midterms, as President Trump has acknowledged, will serve to some degree as a referendum on him personally ― and other polling has found that he's taking up far more space in voters' minds than Barack Obama did in 2014. But 39 percent of voters said they wished candidates were talking less about Trump's personality and character, far outpacing the percentages of those who were tired of hearing about any other issue.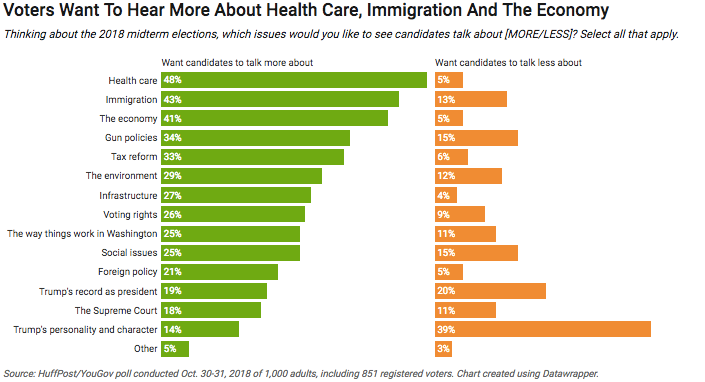 Fully half of Democrats' campaign ads have been about health care, according to one analysis. Another look at ad spending found that health care was the most commonly mentioned topic in 45 percent of local media markets and that 1 in 5 Republican ads have mentioned immigration. The polling data show a voting public that's fairly tuned in with both parties' messaging. Very few, for instance, have the impression that the Republicans are campaigning on the environment or that Democrats are focusing on tax reform.
In the final HuffPost/YouGov survey, about half of voters said they'd heard Democratic candidates in their state mentioning health care within the past week. Some 38 percent named it as among the party's top issues, putting it substantially ahead of messaging on Trump or anything else.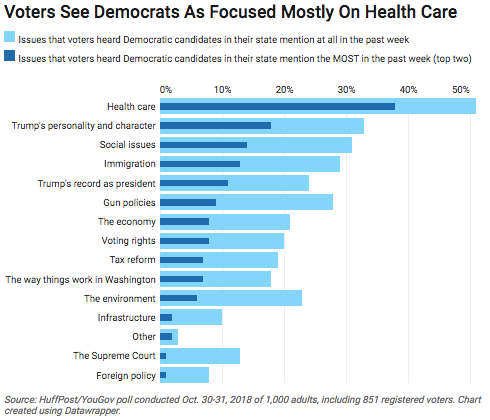 Meanwhile, 38 percent of voters said GOP candidates in their state were focused largely on immigration, with 27 percent naming the economy as a top issue and fewer than a quarter citing anything else.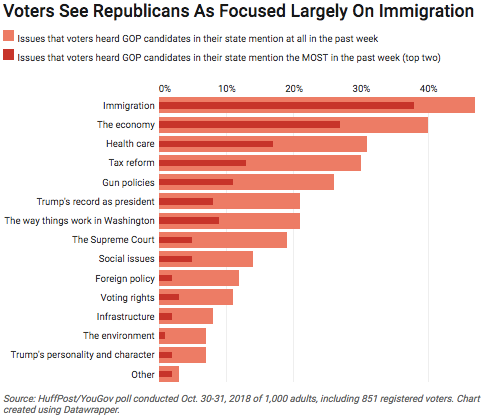 Those perceptions have solidified throughout the campaign cycle as more voters have tuned in ― and as the campaigns have honed their closing arguments.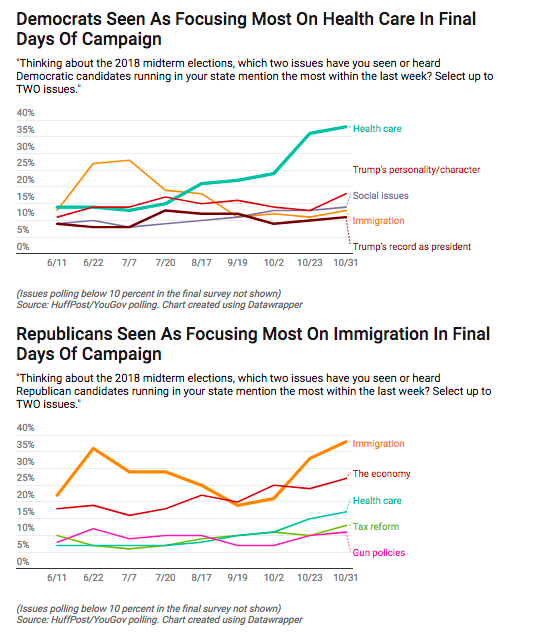 Any survey aiming to measure voters' top concerns deserves a couple of caveats. For one thing, it matters how pollsters ask the questions and what options they provide. The HuffPost/YouGov survey, for instance, splits up Trump's behavior and his record into separate categories. Other pollsters have found somewhat different results, although focused on the same three issues: SurveyMonkey, which asks Americans to choose among seven issues including terrorism and education, has found economic concerns largely dominating the midterms, with health care a close second and immigration lagging behind. The Ipsos/Reuters tracking poll and Gallup's polling have both found health care, the economy and immigration forming a triumvirate of top concerns.
For another thing, what people mean when they talk about an issue is complicated. The Kaiser Family Foundation, which polls extensively on health care, notes that voters who cite it as a priority can be referencing anything from worries about health care costs to a desire for universal coverage to a wish to repeal the Affordable Care Act. And lastly, people simply aren't always that good at identifying the many factors that influence their ultimate decision to pick one candidate over another.
But what voters say they care most about, and how well they believe the parties are reflecting their priorities, can shed light on an election's dynamics. A HuffPost/YouGov poll taken just before Republicans' win in the 2014 midterms, for instance, found that voters saw the GOP as sharing their concerns about the economy and Democrats as more focused on social issues.
This year, the question of how well either party is reflecting voters' priorities is something of a wash. In the final HuffPost/YouGov survey of the race, voters are split 44 percent to 46 percent on whether or not Republicans in their state are doing well at addressing the issues and topics they care about. They're divided by a nearly identical 44 percent to 47 percent on whether or not the Democrats are doing well.
Use the widget below to further explore the results of the HuffPost/YouGov survey, using the menu at the top to select survey questions and the buttons at the bottom to filter the data by subgroups:
The HuffPost/YouGov poll consisted of 1,000 completed interviews conducted Oct. 30-31 among U.S. adults, using a sample selected from YouGov's opt-in online panel to match the demographics and other characteristics of the adult U.S. population.
HuffPost has teamed up with YouGov to conduct daily opinion polls. You can learn more about this project and take part in YouGov's nationally representative opinion polling. More details on the polls' methodology are available here.
Most surveys report a margin of error that represents some, but not all, potential survey errors. YouGov's reports include a model-based margin of error, which rests on a specific set of statistical assumptions about the selected sample rather than the standard methodology for random probability sampling. If these assumptions are wrong, the model-based margin of error may also be inaccurate. Click here for a more detailed explanation of the model-based margin of error.
Popular in the Community