House Republicans are trying to block their Democratic colleagues from mentioning the gun violence sit-in on social media, arguing that the words "sit in" or photos with signs calling for an end to gun violence violate rules on official business. 
The office of Rep. Judy Chu (D-Calif.) ran into problems Thursday when it asked the Franking Commission -- the bipartisan body that signs off on communications between lawmakers and constituents -- to approve an ad directing people to its Facebook page: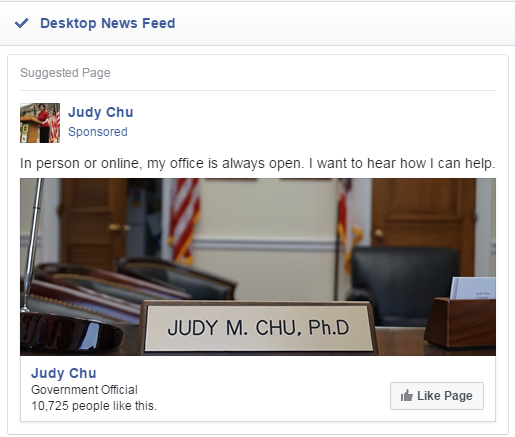 The ad does not contain any mention of the sit-in, but Chu's Facebook page does allude to it, and the ad would direct people to that page. Chu's office said Republicans on the Franking Commission objected to the fact that in a photo on her page, there are people behind her with signs reading, "Stop Gun Violence."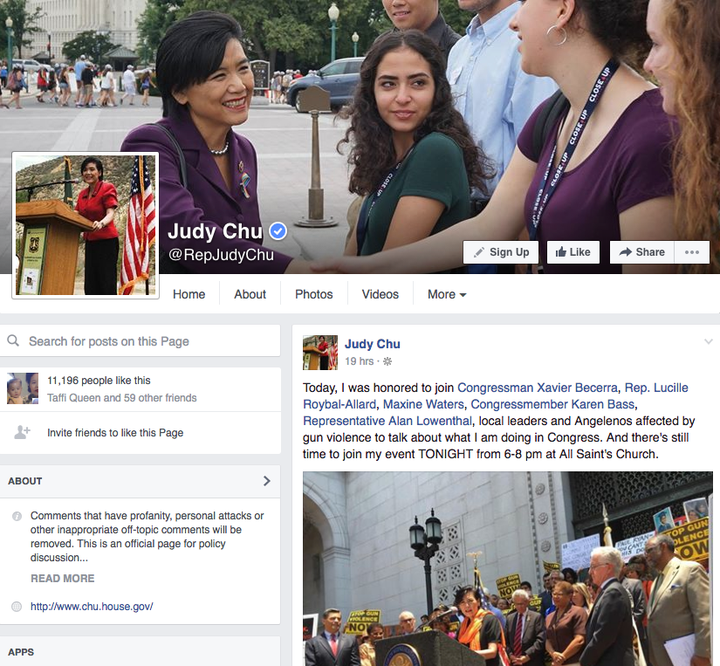 Chu's office was told it can't use the words or phrases: 
Sit in

Join our national movement

We need your energy and passion

National Day of Action
The Franking Commission did not return a request for comment.
Franking Commission rules prohibit members from using official resources to promote rallies or do grass-roots organizing. The core issue is whether the sit-in was part of official legislative business or something more akin to political organizing. 
There was, of course, plenty of discussion about Democrats' 25-hour sit-in last week, when members called for votes on gun violence prevention measures. But now that offices are submitting requests for ads or other official communications, the Franking Commission is stepping in and formulating guidelines on whether the material meets its requirements. 
In other words, under these rules, offices wouldn't be able to put up a video of the sit-in or a post with a photo of the event on their official Facebook page or Twitter account, because they would constitute grass-roots organizing; they'd have to use their campaign accounts. There's a good chance that they wouldn't get in trouble -- the Franking Commission doesn't have the resources to police every single tweet and Facebook page -- but technically, it would be banned. 
Although the sit-in happened on the House floor, it happened when the chamber was not in session. C-SPAN cameras don't show the House floor when it's not in session, so members had to use tools like Facebook and Periscope to show the proceedings. 
Because the commission is bipartisan, if a member raises an objection, it needs to be worked out by both sides. A Democratic staff member on the Franking Commission said they are currently trying to come to a solution.
Calling all HuffPost superfans!
Sign up for membership to become a founding member and help shape HuffPost's next chapter
BEFORE YOU GO