WASHINGTON ― Hundreds of activists marched around the Capitol on Wednesday to protest the Republican health care bill in a demonstration organizers called a "human chain" protest.
Although Senate Majority Leader Mitch McConnell (R-Ky.) canceled a vote on Obamacare replacement legislation on Tuesday, Democratic lawmakers warned against growing complacent and insisted that progressives must keep the pressure on if they are to defeat the bill for good.
"Yesterday was not a victory, not even close," said Sen. Patty Murray (D-Wash.), ranking member of the Senate Health, Education, Labor and Pensions Committee. "Yesterday was an opportunity. It's an opportunity keep making your voices heard."
Sen. Brian Schatz (D-Hawaii) suggested the July Fourth weekend was an ideal time to express outrage to Republican members of Congress.
"Take that moment to celebrate and then get back on the horse! Because I'll tell you what: Nobody wants to get yelled at at a Fourth of July parade," he said, drawing laughs from the crowd.
The event was announced by liberal groups like MoveOn.org, the American Civil Liberties Union and Planned Parenthood days earlier when a vote on the Republican bill appeared imminent.
Tuesday's decision to delay the vote came a day after the nonpartisan Congressional Budget Office released its estimates that the Senate bill would result in 22 million fewer people having health care coverage over the next 10 years.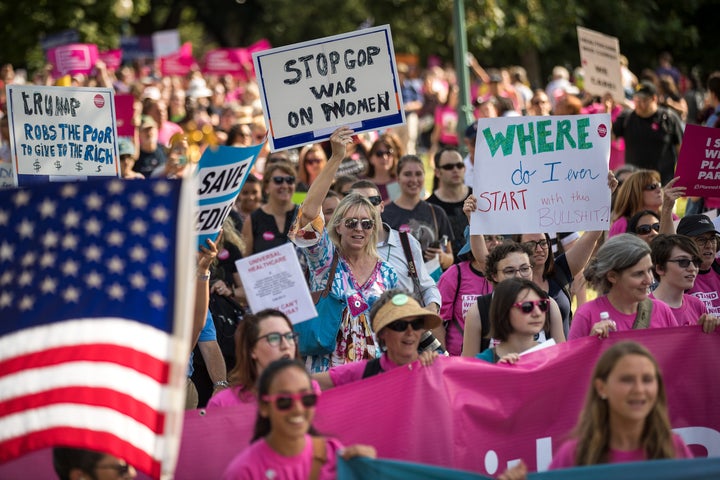 For a time it seemed as though the Senate bill, plotted rapidly and behind closed doors for the last several weeks, did not inspire the same level of grassroots outrage as had the bill that passed the House of Representatives in May and a failed run at a vote in March.
Most of the crowd on Wednesday, which was filled with pink Planned Parenthood T-shirts, hailed from the metropolitan Washington area. Livestreams of the event were broadcast on Facebook to hundreds of thousands of people.
One 32-year-old Washingtonian woman at the rally who declined to be named said she was worried the bill would hurt her personally. She is a college graduate and works in the arts, she said, but makes just $13 an hour and depends on Medicaid for her insurance.
"There's this misconception about people who are on Medicaid," she said. "Thank God I can get Medicaid."
There were some health care advocates who traveled far distances to the rally, including Marcia Hams, chairwoman of the Boston-based organization Health Care for All.
"We worked really hard to pass and make the Affordable Care Act work, so it's really a terrible prospect that we might lose it and that so many people would lose their health care," she said. "It'd be terrible for seniors, terrible for people with disabilities."
Other Obamacare supporters amassed outside the Trump International Hotel a few blocks away on Pennsylvania Avenue. They greeted President Donald Trump with jeers as he arrived to attend a re-election fundraiser.
In some ways the rally took on the feel of a 2020 presidential candidate cattle call, giving some of the Democratic Party's rising stars a chance to connect with party activists. In addition to Schatz and Murray, young targets of presidential speculation already, Sens. Cory Booker (N.J.) and Kamala Harris (Calif.) received a warm reception.
"You must now look at the face of history and say, 'It is my turn to stand up, it is my turn to fight. It is my turn to unleash the forces of love on America,'" Booker told the crowd. "If we fight together, if we work together, and we love together and we get folk woke, this bill will die."
Senate Minority Leader Chuck Schumer (D-N.Y.), House Minority Leader Nancy Pelosi (D-Calif.) and Democratic National Committee Chairman Tom Perez were among the other leaders who spoke.
Nonetheless, there were signs of the divisions between the party's populist left wing and its more centrist faction.
At the edge of the rally, several dozen activists from the Washington and Baltimore chapters of the Democratic Socialists of America stood with banners displaying their logo of two shaking hands and a rose, and placards that said, "Health care is a human right" and "Medicine for profit is a crime against humanity."
Periodically, one of the DSA members would yell out "single-payer," only to be ignored by the other people assembled there. Attendees were disappointed that none of the speakers called for a single-payer health care system, or "Medicare for all," but they were all happy to be protesting the Republican legislation with Democrats. The DSA, a dues-paying organization, works selectively with Democrats, even as it advances a more radical agenda. (Independent Vermont Sen. Bernie Sanders, a member of the Senate Democratic Caucus who is favored by DSA members, did not speak, having already returned to Vermont for the holiday weekend.)
"We have to do it through both evolutionary and revolutionary means, meaning we need to work with Democrats, but we also need to be in the streets," said Jessica Crawford, 26, of Washington, D.C. "So we can do both."
This story has been updated to include comment from Hams.
Support HuffPost
The Stakes Have Never Been Higher
Before You Go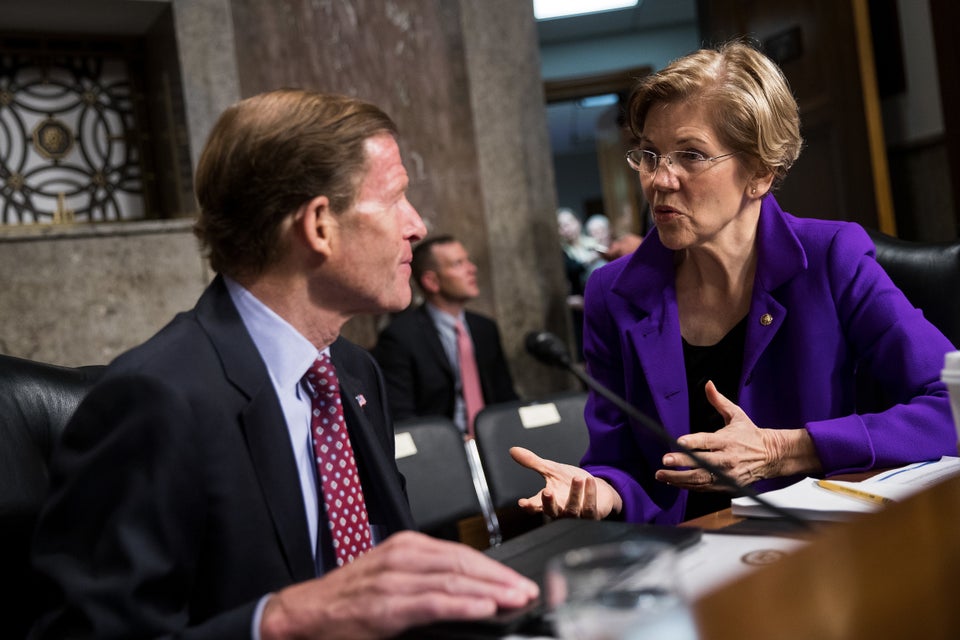 2017 Scenes From Congress & Capitol Hill
Popular in the Community