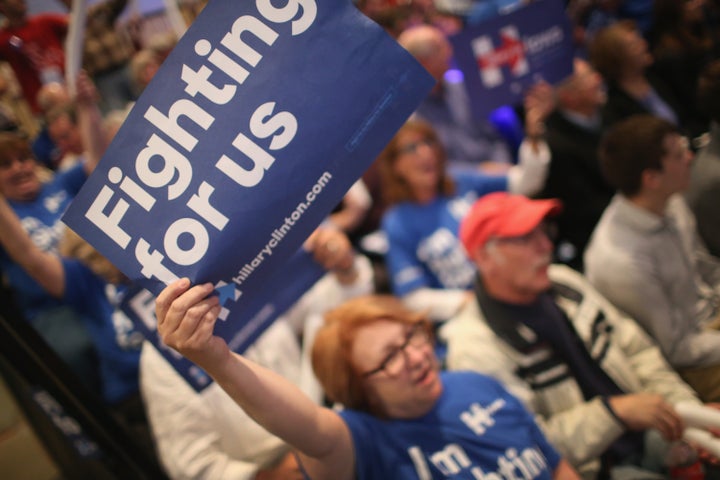 DES MOINES, Iowa – With less than 100 days until the Iowa caucuses, Democratic presidential candidates rallied supporters at the Jefferson-Jackson Dinner on Saturday, aiming to capture the same kind of momentum there that led to Barack Obama's 2008 caucus win. But some Iowa experts contend that none of the candidates had a similar standout moment.

The "JJ" dinner is Iowa's largest gathering of Democrats, a celebration signifying the final push to caucus night, which falls on Feb. 1 next year. The event Saturday closely resembled the energy of a rock concert, as the candidates delivered their speeches from center stage, surrounded by a sold-out crowd of 6,600 enthusiastic voters broken up into separate sections according to which candidate they supported. Organizers for each campaign stood in the aisles, starting cheers, waving light sticks, chanting and stomping on bleachers.
Although the dinner was buzzing with excitement from supporters, some there couldn't decide which candidate won the night.
"None of the candidates seemed to rise to the occasion at the JJ dinner," said Pat Rynard, a former Democratic staffer in the state, who worked on Clinton's last presidential campaign. Rynard noted a major change in Iowa Democrats that he hasn't seen in previous elections.

"In previous cycles, the attendees tended to be a little bit more up in the air over which candidate they are supporting," Rynard explained. "This year seems to be much different. The crowd seemed to either be with one candidate or the other."

Iowa Democratic strategist Derek Eadon agrees that most Iowa voters this year are committed in their preference for a candidate, and that a speech would not sway them.

"Since so many voters already have their minds made up, this was an opportunity for campaigns to flex their organizational muscles," Eadon noted.

Coming off a few of the strongest weeks in her campaign thus far, Democratic front-runner Hillary Clinton utilized her position of strength even before she took the stage at Hy-Vee Hall. The Clinton campaign unleashed major star power at a warm-up rally in Des Moines ahead of the dinner, featuring both Katy Perry and former President Bill Clinton.

Appearing for the first time on the campaign trail as a surrogate for his wife, the former president reflected on recent events before a crowd of nearly 4,000 supporters. Clinton applauded his wife for her commanding performance in the first Democratic debate and her handling of a marathon congressional hearing Thursday, where she was grilled for nearly 11 hours over the 2012 Benghazi attacks.

"That's the person I know and the person America got to see again without all those barnacles in the debate and in those 11 hours of testimony," Bill Clinton told the crowd, as a plane decked out for Vermont Sen. Bernie Sanders (I) circled overhead, displaying the words, "Revolution starts now! Feel the Bern."

Half a mile away, Sanders supporters also gathered for a rally. While Sanders has drawn record crowds in Iowa, Hillary Clinton attracted about 2,000 more supporters to her Saturday rally.

It was clear the Clinton campaign was organized meticulously on Saturday, as the gap between Clinton and Sanders has slimmed to 7 percentage polls in the latest Des Moines Register/Bloomberg Iowa poll, with Clinton leading 48 percent to Sanders' 41 percent, without Vice President Joe Biden in the race.

"It just shows how committed they are to winning Iowa," Rynard said, emphasizing the major shift in strategy by reflecting on the last Jefferson-Jackson Dinner in 2007, where Clinton was overshadowed and clearly out-organized by the Obama campaign.

"It was a chaotic mess that night," he said. "They were changing their chants and the speeches up to the last minute, but last night, the campaign was organized to perfection. They just clearly are not taking anything for granted."

Sanders also showed off his campaign's organizational prowess, with a jam-packed section of supporters who passionately cheered and chanted at every opportunity, frequently overpowering Iowa Democratic Party Chair Dr. Andy McGuire as she attempted to introduce the Vermont senator, and at times even interrupting Sanders himself.

Eadon said Sanders proved he has a solid organization effort. "A lot of people that Sanders turned out, it was most likely their first JJ dinner," he explained.

The two leading Democratic presidential candidates drew their sharpest distinctions so far in the campaign, with Sanders changing up his stump speech, aggressively comparing his record with Clinton's without ever mentioning her name.

"I promise you tonight, as your president I will govern based on principle not poll numbers," Sanders said as his supporters erupted in applause, chanting his name.
Sanders stressed that he is the true progressive, highlighting his record of taking several liberal positions before they were popular, drawing contrasts with Clinton on trade, same-sex marriage and super PACS.

Sanders also drew parallels to Obama's campaign, mentioning that pundits called the former senator from Illinois "unelectable."

"Iowa, we're going to prove the pundits wrong again," Sanders said, his voice cracking, determined to be heard over his boisterous crowd of supporters. "I believe we are going to make history one more time."

Eadon says Sanders' campaign has yet to answer one major underlying question.

"Will the campaign capitalize on the momentum and excitement that we're seeing at these events, will these really turn into real caucusgoers?" Eadon asked. "That is still unknown at this point."

Clinton took the stage last as supporters waved neon blue glow sticks, chanting, "I'm with her." Clinton emphasized the importance of upholding Obama's legacy, presented herself as a fighter and told voters that she has learned from her mistakes. She also made a point to thank Vice President Joe Biden, who recently announced he would not seek the Democratic nomination.

"He has fought passionately for middle-class families and middle-class values," Clinton said, flashing a smile.

Former Maryland Gov. Martin O'Malley, who is polling at 2 percent in Iowa, attempted to shift attention to himself on Saturday. He touted his executive experience, presenting himself as a fresh-faced alternative.

"While all of the candidates here tonight share progressive values, not all of us have a record of actually getting things done. I do," O'Malley said.

Although the night was filled with adrenaline, enthusiasm and passion, Eadon explains that with less than three months until the first-in-the-nation caucuses, there aren't many opportunities left for the candidates to make a lasting impression.

"My sense is that things have already been decided," Eadon said. "I don't see many factors changing the dynamic before the caucus."
REAL LIFE. REAL NEWS. REAL VOICES.
Help us tell more of the stories that matter from voices that too often remain unheard.