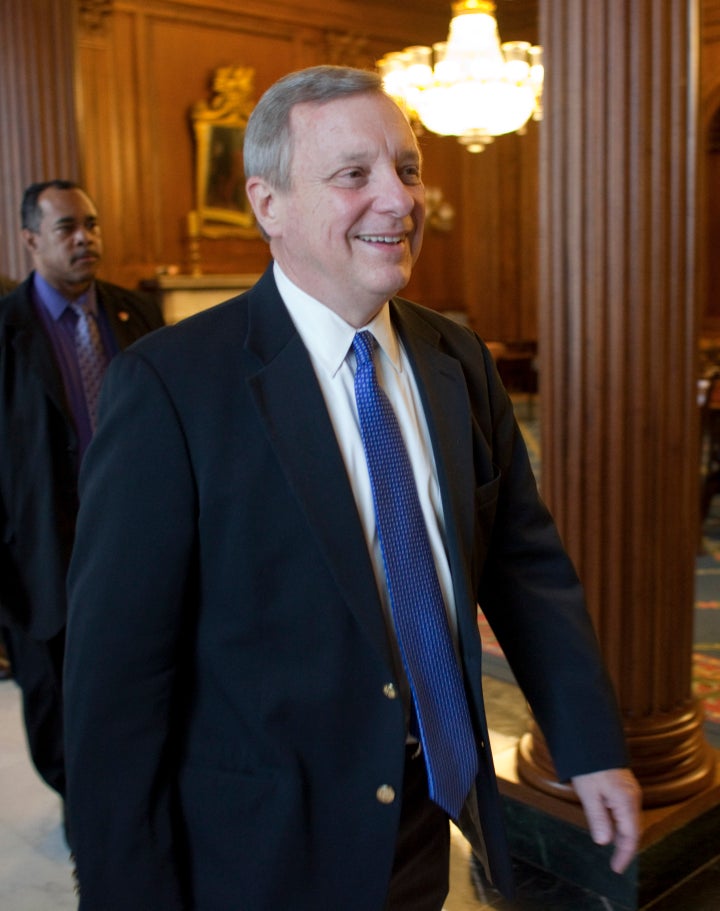 WASHINGTON -- Hours after it was reported that Democrats were abandoning a jobs bill before it was introduced, party leadership insisted that Democrats will stand behind the legislation if it is brought to the floor in the coming weeks.
"We're not going to get 100 percent of our caucus, but believe me, if it's up to the Democrats to pass the president's plan, it'll pass," Sen. Dick Durbin (D-Ill.), majority whip, told reporters on Thursday.
Democrats huddled for about an hour and a half with White House officials -- including top economic adviser Gene Sperling and top political adviser David Plouffe -- on Thursday afternoon to discuss the ins and outs of the American Jobs Act, which was sent to Congress on Monday. The bill would combine targeted tax cuts with state-specific spending in education, infrastructure and school repair.
People who left the meeting expressed usual optimism that it would pass, with Sen. Chuck Schumer (D-N.Y.) saying he wants to see the president continue to "sell it" across the country. Obama has appeared in Virginia, Ohio and North Carolina to speak about the plan and is slated to give a speech next week along a bridge that connects Senate Minority Leader Mitch McConnell's (R-Ky.) home state with House Speaker John Boehner's (R-Ohio) neighboring district.
"It was informative and we're on the same team," Schumer said after the meeting. "People brought up their concerns, and people always have."
The New York Democrat declined to comment on the nature of the issues raised by his party, save to say there were "lots of different concerns." Other members of the party were a bit more forthcoming with their reservations.
"I'm not being critical. I'm just saying it's a huge bill, and I need to know that it's going to help my state," Sen. Dianne Feinstein (D-Calif.) told The New York Times after the meeting. "If I can feel that it does, I'm all for it. If it doesn't, I don't know."
One of the main causes of hesitation among Democrats over the jobs bill is the way it would be paid for, including an elimination of subsidies for major oil companies -- an issue that was discussed during Thursday's briefing, according to Durbin. Some senators, including Sen. Mark Begich (D-Alaska), argued that eliminating the subsidies would lead to job losses.
"There's controversy on the pay fors," he said. "Not surprisingly, the people who are from oil-producing states are not wild about the elimination of the oil subsidy."
The White House, for its part, put its best face forward, with Plouffe telling reporters after the meeting that they are "off to a great start."
"We're just focused on making sure that the American people think this is the right way to go and that we get as many Democrats here as we can," he said.
Popular in the Community