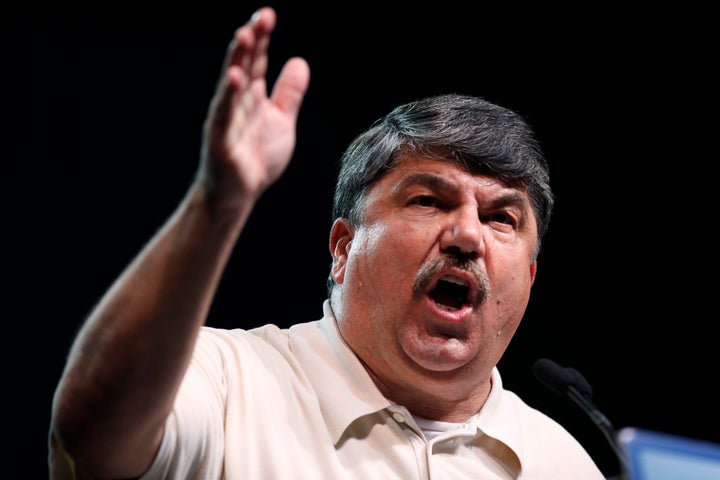 WASHINGTON -- The chaos that accompanied Wednesday night's abrupt passage of Gov. Scott Walker's (R-Wis.) controversial anti-collective bargaining legislation gave way on Thursday to a series of strategy sessions by aggrieved parties plotting out a response.
A cadre of labor groups, progressive institutions, and campaign arms began informally coordinating a comprehensive pushback that some described as even more critical than the legislative battle itself. The most dramatic of these moves is acceleration of a campaign to recall Wisconsin Republican state senators who ended up backing not only the collective bargaining bill but also the backdoor parliamentary maneuvers used to pass it.
Union officials and progressive activists on the ground in Wisconsin say that six specific lawmakers have been targeted for recall (before Wednesday night that number had been eight). Of those, three were considered top tier "gets:" Sen. Randy Hopper (District 18) who won his last election by 184 votes, Sen. Alberta Darling (District 8) who won her last election with 51 percent of the vote, and Sen. Dan Kapanke (District 32) who also won his last election with 51 percent of the vote, in a district where President Obama won 61 percent of the vote in 2008. The other three lawmakers on the list were Sen. Robert Cowles (District 2), Sheila Harsdorf (District 10), and Luther Olsen (District 14).
"Without full capitulation this is the best possible political outcome," said one top-ranking labor official, trying to put a good spin on a damaging development. "It is going to drive [Walker's] negatives over 65 [percent] and we are looking at possibly winning six recall elections"
Earlier in the day, AFL-CIO President Richard Trumka made similar overtures following a speech at the National Press Club. "We are helping to organize the process," he told a small group of reporters. "They are doing it on the ground there and we are helping them do it on the ground. These are Wisconsinites. They are serious about this. This isn't us going to them saying maybe we ought to recall, this is them saying to us we are going to recall them."
In terms of timing, the recall process began well before Wednesday night's vote. But Walker's decision to ram through his bill with 14 Senate Democrats still decamped in Illinois added urgency to the effort. In a memo distributed by labor officials on the ground in Wisconsin and passed along to The Huffington Post, it was noted that the Wisconsin Democratic Party had already raised $800,000 for its recall effort, "with nearly $250,000 of that coming since Walker and Republicans' anti-democratic hijacking of the Senate" on Wednesday. The memo also pointed out that two polls, conducted by Survey USA and paid for by MoveOn.org, had Hopper and Kapanke losing a recall election in their districts, "and that polling was conducted before last night's … chicanery."
Grassroots forces aren't the only ones at play. Officials at various campaign committees in Washington D.C. told The Huffington Post that they too would be lending their resources to the efforts. The Democratic Legislative Campaign Committee was poised to help the Wisconsin State party once signatures were collected, a function that an aide described as a bit of new ground for the committee. "[T]he recall elections that may take place in Wisconsin in fact would be the first recall elections with which the DLCC has been involved."
An official with the Democratic Governor's Association, meanwhile, said that while a recall effort targeting Walker was, by law, only approachable down the road (a lawmaker must be in office a full year before being subjected to a recall), the anti-collective bargaining bill and the governor himself would become fixtures of their political activities going forward.
"We will make him the embodiment of everyone's worst fears about Republican governors," the aide said.
Even the Democratic Congressional Campaign Committee and Democratic Senatorial Campaign Committee put out Wisconsin-related releases, cognizant that voter enthusiasm and fundraising dollars would shortly follow. [UPDATE: The DNC put out a statement late Thursday afternoon]. Organizing for America, the Obama campaign arm that engaged in the debate early on, only to downplay its involvement later, had not commented on the Wednesday night theatrics as of Thursday afternoon, though White House Press Secretary Jay Carney called them antithetical to the notion of bipartisan cooperation.
The real driving force, however, remained unions and progressive groups that had latched on to the Wisconsin budget battles before there was national recognition. Adam Green, whose organization, Progressive Change Campaign Committee, had been heavily invested in supporting the quorum break by the 14 Democratic senators said there were no plans to scale back their ambition simply because the bill had passed. Nearly $800,000 had been raised to air the group's television ad and that money would be spent to keep momentum behind the recall efforts.
"We think of it as providing air cover for the ground troops," said Green.
Officials with the American Federation of State County and Municipal Employees, meanwhile, huddled for a strategy meeting on Thursday afternoon to discuss not only recall strategy but also how to upend similar anti-union movements across the country. Indeed, while it was demoralizing to see the Wisconsin bill pass, the prevailing fear within the labor community was that without a sufficient punishment, other Republican officials in different states would follow suit.
"I think that we are prepared to fight back like never before," said Lee Saunders, AFSCME's Secretary-Treasurer. "This is not just a labor issue but it is a student's rights and civil rights issue … if we let this trend continue then what will happen next? ... This will not stand. This is not what people expected coming out of the November elections."