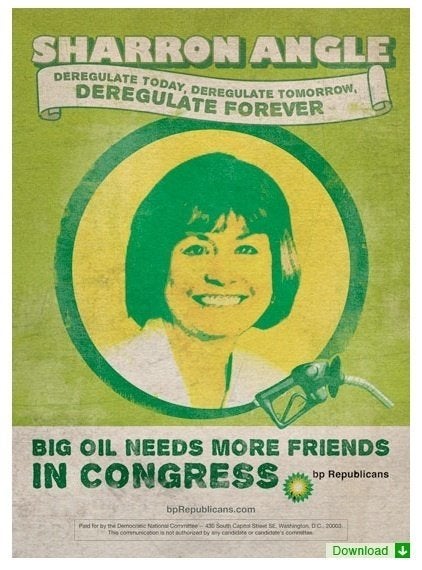 The DNC pounced on Nevada GOP Senate candidate Sharron Angle's recent claims that the BP victims' compensation program was a "slush fund" Friday, choosing to make her the poster child for their new website, bpRepublicans.com.
The site, headed with the text, "Because Big Oil can never have too many friends in Congress," appears to be preparing to establish itself as a catalog to document Republican politicians -- such as Texas Rep. Joe Barton and Kentucky Senate hopeful Rand Paul -- who have seemingly taken the side of BP during the catastrophic and still ongoing oil spill.
As of now, however, "Sharron Angle (R-BP)" is the site's lone target. Her profile includes a summary of her "slush fund" comments, complete with audio from the radio interview, and claims that Angle's "solution to the energy crisis is to deregulate the oil industry."
A DNC official later explained their decision to launch the site.
"It's more than Barton redux, it proves that an expression of empathy toward BP is not an isolated misstatement by a wayward Republican," the official told the Hill."If Sharron Angle's going to fight for BP and be their candidate we thought we'd make it official. Besides, we understand that Sharron Angle is a fan of having more than one campaign website."
President Obama took his own shots at Angle's BP comments during a Harry Reid fundraiser Thursday night, saying, "I'm sure she meant slush fund in the nicest possible way."

REAL LIFE. REAL NEWS. REAL VOICES.
Help us tell more of the stories that matter from voices that too often remain unheard.